Back in 1999, Creed lead singer Scott Stapp welcomed the impending birth of his child with the song "With Arms Wide Open". Fast forward to 2023, and Next Level Distribution is welcoming the arrival of Next Level Products, the company's house brand of accessories ranging from HDMI cables, wallplates, Cat 6 wire, mounts and racks. The inventory and stock are "wide open" for integrators.  
In its latest parody of a classic rock song, Next Level Distribution's director of marketing Mark Garijanian sings the famed Creed song with lyrics touting some of latest products available from the Florida-based distributor and member of the PowerHouse Alliance.
Instead of sitting on a rock in the middle of a bog as in the original Creed video, Garijanian sits on a Next Level box in the middle of giant meadow of peat moss. He sports a Next Level-branded headband, similar to Stapp's signature frill.
The video is hilarious as Garijanian emotes in Scott Stapp-style with lots of fist pumping and looking to the sky as he passionately croons about articulating mounts, decora style wallplates, and equipment racks up to 40U. Similar to Stapp's original performance, the raw emotional anguish is on full display. That means these new Next Level Parts must be quite impressive to see. Or perhaps Garijanian realizes Stapp was wound so tight in the video because he was a bit constipated. We'll never know.
Next Level Distribution started these YouTube videos last year and they are refreshingly funny and unique in an industry known for somewhat sedate marketing. Previous videos from the company spoofed the movie Die Hard, the famous "more cowbell" skit from Saturday Night Live, and the song "Maneater" by Hall & Oates.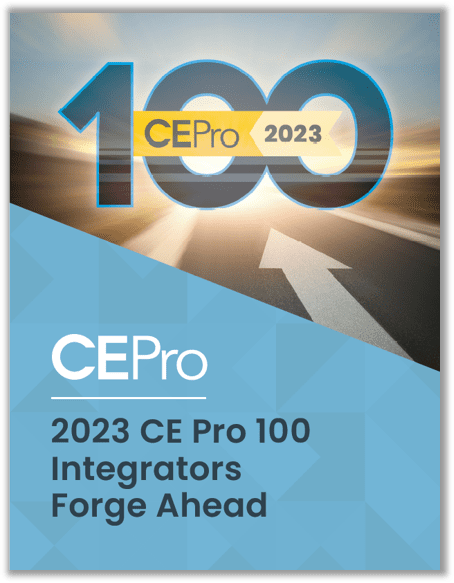 Which companies in the custom integration market made CE Pro's 24th annual CE Pro 100 list?
If you enjoyed this article and want to receive more valuable industry content like this, click here to sign up for our digital newsletters!