For many custom integrators, building a defined company culture is elusive, but not at Acoustic Design Systems in Las Vegas. Amid the city that is known for bright lights, glitz and glamour, Chris Sterle has built a family-friendly atmosphere that has employees (and their puppies) lining up to join the "ADS Family."
Moreover, the pervasive familial spirit has helped drive the company's massive growth to $8.5 million in revenue serving many of the top homebuilders in both Las Vegas and St. George, Utah.
Acoustic Design Systems' effusive culture is evident the moment you arrive at its nicely appointed offices on the outskirts of Las Vegas. The parking lot is so full that employee vehicles are lined up on the street in the desert. As you enter, you are greeted by Luna, LeRoy and Bella — the Acoustic Design Systems office French Bulldog puppies!
The main hallway of the 9,000-square-foot facility is filled with individual photos of the "ADS Family" of employees. An adjacent wall is reserved for the "Acoustic Design Buzz," a bulletin board covered in shoutouts from customers for individual employees, health and safety tips, recognition for positive social media activity, and more.
Whether he is grilling food for the entire team or scooping ice cream to help the crew cool off in the hot Nevada sun, Sterle, CEO, and his wife/Vice President of Sales and Marketing Amanda Crigar's down-to-earth style at Acoustic Design Systems has proven successful for the past 20 years.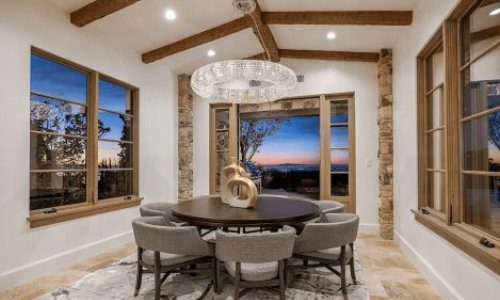 As a custom integrator, lighting is in demand. Effective communication, education and showcasing the value proposition of LED light fixtures in conjunction with integrative control systems are the keys to overcoming challenges and closing sales in this specialized market. Join us as we discuss the future of digital lighting and control with David Warfel from Light Can Help You and Patrick Laidlaw and Mark Moody from AiSPIRE.
Register Now! 
It serves as a blueprint for other integrators who often grapple with employee turnover.
Starting a Custom Installation Firm with $63 and a Solid Work Ethic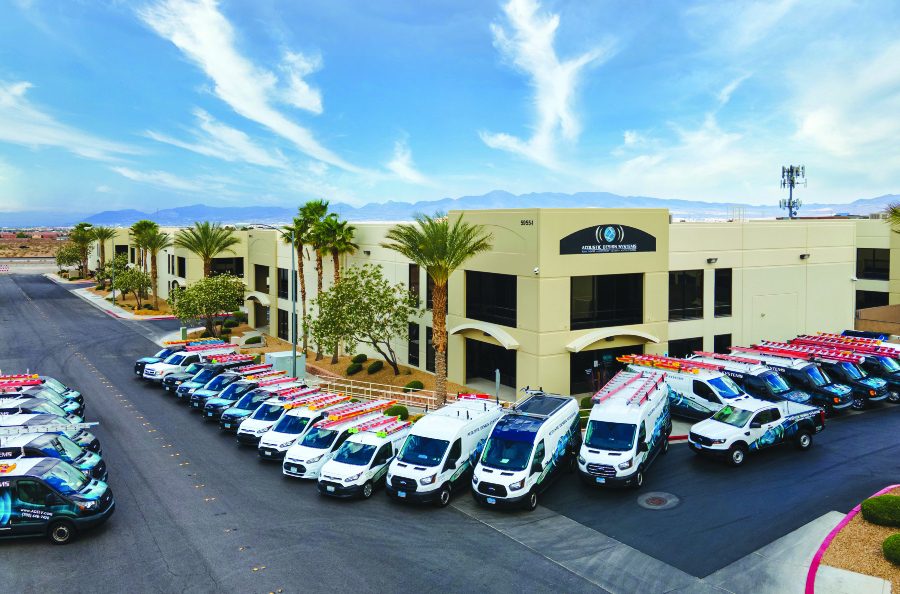 Little did Sterle know he would build such an inviting custom installation firm when as a kid in Ohio he was fascinated by Legos, and then later as a teen became enamored with Dr. Dre's Chronic 2001 album released in 1992.
"I have always been a hands-on guy; I love Legos… I love building things. And I've always loved music, especially hip-hop. So, when I first heard that Dr. Dre Chronic 2001 album, I wanted a car stereo so I could play it as loud as I possibly could," he recalls.
That fascination led to a job in a big-box store where he eventually migrated from the car stereo department to the home electronics area. That retail job gave him the experience he needed to learn how to set up home audio systems and eventually surround sound systems with big-screen TVs.
"To work in that department, you had to set up the displays in the store. I had more fun hooking those things up than I did with anything else — more than selling — I just enjoyed hooking those things up. It was super interesting to me. It was fun to crawl around in an attic and drill holes. I just loved every bit of it," he says ebulliently.
In 1998, Sterle packed his bags and drove to Las Vegas with just $63 in his pocket. He first worked for his cousin's home automation firm and then later as a stagehand for a show at the MGM Hotel. It was there he learned professional sound and lighting techniques.
In 2001, he branched out on his own doing side jobs before finally deciding in 2003 at the age of 23 to get a business license and start his own home-based company," he says nostalgically.
"My first customer was putting distributed audio in a doctor's office, and the next week I sold a $75,000 home theater. The down payment check of $36,713.56 bought me all my tools.
"I built the entire room from scratch having never done it before: raised the floors, built the walls and columns, constructed a closet for equipment rack, and wired the entire room. It was a 106-inch center screen with four 36-inch tube TVs on the sides. I used RTI to control the entire system."
That first theater led to multiple retrofit projects in the same community and soon Acoustic Design Systems was off and running. In 2005, Sterle got his first new construction project and was an early proponent of pulling fiber in the walls.
Over the next several years, he grew the company slowly to 11 employees and by 2008 Acoustic Design Systems was earning nearly $2 million in revenue.
Changing Acoustic Design Systems' Business Model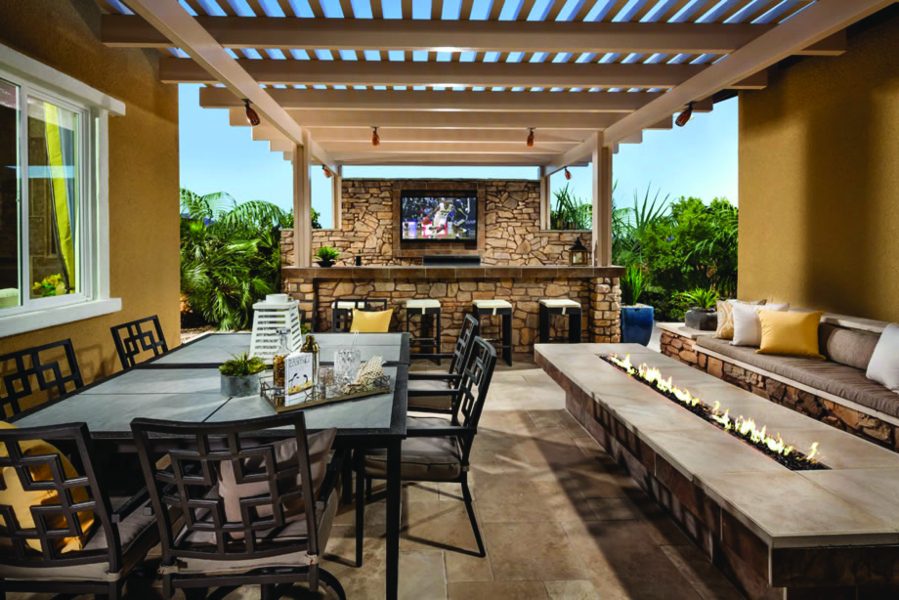 Then came the housing bubble crash. Las Vegas was one of the hardest-hit cities in the U.S. The phone stopped ringing, but the three-year downturn gave Sterle time to focus on how to build a more sustainable company, while shrinking the staff down to just three.
"I realized that just getting big custom projects one or two at a time was not a sustainable business model. You are married to those projects forever. You are always waiting to sell the next project to get a little more money to pay off the last project because of how long the timelines are spread out," he explains.
"So, I went to Toll Brothers because they were building the highest-end production homes in the area, and they were really options-forward and technology-forward."
"I asked them to give me a chance at one community, and to let me meet with the buyers and try to sell them technology. I put everything I had into that one community and the relationship. I aimed to be the best contractor they ever had. I did everything they asked for and more," he adds.
Among the skills Sterle brought to the Toll Brothers homes was immaculate wiring expertise that included 90-degree turns and not sharing stud bays with line-voltage electrical wiring.
"I brought custom-world best practices to the production-builder world and they loved it," he says. "They had a contractor they could rely on. They were happy. We were doing a lot of option sales, which means they make a lot of money."
That focus on high-quality, precision work soon led to contracts for multiple Toll Brothers' communities and eventually to the point where the builder was not even putting it out to bid — ADS got all the business. That was 12 years ago when the company had just five employees. Today, Acoustic Design Systems has 60 and is actively engaged in 20 Toll Brothers' communities in Las Vegas and nearby Henderson plus another six over the border in St. George, Utah.
As part of the process, ADS aims to meet individually with each Toll Brothers' buyer in a small showroom they have inside the Toll Brothers Design Center. Using Salez Toolz options selection software, the ADS sales team maps out a client's system right in front of them in a one- or two-hour meeting.
In 2022, ADS completed 3,300 projects, of which 750 were newly constructed homes. Only about 15% of the company's $8.5 million in revenue in 2022 came from commercial projects, with the bulk from new-construction residential.
The Shift to Targeting Ultra-High-End Communities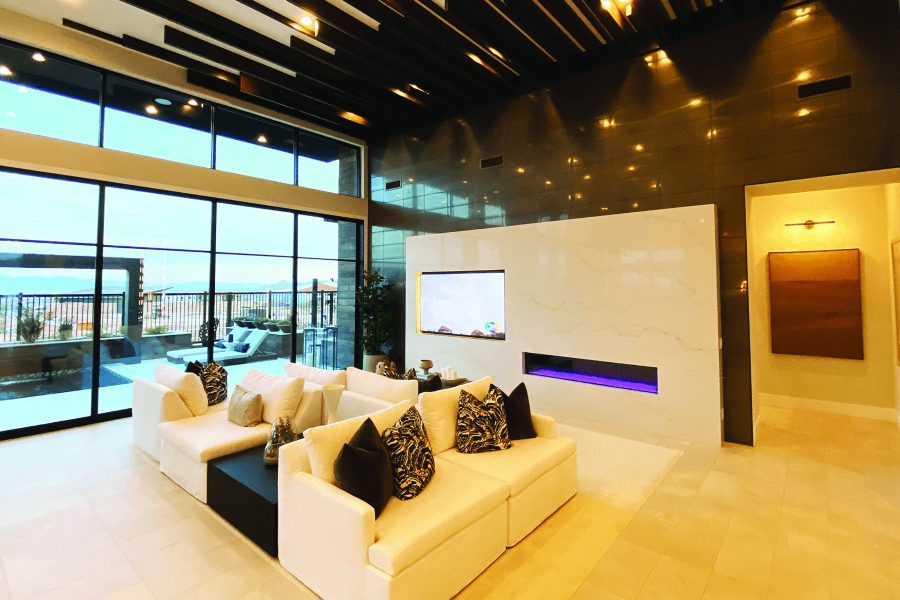 Using what he learned from the housing crash in 2008, Sterle has made sure his company does not have all its proverbial eggs solely in the production-home basket. He anticipated several years ago that interest rates would rise, and the new home market would slow so he made a conscious decision to go after very high-end builders and opportunities.
"I want to only work on projects where we get to talk to the end users and educate them on who we are as an industry. I want to work with builders who understand that technology is an addition, not a subtraction from their building process. People want technology in their homes," he explains.
"One of my favorite things to say is, 'A brand-new home without technology is just an old home that no one's lived in yet.' We only want to work with builders who understand that technology is what makes a home 'new' and wants the technology because it will help sell the home."
To do that, Sterle realized he needed to mingle with that high-end builder crowd, so he strategically joined an elite golf country club in the area. Using those connections, he has been able to forge relationships with Christopher Homes.
"We just got their newest community about a year ago. It's 104 homes starting about $3 million each, but they mostly sell between $5 million and $6 million each. We're doing $100,000 to $250,000 in AV in every single one of the houses, including panelized lighting, shading solutions, audio, video, surveillance cameras, acoustical panels and network infrastructure," explains Sterle.
Acoustical panels have been a surprisingly strong area for ADS and nice byproduct of specializing in new residential and commercial construction.
"Some of the larger homes and commercial projects can be like echo chambers," says Crigar. "I looked into it and there is actually a license in the state of Nevada for acoustic treatment. There are only three companies in the entire state licensed to install them. Our company name is Acoustic Design Systems, so it makes sense for us. We are going down the path to get that license."
In the meantime, Acoustic Design Systems is also working with Blue Heron and three or four other top homebuilders that construct bespoke homes either one at a time or in small communities.
"We are just chugging along perfectly. We are busy 100% of the time. There has been no slowdown in the high-end luxury market," says Sterle, noting that a recently launched Toll Brothers community with $2 million production homes sold out faster than more affordable communities.
"We have not seen in this town a slump in high end," he adds. Even with the normal construction cycle for luxury homes in the area at 16 months, Sterle says there have been very few contract cancellations due to rising interest rates.
He notes that by far the most important element to successfully working with builders is the stay on schedule. Because of that, ADS has a four-person dedicated service department to handle legacy systems so their installation crews can focus on staying on schedule with builders.
"I think where a lot of integrators run into trouble is their lack of long-term. Customers get so frustrated with you not being able to show up and help them," he says.
Acoustic Design Systems, which is a member of the Home Technology Specialists of America (HTSA) buying group, has about 80% of its client base on service agreements using Snap One's Parasol as its remote managed service provider. Its service agreements are billed monthly, quarterly or annually, and generated approximately $600,000 in revenue last year.
Crigar was instrumental in rolling out the service plan offering to clients, as well as to ADS technicians and salespeople.
"Before we ever sold one, we got a Parasol account for the office for a system we have upstairs. We wanted to fully understand what our salespeople, technicians and customers were going to expect. Not only do we make money on service, we make our customers happy. We are the hero," she quips.
Cultivating the ADS Company Culture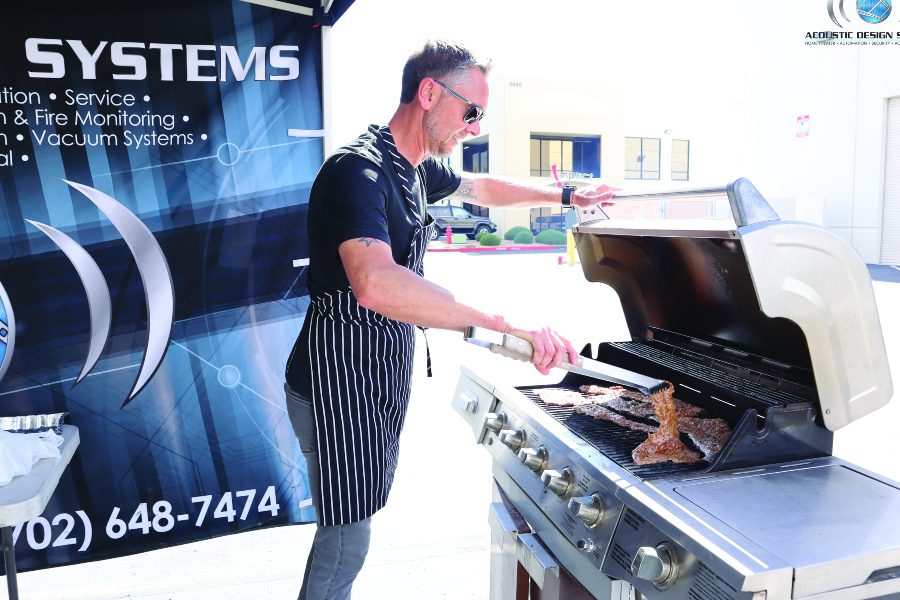 Amanda Crigar has played a key role in ADS' cultural evolution. Crigar was a successful marketing executive when she met Sterle back in 2004. She eventually began consulting for the company on the side, including developing a marketing plan.
Ten years ago, she came onboard full time as vice president of sales and marketing. She initially focused on the marketing side, revamping ADS' social media presence, website, sales literature, branding, vehicle graphics and spearheading the company's community involvement.
"As a Las Vegas native, I know what Las Vegas is all about. It's about who you know, what type of business you are running, and your reputation," she notes. Later, she took on the sales management role.
With so much of the focus on new construction, ADS does some limited targeting toward architects and interior designers in addition to its builder focus. Indeed, just before the pandemic, Crigar created an ASID CEU-accredited educational program for designers that reportedly garnered the highest attendance of any program at the local Las Vegas World Market Center.
She hasn't yet repeated the course due to COVID.
"Our image is so important," she says. "We hire our people based on their personalities, not their skills." Every employee is uniformed in the field, and the integration firm's vehicle fleet is impressive.
As noted, the company is bursting at the seams in its current location, which has 3,000 square feet of office space and a 6,000-square-foot warehouse. The ability to utilize the builders' showrooms also means ADS does not have to invest in its own. But Sterle and Crigar also use their own home to showcase technology to customers when necessary. The home is outfitted with the "dopest AV system," says Sterle, including a 97-inch LG TV, multiple Sony OLED displays, and four Samsung The Frame TVs.
"We built a space specifically to bring people to show off really cool stuff in a very comfortable environment with a lot of good wine and liquor," he adds. "Our hope is to actually start hosting designer events at our home to offer CEU credits in a beautiful, designer-friendly space so if they ever think about technology, we're the only people they think about."
If you enjoyed this article and want to receive more valuable industry content like this, click here to sign up for our digital newsletters!