Choosing to look ahead, rather than resting on past laurels, the ProSource 2020 "Tomorrow Starts Today" annual dealer event placed an emphasis on emerging market categories and technologies. 
Starting off the buying group's show, ProSource's "State of the Business Address and Member Awards" were led by CEO and president Dave Workman. During his address, Workman quickly reviewed 2019 efforts by pointing out ProSource added 39 new members, but he said the buying group's future growth will be determined by dealers increasing their market share and not through the addition of new dealers. 
"We expect to add fewer members to the group over the next few years," noted Workman.
Citing the lighting and shade category, Workman said that ProSource is working to help its members grow their business through the public's increasing demand for smart home technologies and solutions that improve the quality of their lives.
"We believe that shades and lighting will become the two biggest categories," predicted Workman.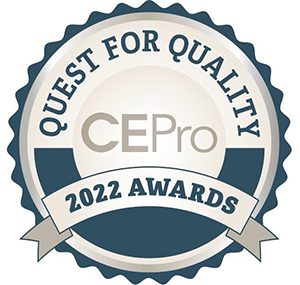 CE Pro urges integrators to recognize their suppliers that go above and beyond to deliver premium support and service. Cast your vote today to recognize the services (not the products) from your favorite manufacturers and distributors.
Cast your vote today!
"The sky is the limit as far as we are concerned."
Workman went on to discuss manufacturer and dealer consolidation, and the group's latest committee's that are designed to support its members' growth opportunities.
"You always hear about how big we are, but big can be impersonal," he commented, and he said ProSource's goal is to provide its members with personalized attention that fits the needs of their respective businesses.
Looking at how the custom installation market is currently trending Workman pointed out the audio category was down 1.2% mostly due to the OEM chipset supply issues. TV/video was up 2.5% and custom was up more than 10% he added.
ProSource University
After stating that he expects 2020 to be another prosperous year for integrators, Workman went into the group's educational plans.
This year, as part of ProSource's educational efforts, Workman said members can expect expanded "town hall" and summer educational series schedules through events that include East Coast and West Coast custom installation programs. 
Reinforcing the group's commitment to lighting, Workman said ProSource will hold regional lighting training events and training sessions that use an "elevator approach." This structure he notes will result in dealers receiving lighting certifications to help them sell lighting fixtures, but not having to produce sophisticated lighting designs. 
"The objective is to make you a successful lighting retailer," said Workman.
Announcing ProSource University, he went on to say this educational program will provide integrators with vendor training, CEDIA training libraries, beta testing and more.
One important aspect to ProSource University he stressed is the CEDIA training content will be exclusive to ProSource CEDIA members and the online training will cover a range of topics.
The topics of healthcare and new vendor partners wrapped up Workman's ProSource 2020 presentation before he announced its regional dealers of the year.
Explaining ProSource's healthcare objectives, Workman said the group has partnered with Cigna to cover businesses in all 50 states.  The goal for the healthcare program is 5,000 participants, which he said will enable the group to receive family-friendly pricing and high levels of coverage. 
ProSource's dealers of the year:
South Central: Sound Effects/SFX AV, Mesa, Ariz., Wesley Palmer, owner
North Central: Pflan Zone, Sioux City, Iowa, Scott Pflan, owner
Southeast: Twisted Pair Media, Nashville, Tenn., Ryan Shelton and Wesley Kinney, owners
West: Infinite Home Theater, Meridian, Idaho, Maitland and Katie Fritzley, owners
Northeast: Home Technology Experts, Manhattan, the Hamptons and South Hampton N.Y., Alex Karoussos, owner
Pro Level Dealer: Nebraska Furniture Mart, headquarters in Omaha, Neb., Irv Blumkin, CEO