For years, architects and interior designers have done an impressive job for homeowners, dedicated to delivering their client's wants and needs. However, in this digital age, much has changed. AV technology has revolutionized the way building spaces are imagined and designed, creating a new paradigm that requires architects, interior designers, and AV specialists to work together from the initial stages of any construction project.
Here are five key reasons to explain to architects and interior designers why they should be working closely with you as an AV integrator:
Maintaining the Aesthetics of the Design & Keeping The Overall Vision
Most clients prefer to conceal AV technology in their homes or offices. They want a design that is functional yet beautiful.
Designers benefit by having an AV specialist know a room's layout through their vision. They will be able to locate any hidden-behind-the-wall impediments that may affect special lighting features, sound systems, or designated entertainment areas.
They are also vital in creating and designing quality technology systems that achieve seamless integration within a space both aesthetically and efficiency in performance.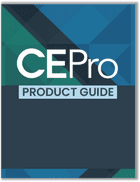 CE Pro's 2022 Product Guide showcases some of the latest and innovative solutions from manufacturers serving the custom electronics industry in a cross-section of categories.
Download the guide now!
By partnering with an AV specialist, architects and designers can rest assured their vision for the look and feel of the space will be maintained, as well as the timeline of installing these components.
Maintaining Architectural/Structural Design
When it comes to the construction phase, architects should consider any AV technology system that is within the plan.
Designing and specifying all AV systems at the initial phase of any architectural project will ensure that the systems get the necessary financial plan.
Unfortunately, AV technology is often overlooked, leading to further complications down the line. AV is an expensive technology to retrofit if it's not incorporated in the initial phases.
When working together with architects, AV specialists ensure that all the necessary elements are included in the construction phase.
Coexistence of Devices
Installing different AV technologies is not as easy as it seems. There is a lot to consider before various technologies become functional. Different devices have an impact on each other.
To mitigate the challenges that come with the multiple devices coexisting, coordination from the interior designers, architects, and AV specialists is crucial.
Cost-Effective
The risk of not involving an AV specialist in the architectural and interior designing process can drive extra costs and trigger other challenges for building owners. After all, AV technology is expensive to retrofit when not incorporated in the initial design phase.
Staying Current on Technological Trends
For architects and designers, it can be challenging to stay current about other aspects of the job that aren't directly related to their specialty.
Because technology is continually evolving, few architects and designers are aware of all the technical aspects of the latest technology. This is where integrators should come in and be up-front about the value they can provide.
Partnering with an AV specialist will ensure they work with someone who is up to date on all the most recent home technologies, trends, and products.
---
Justin Schwartz is the CEO of Sage AV, a custom integration and design company based out of New York City.