Embedded in all the positive data revealed by Sonos for its Fiscal Year 2019 earnings, the company revealed that the Chinese tariffs implemented by the U.S. will have at least a $30 million negative effect on the company's profit for fiscal year 2020.
For FY 2019 that ended Sept. 30, 2019, Sonos (Nasdaq: SONO) had revenues up 11% to a record $1.261 billion, and adjusted EBITDA increased 28% to $89 million. For the year, the company generated more than $97 million in free cash flow in fiscal 2019, ending the year with $339 million in cash. 
More than 9 million households worldwide now have Sonos products in them. For its Fiscal Year 2019, more than 1.7 million new households deployed Sonos. Meanwhile, 37% of all sales were into repeat households in the past 12 months.
The IKEA collaboration was a big hit. On the first day alone, more than 30,000 Sonos SYMFONISK table lamps and bookshelf speakers were sold. Heading into FY 2020, the company is bullish on its move into the outdoor market.
But not everything in the report was rosy. The company reported the Chinese tariffs will likely hit its bottom line hard.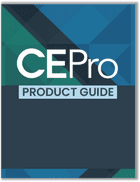 CE Pro's 2022 Product Guide showcases some of the latest and innovative solutions from manufacturers serving the custom electronics industry in a cross-section of categories.
Download the guide now!
"As a reminder, effective September 1, 2019, our products are subject to a 15% tariff under List 4A," Brittany Bagley, Sonos' CFO, told investors. She went on to say that Sonos expects the 15% tariff to be in effect for the full year. The company is prioritizing moving its U.S.-bound production from China to Malaysia.
"Our manufacturing capacity in Malaysia is ramping up quickly and we believe we will have largely eliminated, the go forward impact of tariffs by the end of the fiscal year," she says.
Bagley notes that Sonos expects the tariffs will impact the company's 2020 profitability to the tune of $30 million, with half of that coming in the October to December 31 timeframe, which is Sonos' largest sales quarter.
"We anticipate that efforts to diversify our supply chain into Malaysia will offset the impact to a greater extent in the back half of the year," she said.
The company's gross margins are still high, in the 41% to 42% range. But EBIDTA for 2020 is likely to be between $72 million and $82 million. Without the tariffs, the company's profit would be between $102 million and $112 million.