Vanco International LLC, a manufacturer of AV distribution and electronic accessory products, is showcasing two new products in the ISE Discovery Zone: A feature-rich HDBaseT 3.0 extender and its affordable all-in-one PA-CVB1 4K videoconferencing solution.
The new EVEXHDB3 Evolution HDBaseT 3.0 extender combines every HDMI extension feature Vanco offers in a single device. The EVEXHDB3 delivers uncompressed HDMI signals up to 4K at 60Hz, with full HDR compatibility up to 100 meters (328 feet). The HDBaseT 3.0 extender supports KVM, ARC, eARC, CEC and 1GHz Ethernet pass-through, and includes built-in audio de-embedding to break out audio to an amplifier or distribution system. Quite simply, this new extender covers the bases for any HDBaseT application.
Vanco's new PA-CVB1 PulseAudio Collaboration Video Bar is also making its ISE debut. The PA-CVB1 is an all-in-one videoconferencing solution with a sleek, modern soundbar form factor. It has a 6-ray beamforming microphone and a 4K ePTZ camera with a 120-degree field of view embedded in its center. The PA-CVB1's smart framing feature, which can be set to respond to either motion or sound, automatically adjusts the camera's view to frame meeting participants.
The Midwest-based manufacturer also points out that its new conferencing solution incorporates USB 3.0 connectivity and compatibility with all major conferencing applications, and Vanco adds that once the product is installed, the PA-CVB1 can transform any small meeting room into a videoconferencing space.
Vanco emphasizes that both of these new products were developed in close collaboration with Vanco customers. Dealers and distributors interested in gaining early access to new Vanco products can apply to join the Vanco Enthusiast Program at the booth. Members gain access to benefits including the opportunity to beta-test new products prior to release or have their work featured in published case studies.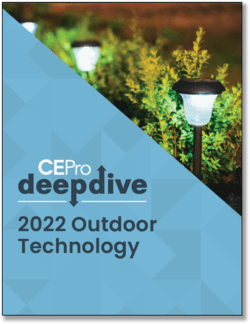 The 2023 CE Pro Outdoor Technology Deep Dive reveals unique set of impediments, including explaining pricing and interacting with outdoor-centric trades.
Get your copy now to take a "deep dive" into the trends and challenges of outdoor technology.
Download the report now!
More news from Vanco: Vanco to Show PA-CVB1 WFH Video Bar at CEDIA Expo
ISE 2023 is fast approaching. Visit our news archives to see everything that's come out about the show so far.