Introducing its newest generation of Audio components, URC's High Definition Audio Products (HDA) combine the best features of the residential and commercial audio industries.
URC says that new series of audio components can be configured to meet a range of residential and commercial audio system requirements. Engineered for fast, easy dealer installation, the new line of products from the Harrison, N.Y.-based manufacturer incorporate options such as AVB network streaming, ducking, full DSP capabilities, and integration into URC Total Control systems.
"By launching our new HDA line, URC delivers on its tradition of continuous innovation and superior home automation solutions," states Chang K. Park, founder, URC.
"Our goal is to deliver residential and commercial audio experiences that rival high-fidelity, concert experience."
HDA Series Complements URC's Other Products
According to URC, when integrators combine the HDA line of products with its in-ceiling and outdoor loudspeakers, dealers can create complete audio systems.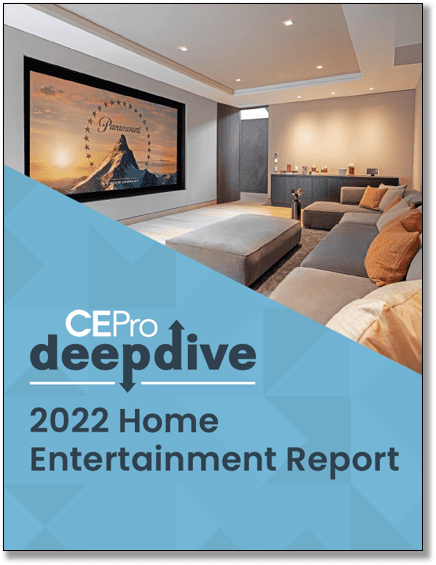 The home entertainment category is especially susceptible to the supply chain crisis because there are so many individual components required. Despite that ongoing problem, the once-forgotten "home theater" category continued its strong comeback in 2021 likely driven by the ongoing house-bound public due to the COVID-19 pandemic.
Download your copy today!
URC points out that its speakers were developed to run more efficiently than typical loudspeakers. URC notes that its speakers also employ its proprietary mounting hardware and simple cabling connections to make it possible to omit the use of tools during the installation process.
"Our development process combined the best listening features for consumers combined with easy installation and networking," comments," Lars Granoe, Vice President of product development, URC.
"The rich sound paired with the overall speed and performance of Total Control are really impressing people, and we couldn't be more excited to bring it [the product line] to market."
URC emphasizes its new product series is comprised of these six products:
HDA-8100 Multi-Zone Amplifier
HDA-4100 Multi-Zone Amplifier
HDA-1600 Low-Z/70 Volt Amplifier
HDA-130 Single Zone Amplifier
HDA-SW5 Gigabit AVB Network Switch
HDA-IO Stream Adaptor
Other features built into the products include the ability to deliver up to 1,200 watts of power; 24-bit/96kHz streaming capabilities, mic mixing, parametric equalization, and the ability to support as many as 32 zones of audio.
Authorized URC dealers can purchase the products through the company's dealer-only portal.