touchDock is iRoom's new flagship series. The docking stations mount flush into the wall horizontally or vertically and reveal exquisite craftmanship with high-quality scratch resistant tempered glass in black or white to match the iPad in color and material. touchDock models are available for all iPad with a 10.2" screen or larger, e.g., iPad 10.2", iPad Air3, iPad Pro 10.5" / 11" or iPad Pro 12.9".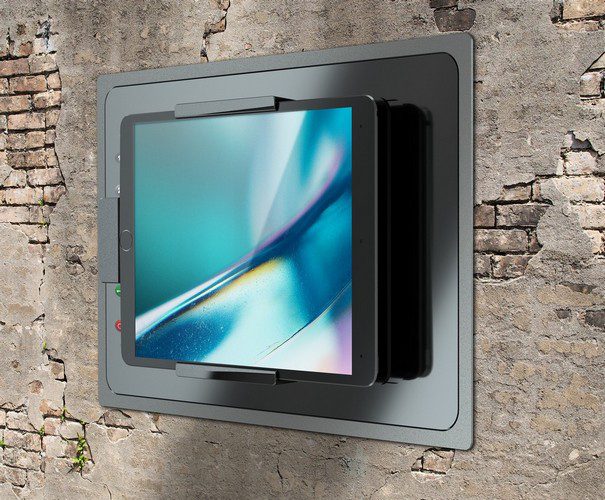 iPad Removal & Antitheft Protection
touchDock allows for motorized removal of the iPad for mobile use. By simply pressing the release button the motor slides the iPad tray out for easy and convenient removal of the iPad. Possible theft of the iPad needs to be taken into consideration in all installations in public or semi-public spaces. Removal of the iPad removal can be code-protected and acts as an anti-theft mechanism.
Control Functionality
The built-in control processor with a touch keypad incorporated into the glass offers AV control over Ethernet independent of the iPad. iRoom provides drivers for all major third-party control systems such as Crestron, Control4, Savant, RTI, URC and many more that turn touchDock into a control device for these systems.
Smart Battery Management Increases iPad Battery Life
One of the drawbacks many users of docking stations face is the battery lifetime that gets dramatically reduced when the iPad is permanently charged and being used at the same time. In the worst case, the battery swells and becomes permanently damaged. iRoom's Docking Stations are Apple-certified and communicate with the iPad during the charging process. Once the battery is fully charged the Docking Station switches to powering only the display without using the iPad's battery. This extends the battery life and prevents damage of the battery.
Wake and Unlock the iPad Screen through Hand Gesture
touchDock is equipped with a proximity sensor that can be used in control scenarios to trigger functions such as play/stop/mute music or turn on/off the lights. The new software allows configuration of the proximity sensor for waking and unlocking the iPad screen rather than pressing the iPad button and entering the unlock code. This adds great convenience when the iPad is used in control scenarios.
Verdict
With its rich feature set and build-quality, touchDock sets the bar for professional docking solutions. High-quality aluminum and glass give touchDock a distinctive elegant appearance and let it perfectly blend into any interior design. The integration of all recent iRoom technologies make the docking station an installer-friendly, unique and versatile device.
More information: https://www.iroomsidock.com/products/touchdock/?lang=en