Venerable Canadian audio manufacturer Paradigm has introduced its Founder Series loudspeakers, with six models comprising the premium product range.
The new Paradigm Founder Series product family runs from $1,100 to $4,300 per speaker for its standmount/bookshelf, LCR, center and floorstanding loudspeakers.
That puts the Founder Series below Paradigm's flagship Persona lineup ($3,500 to $17,000 apiece) and above the Mississauga, Ontario, company's Prestige Series ($1,300 to $2,500).
Note the Persona and Prestige Series also offer subwoofers and the Prestige has surround speakers as well, so perhaps Founder will add those down the road.
Paradigm Founder Series Models & Pricing
For now, the Founder Series includes (find more specifics on driver makeup on Paradigm's website):
Founder 120H: 5-driver, 3-way hybrid floostanding with active bass (the only model to implement a hybrid design); MSRP $4,300 each
Founder 100F: 5-driver, 3-way floorstanding; $2,600 each
Founder 80F: 4-driver, 2.5-way floorstanding; $1,850 each
Founder 90C: 4-driver, dual passive radiator, 3-way center channel; $2,600 each
Founder 70LCR: 4-driver, 3-way LCR; $1,700 each
Founder 40B: 2-driver, 2-way standmount; $1,100 each
The floorstanding and standmount models feature ported enclosures, while the center and left/center/right speakers have sealed enclosures. Paradigm states the speakers can be used for high-performance two-channel or multichannel audio setups.

Paradigm says new patented technologies were developed for the acoustic platform of Founder Series products.
Among the technologies Paradigm incorporated is its Advanced Shock-Mount Isolating Mounting System. The Founder Series midrange and bass drivers are mechanically decoupled from the front baffle using this approach, the company explains.
"This special mounting hardware uses an elastomer suspension to prevent any transfer of vibration from the driver to the cabinet, and from the cabinet to the driver," according to Paradigm.
"By eliminating resonance, the driver is free to render sound purely and efficiently with no audible distortion and maximum clarity."
4 Premium-Grade Finish Options
Meanwhile, the Founder Series speakers sport a new coaxial midrange driver on the center channel models, which uses OSW's oblate spheroid shape with a coaxially mounted tweeter, according to the company.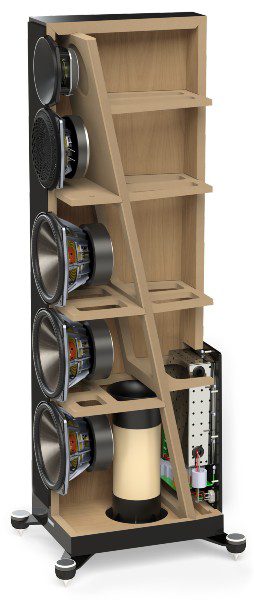 Paradigm adds that its Cascade-Fusion Bracing inside the floorstanding models' faceted cabinets improve rigidity and break up standing low-frequency waves, benefitting bass in particular with more clarity and accuracy, the company says.
In terms of aesthetics, Paradigm will offer Founder Series in four premium-grade finishes: walnut, black walnut, midnight cherry and piano black.
The first two options feature a smooth satin finish and "distinctive wood figuring," while the latter two are high-gloss designs, the company notes.
Advanced Shock-Mount Feet decouple the cabinet from the floor – twice, the company says, "for extremely effective vibration decoupling." Paradigm provides interchangeable hardware for both carpet and hard surfaces.
post
If you enjoyed this article and want to receive more valuable industry content like this, click here to sign up for our digital newsletters!