Addressing a segment of the home audio category that is often overlooked, the new JL Audio Fathom f110v2 Subwoofer fills a void for integrators.
Shown at CEDIA Expo 2019, the newly released subwoofer makes a return to the installation market after JL Audio discontinued the original version a few years ago.
The high-performance, $3,500 f110v2 subwoofer incorporates the company's W7 10-inch driver, along with a digital, switching amplifier that's capable of delivering peak power levels as high as 1.1kW RMS.
JL Audio augments the performance capabilities of the subwoofer with its proprietary Digital Automatic Room Optimization (D.A.R.O) processing suite that features the latest digital signal processing (DSPs) technologies.
To use the D.A.R.O equalization option, all integrators need to do is connect the sub's included calibration microphone. The sub will generate its own test tones, and it will measure the test tones at the listening position to calibrate the sub's response using an 18-band, 1/6th octave equalizer.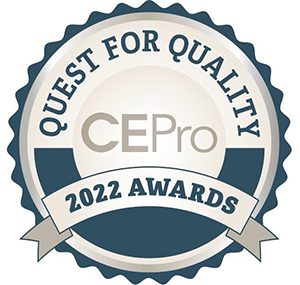 CE Pro urges integrators to recognize their suppliers that go above and beyond to deliver premium support and service. Cast your vote today to recognize the services (not the products) from your favorite manufacturers and distributors.
Cast your vote today!
Why Choose the JL Audio f110v2 Subwoofer?
Engineered as a no-compromise, high-performance subwoofer, the JL Audio f110v2 stands just over 15-inches tall; nearly 13-inches wide, and a shade over 17-inches deep.
Weighing at 71 pounds, the room-friendly subwoofer produces low frequencies down to 27Hz, and it also plays down as low as 19Hz at -10dB.
Putting it more simply, the JL Audio fathom f110v2 offers integrators a small footprint subwoofer that delivers high levels of low-frequency output from a product that doesn't take up a lot of floor space.
"We are excited to be reintroducing a product that a lot of people missed when it was discontinued a few years ago. We are proud to say the Fathom f110 is now in a v2 version … it is back," states Manville Smith, vice president of marketing, JL Audio.
"It has the full complement of performance features—signal processing—but in a much more compact package than the other Fathom models, which makes it compatible with smaller applications [such as] a lot of smaller rooms; maybe bedroom systems and other areas where you want premium subwoofer performance that is more out of the way visually and takes up less floorspace."
Fathom f110v2 Summary of Features
Proprietary JL Audio w7 10-inch woofer
Switching amplifier that delivers as much as 1.1kW at peak bursts
Built-in D.A.R.O. room correction software
Low-frequency extension down to 27Hz
15-inches tall; less than 13-inches wide, and just over 17-inches deep