Introducing the World's First Intelligent Wireless All-in-One Loudspeakers: Dynaudio Music
Dynaudio's Music loudspeaker models feature advanced audio technologies, one-touch simplicity, and Danish design.
Content from our Sponsor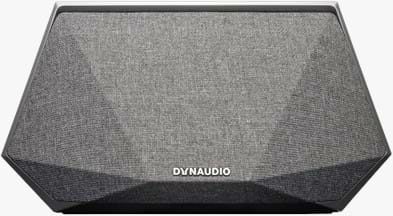 Music is a range of intelligent, wireless, multi-room capable all-in-one music systems from Dynaudio highlighted by Danish design, advanced audio technologies, one-touch simplicity and intelligent features that automatically adapt to the room they're in, their position in that room and to the musical tastes of their users.
The Music models are all active, each driver having a dedicated high-performance digital amplifier tuned to match it. The tweeters, midrange and woofers feature proprietary Dynaudio driver materials and technologies derived from Dynaudio's high-end hi-fi and professional studio loudspeaker models.
The system can seamlessly adapt to users' individual tastes, listening space and lifestyle. Four Music models are available with different features between them to fit different applications:
Up to six Music speakers can be connected, arranged into multi-room groups, or controlled individually from the app.
The 80W Music 1 ($549) and 120W Music 3 ($699) offer the portability of battery power (for up to eight hours) and include power buttons on their lower flanks. The 250W Music 5 ($849) and 300W Music 7 ($1,099) turn on via proximity sensors; they are powered on by simply waving a hand over them. The Music 3, 5 and 7 include a remote as well.
No Fuss Set-Up
Set-up is done in the free Dynaudio Music app (iOS and Android), while control is via the app or push buttons on the models. The app's Music Now algorithm takes user input to automatically generate personalized playlists, available at the touch of a button.
The speaker is connected to a Wi-Fi network via the app, a TIDAL account is linked (a free nine-month trial is included at launch), and users select favorite artists and genres to build a Music Now profile (up to five unique profiles, each of which can be assigned to a speaker preset).
It's also possible to assign an album, artist, song, or internet radio station to a preset (Music 1 and Music 3 use one button to toggle between sources; Music 5 and Music 7 have dedicated buttons for each). Users can simply press a preset (without accessing the app) to play music.
The Music can stream via Wi-Fi, aptX Bluetooth and Apple AirPlay (AirPlay 2), and can access DLNA devices on users' home networks. USB inputs for iOS audio and charging iOS devices and 3.5mm analog inputs are included.
The Music 5 and Music 7 add digital optical inputs (24-bit/96kHz), while the Music 7 adds an HDMI input (Audio Return Channel) to turn it into a soundbar. The Music 5 and Music 7 can be wall-mounted via and optional wall-bracket.
Dynaudio's vast experience and expertise in DSP (digital signal processing), gained from researching and developing high-end active speakers, professional studio monitors and OEM in-car audio systems is embedded in the Music models' DNA.
RoomAdapt Makes EQ Calibration Easy
While the system is simple to get up and running, and it's just as simple to achieve the best sound possible. A Music speaker's performance can automatically be adapted to its position in the room, to the ambient noise level, and to the user's lifestyle via intelligent, auto-generated Music Now playlists.
The built-in RoomAdapt technology automatically adapts the frequency balance to suit the speaker's position, even when moved. It senses proximity to room boundaries, enabling optimal clarity and accuracy and the best sound possible.
NoiseAdapt compensates for in-room noise, enhancing clarity by automatically adjusting dynamic range over multiple frequency bands, optimizing volume and tone simultaneously, and on the fly, by sensing the room through an onboard microphone and calculating as it goes.
The Music speakers are available in a choice of Light Grey, Dark Grey, Red or Blue cloth finishes, custom-made by the acclaimed Danish textile house Gabriel.
The inspired design of the speakers comes not only from Danish tradition, but was also inspired by origami, traditional Chinese boat sails and even stealth fighter jets. The models are constructed from honest, high-quality materials – including a one-piece brushed aluminum surround on the Music 5 and Music 7.
Music is a product built to last – both in terms of style and durability – and offers unparalleled performance in its class.