The recently completed CEDIA Expo 2019 show featured a number of standout products. At the forefront of this long list is the Leon Speakers Ente Soundtile.
Before I go any further—for the next several days I will pick out one product shown at the show and highlight that particular product. I will also explain the reasons why the product was chosen, including how it stands out in today's competitive custom integration marketplace.
Why the Leon Speakers Ente Soundtile?
Not long ago I mentioned I thought the show highlighted the shift in product design by saying the show revealed the future of home audio.
The Ente Soundtile is the poster boy product for the residential audio market's future. Combining a Sonos Amp, along with a choice of hundreds of artwork choices or a homeowner's personal art collection, and a choice of frame finishes, the Soundtile unobtrusively blends into any home decor.
From the perspective of integrators, through Sonos' technologies, dealers can set up wireless whole-house audio systems with a choice of streaming services, and the Leon Ente Soundtile mounts flush via integrated French Cleat mount.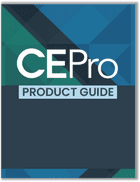 CE Pro's 2022 Product Guide showcases some of the latest and innovative solutions from manufacturers serving the custom electronics industry in a cross-section of categories.
Download the guide now!
What I like about the product is how well the Ente Soundtile blends into home interiors through its customizable artwork, and it makes me think of something my family is working on for my daughter's room.
My family redecorated my daughter's room, and as part of the redesign, my daughter wants to decorate her room with famous album covers such as David Bowie's "Aladdin Sane," Led Zeppelin "I," Paramore "Brand New Eyes" and Queen "Jazz."
Seeing the Soundtile I thought to myself, "what a fun way to integrate audio into a home. It would be awesome to hear 'The Jean Genie' coming from a speaker with the 'Aladdin Sane' album cover"
I suspect that I'm not the only one that thinks Leon's "outside of the box" thinking is exactly what many homeowners are looking for from an audio company.
Discussing the product, Noah Kaplan, founder and president of Leon Speakers, emphasizes the Soundtile encompasses the company's approach to market.
"At Leon our vision has always been about mixing art with audio and design with technology. This sort of represents the evolution of all of our vision and mission combined," explains Kaplan.
"Inside this tile you have Sonos technology and a pair of Leon high-end studio monitors. So, this is what your stereo can look like. You can add zones of audio all-around your house in new ways and be more creative about how you bring sound and style into any space."
Ente Soundtile Summary of Features
Ente Soundtile incorporates Sonos Amp
Homeowners can choose from an array of artwork that includes their personal collections
Made in the U.S.A.
Available with either a matte black or matte white frame with exposed baltic birch edge
Leon suggests to dealers to combine the Ente Soundtile with its DsUltima, vUltima or A10-UT products