Announcing its latest Roam-themed endeavor, Sonos has launched its Wild Tracks campaign.
The development of Sonos' newest entertainment program is driven by a recent study the company conducted that found that 74% of respondents choose music as their preferred entertainment source, even over friends and select family members. Sonos states that because certain destinations feature an unmatched splendor that merits a soundtrack of its own, Wild Tracks invites consumers to explore the world's most beloved outdoor destinations with 11 partner-curated playlists from the likes of Emma Lovewell, Joe Holder, and more.
"With excitement especially high for travel this summer, we wanted to inspire Sonos fans to get outside and explore the world around them," says Nicole Gullaci, director of Americas marketing, Sonos.
"We know from our own research that listening to music and spending time outdoors are the top two activities people use to relax. With our thoughtfully-curated Wild Tracks playlists, consumers can truly immerse themselves in their natural surroundings and be transported wherever they choose to embrace the great outdoors."
To inspire this exploration, Wild Tracks features multiple elements, including a 1-minute film that visually and sonically explores the relationship between sound and nature. The individualized curated playlists are designed to encourage listeners to seek their own adventure. Each playlist was inspired by America's top outdoor destinations and curated by expert music lovers and nature enthusiasts: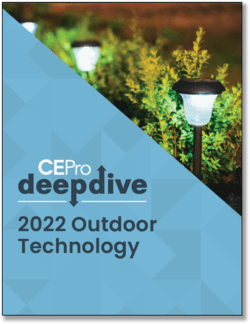 The 2023 CE Pro Outdoor Technology Deep Dive reveals unique set of impediments, including explaining pricing and interacting with outdoor-centric trades.
Get your copy now to take a "deep dive" into the trends and challenges of outdoor technology.
Download the report now!
Sonos adds that these outdoor adventures can be fully realized through its portable Roam loudspeaker. The popular audio company says the Roam expands the radius of the Sonos experience and serves as a fun complement to adventure.
To learn more about Wild Tracks, as well as the Sonos Roam portable speaker visit sonoswildtracks.com.