SnapAV Signature by Episode Speakers Now Shipping
Originally debuted during CEDIA Expo 2019, SnapAV's Signature by Episode line of speakers are now available to integrators.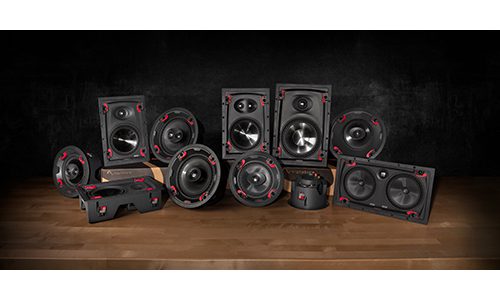 Following the introduction of the SnapAV Signature by Episode loudspeakers this past fall at CEDIA Expo 2019, SnapAV has announced it is now shipping the products.
SnapAV states the Signature by Episode offers integrators a choice of 32 SKUs from an array of three series, and seven optional cradle accessories to support the products' selection of grilles, preconstruction brackets and back boxes.
"The install versatility of Signature by Episode was a direct result of dealer feedback," states Matt Kamp, director of product management, SnapAV.
"We're laser-focused on our installers' needs, and we're thrilled to deliver the flexibility they've been asking for at a price that helps them make their margins."
SnapAV Signature by Episode Are Engineered to Facilitate Speedy Installs
SnapAV explains that all Signature by Episode Series 3 speakers utilize polypropylene woofers and silk-dome tweeters. The Series 5 products employ polypropylene woofers and adjustable silk-dome tweeters; with both drivers incorporating vacuum-deposited Titanium. The Signature by Episode Series 7 products feature honeycomb-fiberglass Nomex woofers and pure Titanium tweeters to address high-performance audio applications.
The company also points out the product line incorporates its Push Lock by Swarm toolless installation bracket system.
According to SnapAV, Push Lock secures the speakers with a simple press of a button to provide integrators with a fast and easy installation process for the products.
Other features include one- or two-step install processes. In the step-one process, the speaker, cradle, grille and optional back box install with a single trip up the ladder. The two-step process is an install option the speaker installs separately from the rest of the assembly to allow integrators to simply push the speaker into place at a later date with no additional wiring or tools.
Related content: SnapAV Expandable Soundbar
SnapAV adds that it developed the line of products using principles popularized by work done by Canada's National Research Council (NRC) to provide users with low distortion, wide dispersion and flat frequency response loudspeaker solutions.
"Signature by Episode is the most versatile speaker on the market for both dealers and listeners, providing a truly life-like sound experience that looks stunning in any room," comments Kamp.
"Scientifically engineered with premium woofer and tweeter materials, Signature delivers deep bass and unmatched tonal clarity for lifelike sound at any listening level, making customers happy and dealers successful."