The revival of two-channel, stereo music has in turn driven a renewed interest in stereo equipment and of course high-performance audio.
One of the leading manufacturers in the audiophile, high-performance consumer audio market is the Canadian company Simaudio. Based in Montreal, Simaudio designs and builds everything from amps and preamplifiers, to phono preamplifiers, and digital to analog converters (DACs).
Adding to its selection of amplifiers, the company not long ago introduced its 860A v2 dual-monaural amplifier.
Developed as a statement piece of electronics, the 860A v2 amplifier combines the company's latest industrial designs, along with sturdy construction, and proprietary amplification designs, all within a single package.
The 860A v2 amplifier can be used with a preamplifier to form the foundation of a high-performance stereo system, or multiple 860As can be used to power a modern immersive audio home theater for anyone that requires a no-compromise home theater solution.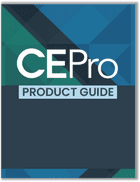 CE Pro's 2022 Product Guide showcases some of the latest and innovative solutions from manufacturers serving the custom electronics industry in a cross-section of categories.
Download the guide now!
Sending me the amp to try for myself, I inserted the 860A v2 in my stereo system, which includes a Bryston preamplifier, a Cary Audio phono preamplifier, a Meridian Zone Controller/DAC, a Sonos Connect, a Pioneer Elite disc player; a restored Thorens TD-160 turntable, and a pair of Aerial Acoustics loudspeakers.
Simaudio Moon 860A v2 Features and Setup
Explaining its new amplifier, SimAudio says the 860A v2 is a, "balanced differential, dual-mono power amplifier."
From a design perspective, the amplifier utilizes trickle-down technologies from the SimAudio 888 amplifier. Internally, the 860A v2 employs Moon custom transistors in conjunction with a zero-global feedback topology design.
Simaudio specifies the Moon 860A v2 to produce 225-watts per channel operating in a stereo (dual mono) mode, and a total of 750 watts when operating in a bridged (monaural) mode. The company also states the amp is capable of driving, "virtually any loudspeakers, allowing them to reach their full sonic potential."
The Simaudio Moon 860A amplifier comes impressively packaged. Unpacking the amp is a bit of a chore for a single person, but it is manageable. 
---
CE Pro Specs
Rated to produce 225 watts into 8 ohms/450 watts into 4 ohms
Monaural mode (bridged) at 8 ohms is 750 watts
The Moon 860A employs a balanced differential dual-mono design
Engineered to deliver Class A power for up to five watts
Designed to handle a range of speaker impedance loads
MSRP is $18,000
---
Lifting the heavy amp into my furniture cabinet was also kind of a task, but admittedly, so was the removal of my Bryston amplifier. Using a set of balanced (XLR) cables I connected the Moon 860A amp to my Bryston preamplifier, and I plugged the amp into my Torus Power conditioner to form an all-Canadian trio of electronics.
With the connections all set, I moved to the rear panel of the amp and selected the XLR option (the amp has a switch to let you choose XLR or RCA connections). I also selected the stereo mode of operation (there is a switch for mono/stereo operation).
Other setup options on the rear panel include a coupling operation switch that allows for the selection of AC or DC coupling. Because my preamp is solid state SimAudio recommends selecting the DC coupling option, which I did.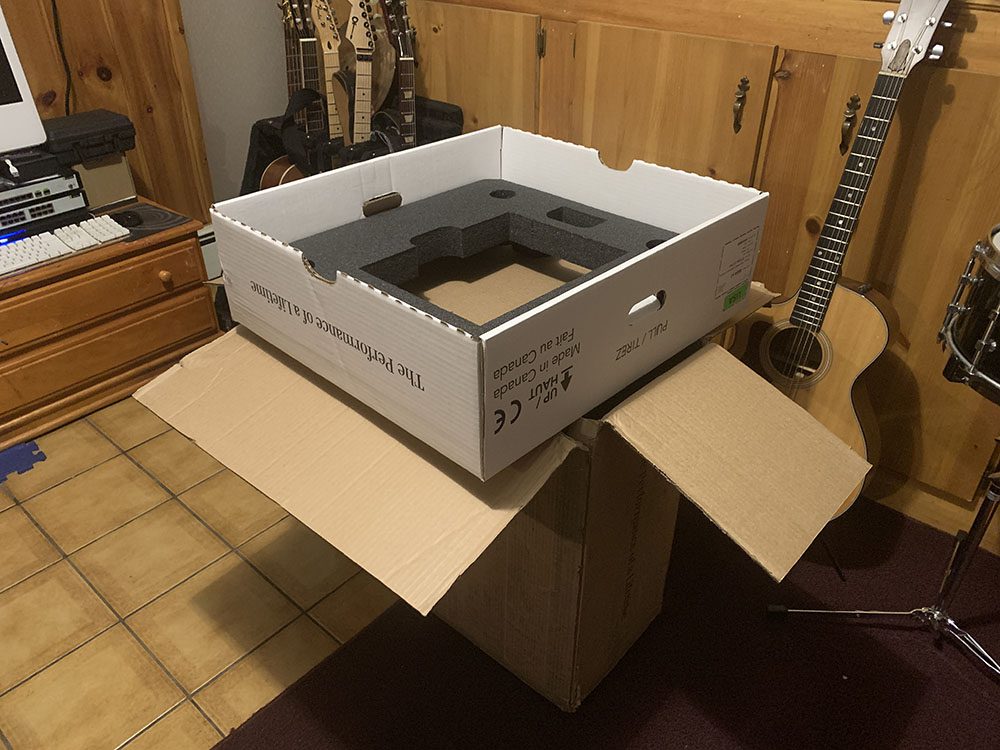 The rear panel also includes custom install options for control via RS-232 and 12-volt triggers, which I did not use.
Wrapping up the setup, I flipped the master power switch on.
Setup didn't take too long, and realistically a single person could set the amp up without any issues. For safety concerns and even possibly the aesthetics of a Moon 860A v2 installation, it's advisable that two people work together to unpack and place the amp in a rack or a piece of furniture, however.
Performance and Final Thoughts
Before I get some of the details of my experience with the amplifier, I would like to admit that I think there is a law of diminishing returns with most consumer goods and that includes consumer electronics.
This concept includes products that have high-performance pedigrees such as sporting goods or musical instruments. Just because I buy a Gibson Les Paul it doesn't mean I'm going to start playing guitar like Randy Rhoads of Jimmy Page. So the idea of me buying a Les Paul Custom because Randy played one, won't improve my playing.
Anyway, getting back on point, when it comes to audiophile products some of the gear can be crazy expensive and realistically the vast majority of these products don't deliver on the promise hyped by these small, unproven companies.
That's where Simaudio separates itself as an audiophile manufacturer. First of all, the company has lineage. The company has a four-decade track record of developing products and supporting its dealers. Secondly, its products, and specifically the 860A v2 delivers the goods. 
Moreover, I'll add that in terms of the audiophile market, while a premium purchase, the 860A v2 comes nowhere close to the top-of-the-market pricing of some swanky audiophile products. So, in those terms, you could even consider the amp a bargain.
So, back on point again. I used the amplifier for several weeks listening to streaming content from the Sonos Connect, upsampled by the Meridian Zone Player; I listened to vinyl using the Cary phono preamp and Thorens table, and I listened to CDs using my Pioneer Elite disc player.
What I found regardless of the media I used was consistency.
The amp consistently produced well balanced, highly resolved images. Go-to recordings like AC/DC's "Back in Black" on vinyl included all the traits I look for: bottom end control and thump; absolutely black noise floors, high levels of detail, and a sense of intimacy that makes the listening an emotional experience because it's able to resolve the space of records like "Back in Black."
Rocking out to digital content from Apple Music via the Sonos and Meridian products and songs like "Interstate Love Song" from Stone Temple Pilots (STP) really showcased the neutrality of the amp.
STP's guitar player Dean Deleo plays some really nice chord voicings in this song using a Fender Telecaster and the amp through my system reproduced the "jangliness" of Deleo's Tele and the tension of the chord voicings so I could hear them nice and clearly. Listening to more 90s rock I've always loved the drum tones on "Semi Charmed Life" by Third Eye Blind, and I thought the way the amp reproduced the drum transients on this recording preserved the body of the drum sounds, while maintaining the attack of the stick strikes nicely.
Continuing the emphasis on drums, the drum tones in the Ozzy/Primus cover of "N.I.B." are immense. Wherever they recorded those drum parts has a great sounding, ambient drum room, and I thought the amp captured this ambience of the room and the power of Primus' drummer Bryan Mantia without compromise.
Songs like the "N.I.B" cover and CDs like P!nk's "Greatest Hits" also happen to be compressed fairly heavily, but I thought the amp helped to flesh out detail and dynamics on these recordings as well as can be expected given what was done during the mastering process.
Concluding my listening with David Bowie's "Aladdin Sane" on vinyl sounded more involving and richer than streaming versions I heard. Focusing on the guitar, I found the amp playing the vinyl version delivered more texture to allow harmonics and other elements to shine through.
Taking quick note of the power of the amp driving my tough-to-drive Aerial Acoustic speakers, I measured output levels of 95dB with the volume of my preamp set at 10 o'clock. I took these measurements about 8 feet from my speakers while playing Santana's "Supernatural" CD.
My only minor complaint with the amp is the power switch on the front panel. I operated the amp manually as I noted in the setup. I didn't' setup triggers or set it up with a control system. I would press the power button, and I thought power button's tactile user feel is kind of odd. There's an LED indicator that shows when the amp is in standby or running, and you have to press and hold the button to engage it.
I would like to see immediate feedback, like an audible click or something else that indicates the amp is powering up. I understand maybe a click would detract from the elegance of the amp, but there must be some solution that could improve the manual powering up process because there were times where I wasn't sure the amp was on or in standby.
So, what did I think … a lot of people may say that $18,000 is a lot of money for an amplifier, and in many cases I could be one of those voices. In the case of the 860A v2, however, it does everything I would expect from a high-performance audiophile product, so I have no qualms with its price.
Putting the amp in context, in the audiophile world as I stated earlier it actually stacks up as a value. This value includes its installation options, sound performance, build quality, the company's four-decade track record, and the 10-year warranty that also comes with the product. 
If you are looking for a marquee stereo amplifier to build an AV system around, the Simaudio Moon 860A v2 should be at the top of any wish list.
---
CE Pro Verdict
Pros:
Elegant industrial design; robust build quality
Plenty of power to drive a variety of loudspeakers
Highly detailed, neutral sound with nice frequency spectrum balance
Cons:
The amplifier is heavy, use caution when handling the Moon 860A
The signal sensing auto turn on and power button could communicate operational status with more clarity/responsiveness