One of the most creative companies in the custom electronics industry is the Texas-based manufacturer Screen Innovations (SI).
At CEDIA Expo 2021 the company lived up to its name once again by showing a range of products in the shade and projection screen categories, including several supporting products that facilitate control and system integration.
Greeting attendees in his booth SI CEO Ryan Gustafson and his staff showed the company's latest line of electronics and new solutions for the outdoor shade and outdoor video categories.
During the show SI emphasized the increasing popularity of outdoor products such as shades and screens. Displaying its Zen 2 outdoor motorized shade cassette, the company says that its latest shade product transforms decks, patios, gazebos and other outdoor spaces into stylish living spaces. SI states The Zen 2 motorized shade cassette accommodates fabrics up to 25 feet wide and 16 feet tall. SI notes the product includes everything integrators will need for a complete installation.
Supporting outdoor AV applications, the company also previewed its Solo Outdoor product. Expected to ship in Q4 of 2021, the Solo Outdoor cassette utilizes a small-form factor, along with a zipper track and a high-wind rating that keeps the fabric stiff in challenging environments.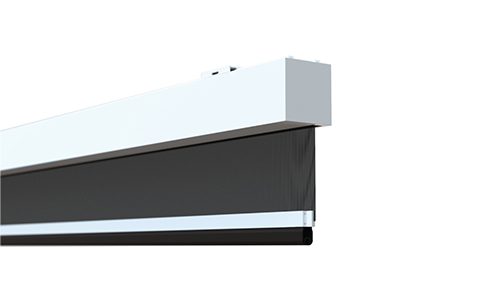 Additionally, the company showed its Maestro outdoor-rated screen material and 360 outdoor screen material, which allows for viewing on both sides.
"Today we are actually highlighting a whole new line of outdoor products. We literally wanted to change what outdoor shades and screens should look like. This is the first décor designer focused, architecturally pleasing outdoor roller shades," boasts Gustafson.
"Notice the hard edges and clean lines, which designers have been asking for where it disappears into the gazebo. It is actually custom powder coated [pointing out the display product's finish] to match your room or your outdoor exterior, and the best part is, if we don't have a powder coat color that matches you can order it primed and you can custom paint it with house paint or have it painted to perfectly match your house."
Screen Innovations Troy IP Control Gateway Powers a Range of Devices
On the other side of the SI CEDIA booth was its latest electronic components, which were headlined by the Troy IP Control Gateway.
According to the Texas-based manufacturer, the Troy enables integrators to program the movements of shades and screens. SI says that tasks that used to take hours now only takes a few minutes using a standard web browser. Through the Troy's user interface shades and screens can be given unique ID addresses, which can be useful when grouping multiple products and producing repeatable system designs.
Other electronics on display from SI included the Kratos low-voltage power supply. Designed as a less expensive alternative solution to the Janus power and control hub, the Kratos incorporates a plenum-rated steel chassis, along with eight ports that are protected against shorts and mis-wirings. The Kratos provides integrators with a low-voltage alternative to 485-based shade systems.
Additionally, other products such as SI's Fontus dongle, Janus Power and Control Hub, Zigbee 3.0 Mesh Controller and Edge Router were on display, and these products are designed to provide integrators control and power options depending on the size of a system, budget and level of sophistication.
post