The amount of new Roon Ready certifications has increased substantially since the start of the pandemic.
Looking back on 2020, Roon Labs notes that just a handful of new products were certified each month, but in the first half of this year it has already announced more than 100 new Roon Ready and Roon Tested devices. The company points out that 40 new brands have submitted products for certification in that timeframe, including key product ranges and new launches from Arcam, Astell & Kern, Cambridge Audio, and JBL.
Now working with nearly 200 globally recognized names such as Bowers & Wilkins, Denon, Devialet, KEF, Harman, McIntosh, and Naim Audio, and supporting over a thousand individual products, the company boasts that Roon Ready is quickly becoming a feature in the listening rooms of music professionals, music collectors, and audiophiles.
According to the company, Roon plays with everything—products as varied as network streamers, DACs, wireless speakers, all-in-one systems, and A/V receivers—at prices ranging from $100 to $100,000.
Roon Labs points out that recent announcements about lossless and high-resolution streaming from Apple Music and others have kindled new interest in high-quality audio. The company also says that listeners who want to go beyond their mobile phone with Bluetooth headphones, can use Roon Ready and Roon Tested products as high-performance components that create ecosystems for listening to high-resolution music on the widest range of audio equipment.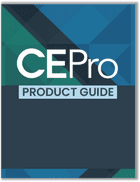 CE Pro's 2022 Product Guide showcases some of the latest and innovative solutions from manufacturers serving the custom electronics industry in a cross-section of categories.
Download the guide now!
In addition to Roon Ready products, the company emphasizes there are hundreds of Roon Tested products that bring the Roon ecosystem into residences. This support ranges from solutions such as Sonos, AirPlay, and Google Cast streaming devices, to USB and HDMI receivers and DACs. This variety of product compatibility the company stresses, means that Roon helps users get the most cohesive experience out of virtually any audio device.
Tying that ecosystem together, Roon explains its user interface, feature set and support for high-res PCM, DSD and MQA digital audio file formats, enables its ecosystem's to deliver broad product compatibility.
Roon adds that its ecosystem provides users with an engaging way to browse, organize, and listen to music. This metadata includes artist photos, credits, and bios, as well as reviews, lyrics, and tour dates. Composers are located automatically, then interconnected by links to build a surfable digital magazine. Roon is also a multiroom, multi-user networked audio platform—it offers features such as bit-perfect playback, DSD and PCM upsampling, multichannel support, and Signal Path display.