Roon Labs, a music management and streaming platform that offers users a way to engage with their music collection, has made significant improvements with its latest software release.
Roon 1.8 brings an immersive new experience that delivers even more from the Roon features that were already in place. In its latest release, Roon becomes a gallery of music for users to browse and explore their collections on a deeper level.
Roon 1.8 presents a fresh, modern design with bold typography to make it easy to use.
The new vertical scroll makes it quick and easy to find music no matter what device you're using, which the company emphasizes makes the Roon experience consistent. 
Roon 1.8 brings new browsing capabilities and recommendations that understand your music collection. By combining Roon's metadata and learnings from how you and Roon's community of 100,000 expert listeners use the platform, suggestions are made and tailored to each individual listener.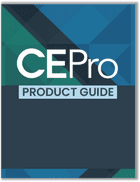 CE Pro's 2022 Product Guide showcases some of the latest and innovative solutions from manufacturers serving the custom electronics industry in a cross-section of categories.
Download the guide now!
According to Roon, whether you have an extensive music collection or if someone has just started their music collection, Roon 1.8 helps users rediscover their music collections and find new music outside it.
By connecting TIDAL or Qobuz streaming services to users' Roon accounts, people have access to an entire world of high-resolution streamed music and the possibility of making new discoveries.
The company asserts that it understands how users explore certain genres of music, and that's why the 1.8 release features a new visual style and information layout for classical music.
Read Next: Roon Labs Announces 1.7.7 Update
Whether you're a connoisseur or just getting introduced to classical music, Roon guides users to explore the genre from the perspective of the composer, performance, period or more. It also provides tighter links between albums and composers, as well as simpler browsing and intelligent recommendations based on the composer, performer, composition or conductor you're listening to.
Additionally for users that have ever wondered what their most listened to artist or genre is the updated Home screen in 1.8 includes an all-new dashboard of users' listening habits over time, broken down by top artists, albums and genres. This can be switched to show data for the last week, month, year or all time.
Moreover, Roon 1.8 provides a calendar view of what music users have been listening to over the last four weeks. By clicking on each section the 1.8 software delivers deeper insight into your listening habits down to the minute.