Without question, the most fun aspect of attending an AV industry event, a dealer showroom or equipment manufacturer is of course the system demo. Choosing a list of demonstration content is highly personal and highly subjective, and in the case of the audiophile world, recordings are often chosen because of the way a song sounds in terms of clarity and dynamics. Musicians on the other hand listen differently, and musicians like Beato may listen to the sound of the drums, guitar tones, vocal performances, and the art of crafting a well-written song. No greater example of the differences between musicians and audiophiles can be found in the latest Rick Beato video: The 40 Greatest Sounding Albums of All Time.
In the nearly 23-minute video, the popular music educator, musician, songwriter, and record producer states that choosing a list like this is difficult which is why he ended up with 40 titles.
"Now, why am I doing 40, because I really couldn't narrow it down," notes Beato.
"Now, when I say greatest sounding, these are not just great records, they are great sounding records. They are incredibly well recorded records."
Rick Beato's Demo List Features an Array of Musical Styles
Elaborating on his song choices, Beato points out that regardless of if he is walking into an AV store; testing a new set of studio monitors or trying out the stereo in a new car, he'll listen to content from this list.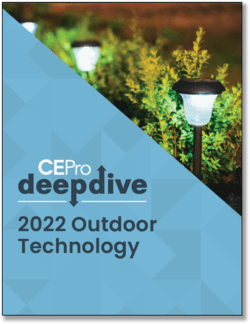 The 2023 CE Pro Outdoor Technology Deep Dive reveals unique set of impediments, including explaining pricing and interacting with outdoor-centric trades.
Get your copy now to take a "deep dive" into the trends and challenges of outdoor technology.
Download the report now!
Here is Rick Beato's Demo List
Ray Lamontagne: Till the Sun Turns Black
Doyal Bramhall II: Self-titled record
A Tribe Called Quest: Low End Theory
David Bowie: The Next Day
Fiona Apple: When the Pawn
Bonnie Raitt: Luck of the Draw
Karnivore: Sound Awake
Jay-Z: The Black Album
Tears for Fears: Songs from the Big Chair
Linkin Park: Meteora
Alabama Shakes: Sound & Color
Sufjan Stevens: Illinois
Sarah McLachlan: Fumbling Towards Ecstasy
Jellyfish: Spilt Milk
Gino Vannelli: Brother to Brother
OutKast: Speakerboxxx/The Love Below
Chicago: Chicago V
Brad Mehldau: Jacob's Ladder
Soundgarden: Superunknown
Rush: Permanent Waves
Dr. Dre: 2001
Tool: Lateralus
Van Halen: Self-titled album
Genesis: A Trick of the Tail
Rolling Stones: Let it Bleed
Tori Amos: Little Earthquakes
Robert Plant: Band of Joy
Radiohead: Kid A
Boston: Self-titled album
Memoirs of a Geisha: Original Soundtrack
Peter Gabriel: So
Seal: Seal II
Finding Nemo: Original Soundtrack
Pink Floyd: Dark Side of the Moon
The Beach Boys: Pet Sounds
Queen: A Night at the Opera
Steely Dan: Aja
Stevie Wonder: Songs in the Key of Life
Joni Mitchell: Court & Spark
John Coltrane and Johnny Hartman: Self-titled album
Throwing my two cents into this discussion, I like that Beato had many popular recordings in his list from artists as diverse as Jay-Z, Steely Dan and Linkin Park. It's my opinion that besides the lack of knowledge audiophiles have on the production process and mastering in particular, the lack of emotional connection to a piece of music is where system demos most often fail with consumers.
Explaining mastering in the most very basic of terms, it is the process in which engineers make sure a recording sounds balanced, full and even. The problem with a lot of popular music over the past few decades has been the issue in which the dynamics of recordings have been squashed or evened out in order for it to sound better on the radio or through a set of earbuds. The problem with heavy levels of mastering, which uses tools such as compressors and limiters, is these tools can remove the musicality and dynamics from a recording. Production professionals will sometimes refer to this trend as the "loudness wars."
Using the criteria of content that people recognize and music that is well produced, including mastering that lets the music breath, here are some of my top demo choices:
Lisa Loeb: Stay from the Reality Bites soundtrack
This song has nice dynamics, a great vocal performance and killer drum sounds.
Steve Morse: La VillaStrangiato from Prime Cuts
This is a cover that originally appeared on a Rush tribute album called Working Man, which I believe is out of print. This version of the song features Steve Morse on lead guitar, Billy Sheehan on bass and Mike Portnoy on drums.
Dave Matthews Band: #41 from the album Crash
This is a terrific sounding record, and this song highlights the musicianship of the band
David Bowie: Fashion from Scary Monsters
David Bowie's catalog is amazing with great songwriting, high levels of musicianship and high levels of production. Check out the guitar noises from Robert Fripp on this song and how they fit into the stereo image.
Michael Jackson: Billie Jean from the Thriller album
Who doesn't know this song? I am not sure who played the bass on this song, but the bassline is massive and driven by Ndugu Chancellor 's drum groove and a great vocal melody it is no wonder this song is an all-time classic.
Robert Plant: Little by Little from the album Shaken 'n' Stirred
Robert Plant has had an unbelievable solo career that almost rivals Led Zeppelin. This song from the mid-1980s has some of the production characteristics of Scary Monsters. Little by Little Features a tight, snappy drum sound, along with a nice use of digital reverb that is representative of the 1980s and albums such as Yes's 90125 and Ozzy Osbourne's Diary of a Madman, and sneaky cool sparse guitar moments from Robbie Blunt.
So, now that we've seen Rick Beato's demo list, and even some of my favorite demo tracks, what are your favorite songs that make up your demo lists? Share your demo tracks or your thoughts on what makes a song or album a great piece of demo content us with.
As an added bonus, Beato has followed up his demo list video with a song breakdown of Boston's A Man I"ll Never Be. In this video, he discusses the importance of ear training.
More news from Rick Beato: Pro Musician Rick Beato Says Audiophiles May 'Simply be Guessing'