Multiroom audio is not just for music anymore.
Channel Vision is proving that at CEDIA Expo 2019 with its new Instinctive Noise Masking Audio Amplifier to the professional installation marketplace.
The release of Channel Vision's new IMA, Instinctive Noise Masking Audio Amplifier, creates a soothing lifestyle-enhancing environment for our increasingly crowded urban lives.
IMA, features six audio tracks including birds singing to wake you up, waves on the beach to encourage sleep, and noise masking White, Brown and Pink noise generators that will "mask" the traffic, loud neighbor, or noisy office conversations.
Hauk Uses IMA To Drown Out Noisy Exhibit Floor
In a demo at CEDIA Expo, Channel Vision president Darrell Hauk was using the sound of rushing water to mask the ambient noise in the crowded exhibit floor.

CE Pro's Email Newsletters deliver timely news, industry-leading content, product information, and downloadable resources directly to your email inbox.
Sign Up Today!
IMA is built around the company's 100-watt one-gang box amplifier and includes keypad buttons for volume, soundtrack, fixed or variable instinctive audio levels, music or noise source selection, timeout feature from 20 minutes up to 2 hours or continuous 24 hour sound masking generation.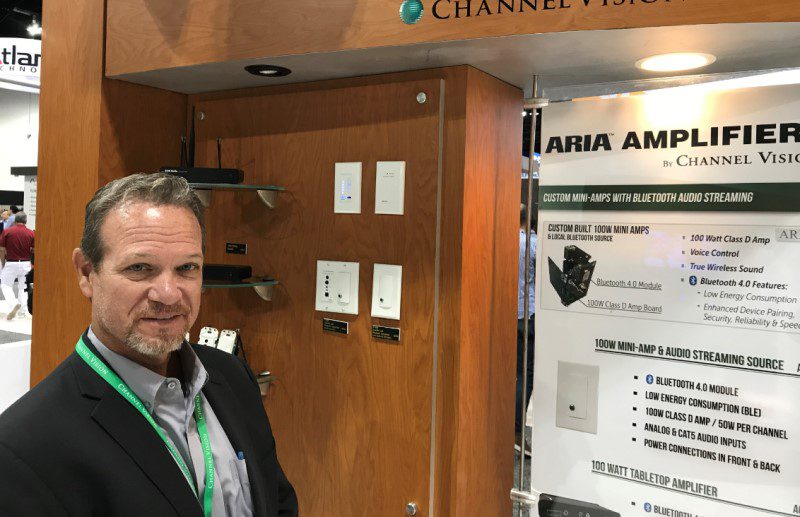 Additionally, IMA features IR learning intelligence built-in, allowing any remote to program IR codes to control the IMA functions. "Instinctive audio" is Channel Vision's proprietary comparative program that intelligently listens and measures background noise and will increase or decrease the volume based on the ambient noise.
Furthermore, IMA has a full set of features and can be set up as a single-zone system or a complete multi-zone distributed audio system for a home, hotel or office.
Integration with existing systems is straightforward using the Cat-5 audio input allowing you to integrate with the Crescendo audio product line, including the full line of cascading amplifiers, multi-source matrix and 1 to unlimited zone system. Also, an RCA output is available for third-party audio systems. Channel Vision's A0357 Instinctive Masking Amplifier will be available December 2019 from Channel Vision's network of distributors, dealers and installers throughout the world.