It's not often that CE Pro receives a flurry of emails from an avid reader starting their own business, and even more uncommon when their product turns out to fill a niche we've rarely discussed over the years: TV mounting, and more specifically TV mounting over a fireplace. But Doug Warren of Out-of-Sight Mounting Solutions isn't your average CE Pro reader, and his Hide-a-Mount product is something all integrators and manufacturers should take note of.
CE Pro reached out to Warren to learn more about his company, his history in the integration business, the company's relationship with MantelMount, and more.
---
Can you tell us a little about Out-of-Sight Mounting Solutions? What is the origin of your company and how did it go from an idea to a product ready for market?
Out-of-Sight Mounting Solutions started as a result of my inability to find a solution that would allow me to install a drop-down mantel bracket truly flush to the wall.
We simply wanted the back of our TV to sit flush against the custom millwork we installed around our fireplace project for a clean, aesthetically pleasing look. We purchased a recessed enclosure that was available on the market, although it still allowed over 2 inches of brackets and cables to remain exposed. Seeing that in the side profile of our TV just wasn't going to be acceptable.

CE Pro's Email Newsletters deliver timely news, industry-leading content, product information, and downloadable resources directly to your email inbox.
Sign Up Today!
So, I decided to fabricate my own enclosure. The result was just what we were looking for. The prototype worked so well that I realized there must be a small market for custom projects where a customer wants their TV mount to be as flush as possible, without going the route of having a carpenter build out a large recessed space above their fireplace.
From there, we brought on a patent lawyer, design engineer, and metal fabrication company and began to design and manufacture a few different enclosures and trim pieces. And Out-of-Sight Mounting Solutions was born.
---
What is your personal history in the CE/integration market?
I have been in the electrical industry for 30 years now. I have held a journeyman electrician license in the state of New Jersey for 20 years and continue to work in the trade. At Out-of-Sight Mounting Solutions we don't see ourselves as a home automation company. That is a highly technical and professional sector. We simply pride ourselves on designing a few different custom enclosures that will allow a drop-down mantel bracket to be integrated into a customer's project seamlessly and beautifully. We are focused solely on designing the best-performing bracket enclosure and trim pieces for the most aesthetically pleasing final view of a custom mantel project.
---
What advantages does your product provide integrators that other products in its category do not provide?
The two most important advantages of our Hide-a-Mount product are, first, that it will enable integrators who use the MantelMount line of brackets to install their brackets truly flush, and, second, an installer using the MM 340 bracket will now be able to mount the TV a mere 2 inches off the top of the mantel, and the TV is now able to "pivot." That will allow it to drop down past the deeper 12-inch mantels.
Previously, the only way to accommodate this was to have the drop-down bracket mounted 6 to 8 inches above the mantel. Not only was that unsightly and limited the amount of woodwork trim the customer could have around the TV, but, worse, some customers with lower ceilings would not even be able to install the bracket for lack of clearance. The pivot system alleviates this problem.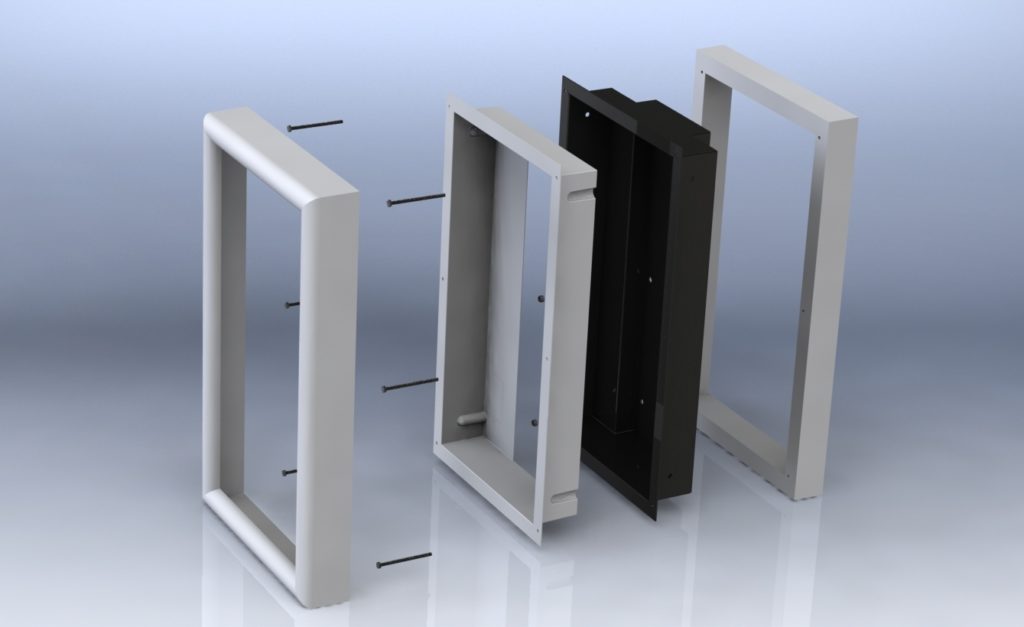 We have designed the enclosure to work with the MantelMount MM 340, MM 540 and MM 700 brackets. Through a year's worth of R&D, we have now been able to decrease the depth of our enclosures to 5.5 inches. This allows a truly flush mounting install in any wall 2×6 inches and deeper. We have two models available; one is 14.5 inches wide and 5.5 inches deep and fits directly between standard framed-out walls, while the other model is 18 inches wide and 5.5 inches deep.
The enclosure also comes with pre-drilled 3/8-inch holes in the sides for secure mounting to framing studs. We have also added two locations that can easily be knocked out to install metal boxes that can house and hide power or data cables if desired. The key to being able to allow the TV to sit flush to the wall is allowing the enclosure to house the full brackets.
---
What sort of feedback have you been getting from customers who have installed/ordered your product?
So far everyone has loved it. Our included installation manual has been hugely helpful for the handy homeowner, as well as for professional installers. Installers are also excited and impressed by the ease of install. Customers have liked that everything is hidden within the enclosure, as well as the ability to install lower on the wall to enable clearance of mantels (other options on the market require a much higher install), and that's thanks to our pivot bracket.
Our biggest hill to climb in this market is that most installers are set in their ways when it comes to mounting a customer's TV. Most installers won't let their customer know there are better solutions. We get it, the installer would rather screw four bolts into the wall and walk away – a completely solid and functional install, yes, but absolutely not the nicest-looking solution. Our Hide-a-Mount system takes a little more time and effort, but we believe the final result of the install is unmatched.
---
Are there any misconceptions surrounding the mounting category or your product that you'd like to clear up?
The most frequent question we get is with regard to the fireplace and lowering the TV down in front when the fireplace is in use. It is a fair question. Everyone has different fireplaces and different TVs, different install heights, etc. – all things to take into consideration when dropping the TV down in front of the fireplace. With that said, it's impossible for us to tell a consumer how much heat their TV can withstand in their install setting, so our recommended best practice is to limit TV viewing time with the television in the lowered position while the fireplace is in use.
Also, our bracket is made for use anywhere that the customer would like their TV to appear 100% flush against the wall – not only above a fireplace. The choice of whether to lower the TV in front of a fireplace is entirely up to the customer.
---
Does your product work specifically with MantelMount products, or can integrators have it made to fit other mounting options?
I personally use the MantelMount line of brackets, as I have found them to be well built and they work amazingly – which is why we specifically designed our enclosures to house the line of brackets MantelMount manufactures.
There are numerous other drop-down brackets on the market, and with the installer performing slight custom modifications of their own, there is no reason other brackets can't be modified to work in the enclosure. All our specifications and sizes are listed on our website, so an installer should be able to determine if their type of bracket would be compatible with our enclosure.
If an installer has questions, we encourage them to contact us and we will be happy to answer them.
---
Can you outline some of your long-term goals?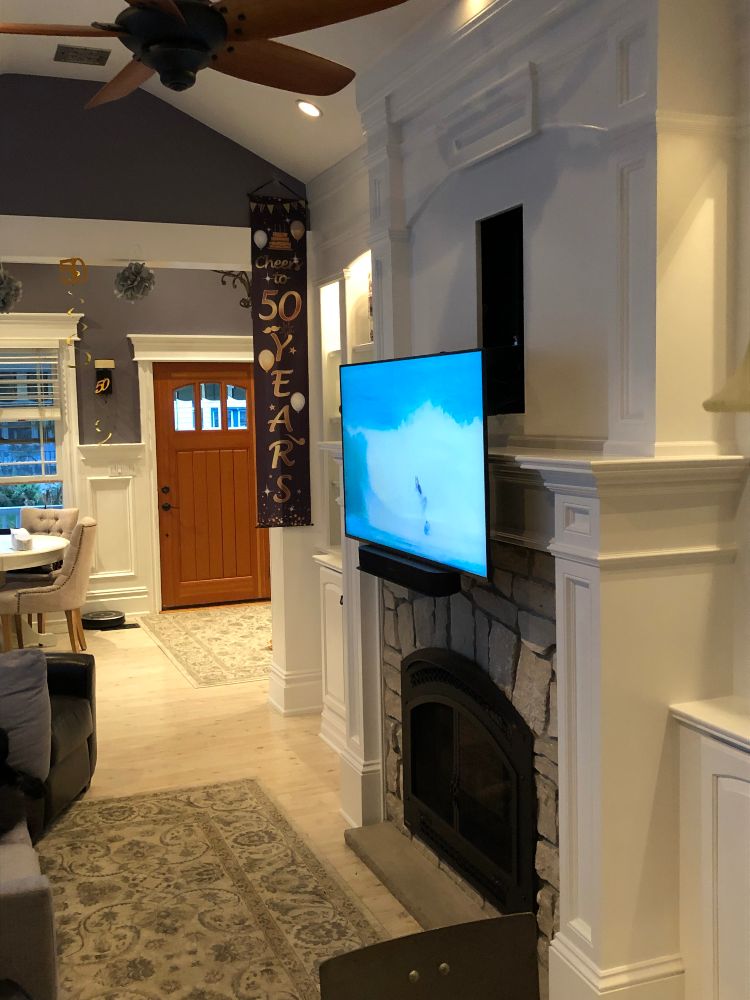 As a start-up company, our biggest goal at Out-of-Sight Mounting Solutions is to gain the trust of the installers and customers who are looking for this type of product. We are not looking to take over the TV mounting bracket space, we are simply trying to fill a void in a small niche of custom installs.
We would like to be the go-to company for the perfect mounting solution for this small niche; we also would like to continue evolving and keep offering ever-better, quality solutions for customers.
---
What kind of support does your company offer to customers/integrators to ensure they can service or move the product without hesitation?
We pride ourselves on being transparent. We understand this product isn't for everyone or every project, but if a customer or an integrator has an interest, we are always available to answer questions and provide guidance. We personally design, build and test our prototype in our own shop.
If you need a sample, we are open to that. If you don't like the product, we understand; just pay the shipping and we will give you a 100% refund.