Klipsch, a tech-driven premium global audio company, has announced the latest in the company's Klipsch | McLaren Legends series. As the official headphone and portable audio partner of the McLaren Formula 1 Racing Team, Klipsch has collaborated with McLaren once again to bring together McLaren's design ethos with Klipsch's signature high-fidelity audio.
Directly influenced by Bruce McLaren's first big win, these newest speakers are marked by his #5 car he drove to victory in 1958, clinching the title of youngest Grand Prix winner at the time. The latest speakers in the McLaren Legends series, the company states, combines McLaren's triumph with the prowess of founder Paul W. Klipsch, who himself pushed the boundaries of audio technology.
Klipsch Nines McLaren Edition Monitor
The new Klipsch Nines McLaren Edition powered monitors (MSRP $1,899 ea) deliver high resolution 192kHz/24-bit decoding, room-filling sound without taking up much space thanks to built-in ultra-low noise amplifiers that have been custom designed to maximize performance without external amplification, according to the company.
Klipsch also notes proprietary Tractrix technology along with 8" long-throw ported woofers deliver precise, efficient sound and powerful bass no matter the volume. Bluetooth 5.0 wireless technology syncs to preferred devices. The Nines McLaren Edition also comes equipped with an integrated phono preamp, HDMI-ARC, digital optical, analog RCA and USB inputs.
The company also points out that the free Klipsch Connect App provides EQ customization, over-the-air firmware updates, quick setup guide videos, one-tap support, and product registration.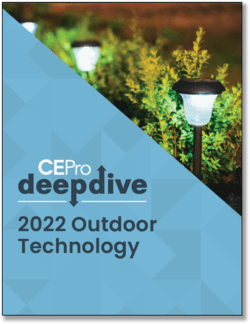 The 2023 CE Pro Outdoor Technology Deep Dive reveals unique set of impediments, including explaining pricing and interacting with outdoor-centric trades.
Get your copy now to take a "deep dive" into the trends and challenges of outdoor technology.
Download the report now!
Klipsch Forte McLaren Edition Loudspeaker
The Klipsch Forte McLaren Edition floorstanding loudspeaker (MSRP $10,998) hosts a three-way design utilizing a K-702 horn-loaded midrange driver mated to a modified Tractrix horn (featuring Klipsch patented Mumps technology), a 1" titanium diaphragm high frequency driver, and a 12" woofer with passive a 15" sub-bass radiator.
Klipsch also notes the premium aluminum input panel accommodates large speaker cables while the strong, high quality binding posts provide the capability for bi-amping. Additionally, it features grain-matched wood veneer panels hand crafted in Hope, AK and wrapped in papaya colored vinyl. These high efficiency full range loudspeakers will be available January 2023.
Klipsch The One II McLaren Edition Tabletop Speaker
The portable Klipsch The One II McLaren Edition tabletop speaker (MSRP $349 ea.) was designed to embody the luxurious Formula 1 racing style without compromising on sound quality, states Klipsch. This powered 60-watt 2.1 stereo system is biamplified with two 2.25" full range drivers and a 4.5" woofer.
Featuring Bluetooth wireless technology, it can pair with devices in just a few clicks or connect via 3.5mm analog audio cable through the additional input, according to the company. The One II McLaren Edition will be available March 2023.
Klipsch MCL-905 McLaren Edition Speaker
The largest of the series, Klipsch states the all-new Klipsch MCL-905 McLaren Edition speaker (MSRP $15,998) delivers unbridled dynamics and intense realism akin to movie theater performances. The company notes this is the first time this Klipsch professional cinema speaker has been tailored for home use.
A 3" titanium diaphragm compression driver mated to a K-691 horn handles high frequencies while dual 15" K-45 composite woofers provide bass punch from the cabinet which is hand built in Hope, AK. The company states Tractrix horn technology creates a large soundstage fit for any paddock, man cave, or garage.
Only 25 pairs of the Klipsch MCL-905 McLaren Edition will be made and are available March 2023.