KEF, the great and venerable British Loudspeaker manufacturer, has always approached designing products based on their ideas. They don't set out to copy somebody else; they want to make it their way, and make it sound great.
They've recently assembled a package called the V300 which consists of a pair of their T301 speakers (black only), and a small black box amplifier. The amp is rated at 50 watts per channel, and uses a Class D amplifier.
The idea for the amp came about in the early days of HDMI, when manufacturers of displays could charitably be said to be grappling with the idea of Audio Return Channel technology. As you may recall, ARC was designed to send an audio signal back to an AVR (properly equipped, of course) so the sound from the television could play through the audio system. That was to support folks who wanted better sound from their TV tuner than what was available from the small TV speakers.
Time marches on, of course, and TV speakers are not getting overwhelmingly better. What has gotten better, frankly, was the ARC technology. When it first came out, installers would routinely set up a new TV, go into the advanced menus and deactivate the feature. It was erratic, buggy… you get the picture. You still need to pay attention to which HDMI jack is labeled ARC on the display. Failure to do that will cause flashbacks to those earlier days.
Today, it works.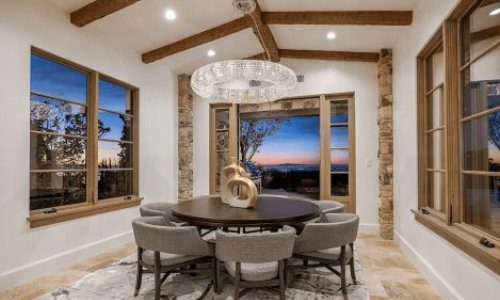 As a custom integrator, lighting is in demand. Effective communication, education and showcasing the value proposition of LED light fixtures in conjunction with integrative control systems are the keys to overcoming challenges and closing sales in this specialized market. Join us as we discuss the future of digital lighting and control with David Warfel from Light Can Help You and Patrick Laidlaw and Mark Moody from AiSPIRE.
Register Now! 
KEF V300 Setup and Impressions
I set one of these systems up using my Sony XBR43X800G TV. I wanted better sound then what was coming from the set so I could finish Netflix movies up, or watch the Milwaukee Bucks while going to bed.
I didn't want a ton of cables, and since the set sits on a table, a soundbar was out of the question. I pulled the black box out, which is called a V Series Activation module, hooked up the speaker connections and ran them over to the T301 speakers mounted on their snappy desk stands. If I wanted to, I could have had them in landscape mode, but they looked better in portrait mode. I took an HDMI jumper and went from the TV to the input on the box, and plugged the system into electricity.
I could also have mounted the T301 speakers directly on the wall with supplied hardware. They're super thin without the stands attached, measuring 35 mm, which is about 1 3/8-inch deep. They have two 4.5-inch woofers and a 1-inch tweeter, and play down to about 80 Hz. They measure 23 5/8-inches tall and 5.5-inches wide. Note there's a switch on the activation module to adjust EQ for either stand or flat on wall mounting. The module itself is 10 5/8-inches long, 6.5-inches deep, and about 1-inch tall.
I needed to check the ARC setting (somebody had turned it off several months ago), and once done, got sound. The volume control on the TV remote worked the sound up and down. It worked.
And it sounded markedly better than the TV speakers did. KEF also sent a KUBE 8 subwoofer, and so I hooked that up to the sub out on the black box, ran an RCA cable, and powered it up.
I would recommend the sub for folks who like watching programs with action, but also for folks who want a fuller, fatter sound. The KUBE delivered in spades, and looks good as a bonus.
The V300 sounds great. The catch is, it probably won't be around for a long time. KEF made a finite quantity of the Black Boxes several years ago, and because ARC performed poorly, pulled it off the market. They've brought it out again, priced very nicely for dealers, and intend on selling out.
It's not for everyone, but folks looking for a fine sounding speaker system for a TV set will be thrilled.
If you enjoyed this article and want to receive more valuable industry content like this, click here to sign up for our digital newsletters!