Between its array of finish options and home friendly footprints, K array's speakers are deceptive. Underneath the company's Italian industrial design are state-of-the-art technologies that allow the speakers to permanently reside in the harshest outdoor environments, or the comfort of a luxury home interior.
Known primarily for its commercial product line, which includes sound reinforcement systems that have been used by major artists on arena tours, the company also offers products to address residential applications.
The Italian audio company states that most of its speakers are IP64 rated. Additionally, the company also offers many other speakers that carry ratings such as IP21, and several of its products are EN 54-24 2008 compliant for commercial applications.
K array Speakers Cover any Installation Scenario
One of the things that make K array stand out as an audio company is its design approach.
Applying its experience in the commercial market, K array offers point source and line array solutions for residential applications. Explaining the differences between these speaker types simply, as the term implies, a point source radiates sound from a single point. Point source solutions are typically designed to work together to create a cohesive sound stage.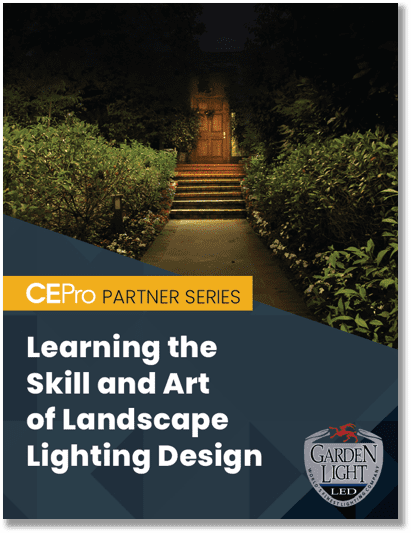 Experts recommend landscape lighting design as an entry point for integrators into the revenue opportunity of home lighting. Check out our new resource for tips and best practices. Download "
Learning the Skill and Art of Landscape Lighting Design
" today!.
A line array enables sound waves to work together to transmit sound further than point source designs. Typically, manufacturers employ vertical line arrays, unless it is some type of subwoofer product, and in theory, line arrays provide improved frequency response and coverage, which is why sound reinforcement system companies utilize these types of designs.
Taking a look at a few of these types of speakers in the K array product line here are six products that can be used indoors or outdoors to meet a wealth of application requirements:
Lyzard-KZ1 (IP64-rated point source)
Tornado-KT2 (IP64-rated point source)
Domino-KF26 (IP64-rated point source)
Vyper-KV25 (IP64-rated line array)
Anakonda-KAN200 (IP64-rated line array)
Kayman-KY102 (IP64-rated line array)