When the owner of a large, 15,000-square-foot smart home in Newport Beach, Calif., wanted to upgrade and integrate an all-home sound system they turned to local AV integrator Wired Media Solutions (WMS). Since Wired Media Solutions specializes in providing seamless, high-end home automation solutions, as well as commercial solutions, the company decided to experiment with adding different audio products to create the perfect whole-home audio system.
Ryan Wilkinson, president and CEO of Wired Media Solutions says that while the home is spacious, the integration team was challenged to fit the equipment into the existing small closet. Wilkinson needed to save as much room as possible to cover the home properly from this space while still delivering the channel count, power, and network connectivity required to distribute and control the audio throughout the house.
In order to turn his ideas for the projects into a reality, Wilkinson relied on LEA Professional amplifiers to suit the needs of the install.
"We had a big constraint of space and input power, but we still needed a high channel count," says Wilkinson, "The LEA amplifiers fit perfectly because they are all multi-channel, single-rack-unit amps that don't draw much power, they have built-in Ethernet connectivity and DSP, and they deliver plenty of output power to handle the entire house."
DSP Enabled Products Allow Integrators to Save Rack Space
The team installed a set of 11 Connect Series amplifiers from LEA Professional, including ten 168D 8-channel amplifiers with 160 watts per channel to cover the indoor rooms, and a 164D 4-channel amp, for an outdoor patio area — for a total of 84 audio channels.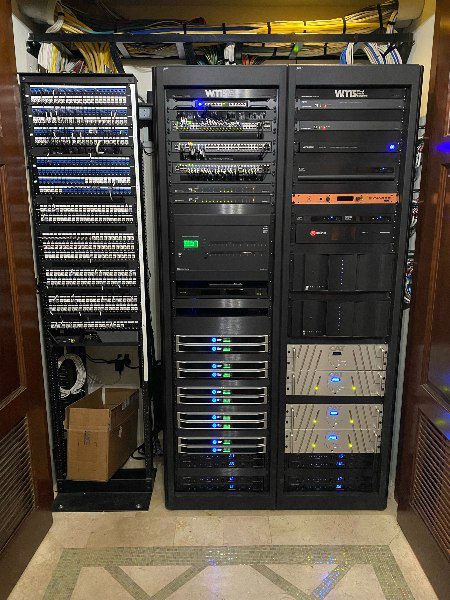 "Every room and space in the house has speakers — bathrooms, bedrooms, common areas, outdoor areas, kitchen, everywhere — and it's a mix of different types and brands of speakers," says Wilkinson. "Maintaining the ability to power zones individually gave us the ability to finely tune the volume and DSP presets across the various types of speakers and areas."
"The LEA amps' built-in DSP was a big help in this project, and we're starting to use it more in other smart home installations," adds Wilkinson. "It saves space in the rack, greatly streamlines the entire installation, and makes system set-up and adjustments easy."
Physically, DSP-powered equipment can do more with less, and therefore frees up critical rack space and reduces system weight. All the input routing, room tuning, speaker tuning, and limiting are built into the amplifier, which greatly reduces the need for additional hardware. Not only does this free up rack space, but it also simplifies system setup and reduces the possibility of issues arising within the system.
By using a digital input router, WMS's technicians were able to route any input to any output. And with the integration of an audio network, as with Dante, it's all just an Ethernet cable away.
"The system is all Dante networked and Crestron controlled, and we designed a custom touch-panel interface, so it's all very easy to manage," says Wilkinson, "Everything's time-delayed and leveled correctly; all the limiters and speaker protections are in place, and it sounds great. And if needed, we can remote into the LEA amps for status reports or to make adjustments — we couldn't be happier."
Click here to see more photos of the smart home!
If you enjoyed this article and want to receive more valuable industry content like this, click here to sign up for our digital newsletters!