Ingress protection ratings (IP ratings) are a vital part of picking the right outdoor A/V device for an install. While some clients may be somewhat familiar with IP ratings related to their smartphone, they may not know the specifics of common ratings like IP55, IP65, and IP67.
Each IP rating consists of two digits.
The first digit represents the device's intrusion protection, or how well the device protects against solid foreign objects like dust or bugs. If this number is low, it likely means the device's enclosure isn't well protected from outside elements.
The second digit represents the device's liquid protection (usually water). If this number is low, it likely means the device's enclosure cannot effectively keep liquid away from the sensitive electrical components of the device.
In either case, if the number is too low integrators should try and steer their customers away from those products and instead suggest higher IP rated options that should not have any difficulties functioning outside in the long term.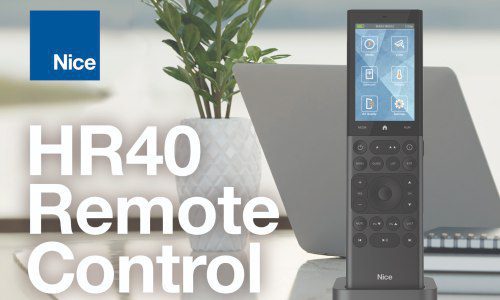 Remote controls continue to evolve at a rapid pace. The days of integrators providing remote controls simply for the TV have migrated to full home automation control of lights, shades, security, HVAC and audio/video in a single form factor. Join this free one-hour CE Pro webinar to hear from a panel of experts who will delve into finding the right remote that can effectively control all the subsystems in a home and empower consumers to customize the solution, while at the same time allowing integrators balance their service requirements.
Register Now! 
Todd Mares, director of emerging technologies for Peerless-AV, says there are simple ways to explain an IP55 rated piece of technology to a customer.
"It's rainproof and it's waterproof. You don't want to take a power washer to it or anything like that, but if installed correctly per the instructions the device should live outdoors just like a standard indoor [device] would live indoors."
Typically, integrators will want to suggest IP ratings closer to IP55 and above. Here's a handy list describing how each number relates to a rating:
IP Ratings Broken Down
First Digit (intrusion protection):
0: No special protection
1: Protection from a large part of the body such as a hand (but no protection from deliberate access); from solid objects greater than 50mm in diameter.
2: Protection against fingers or another object not greater than 80mm in length and 12mm in diameter.
3: Protection from entry by tools/wires with a diameter of 2.5 mm or more.
4: Protection against solid bodies larger than 1mm.
5: Protected against dust that may harm equipment.
6: Totally dust tight.
Second Digit (moisture protection):
0: No protection.
1: Protection against condensation.
2: Protection against water droplets deflected up to 15-degrees from vertical.

3

: Protected against spray up to 60° from vertical.
4: Protected against water spray from all directions.
5: Protection against low-pressure water jets (all directions).
6: Protection against strong water jets and waves.
7: Protected against temporary immersion.
8: Protected against prolonged effects of immersion under pressure.
The most common IP ratings you and your clients will encounter are IP55, IP65, IP66, IP67, and IP68. The descriptions for these ratings are as follows:
IP65 Enclosure: IP rated as "dust tight" and protected against water projected from a nozzle.
IP66 Enclosure: IP rated as "dust tight" and protected against heavy seas or powerful jets of water.
IP67 Enclosure: IP rated as "dust tight" and protected against immersion.
IP68 Enclosure: IP rated as "dust tight" and protected against complete, continuous submersion in water.
Other Outdoor A/V Areas to Discuss With Customers
Mares also reviewed several other key areas to discuss with clients about outdoor A/V equipment selection like brightness levels and maintenance.
For brightness, integrators may want to mention the nit level differences between indoor and outdoor displays. Typically, indoor displays hover in the 200-300 nit range, while outdoor displays average between 400-500 nits.
"When you get to the outdoors, you need a display that's at last two to three times brighter than an indoor display," says Mares.
It's also important to discuss expected maintenance and durability of outdoor A/V products with customers.
Integrators should highlight the fully sealed design of most outdoor products and how they are relatively low-maintenance, meaning customers won't have to worry about filter materials being replaced or cleaned regularly.