Every once in a while the winds change in every industry and fortunately sometimes it's in an exciting direction we actually want it to go. This time it's home cinema/home theater. Once the hottest thing around with projector models from well over a dozen manufacturers, all sporting anamorphic lens options for the cinema format, those heady years eventually gave way to more open, multimedia rooms with 16:9 format screens for sports, TV programming and yes, the occasional letterbox movie with black bars. Today 16:9 flat panels are getting bigger than ever, suggesting an even simpler option for those open spaces without any concern for ambient light issues.
Enter a new wind from a complete unexpected direction – TV.
In 2013 Netflix introduced "House of Cards" in the 2.0:1 format – just over 10% wider than 16:9 – to differentiate their new TV content from everything else by making it a bit more movie like.
In the years to follow just about every streaming service began producing wider content, often in full 4K, with today such titles as "Expanse", "Picard", "Why Women Kill", "Carnival Row", "The Mandalorian" and many others reaching to the full cinema 2.4:1 format. And even at the lowest wider aspect ratio of 2.0:1 this new content doesn't need much trimming at the top and bottom to fit a cinema format screen without really losing any of the intended impact.
In other words, 16:9 is being left behind for sports, news and documentaries. The action and drama of this new TV content is best experienced where? The dedicated theater. It's back – and it's not just for movies anymore.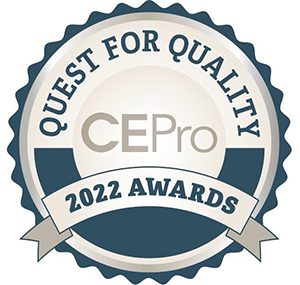 CE Pro urges integrators to recognize their suppliers that go above and beyond to deliver premium support and service. Cast your vote today to recognize the services (not the products) from your favorite manufacturers and distributors.
Cast your vote today!
That of course brings us to the how. Back in the heyday of HD home cinema, movable anamorphic lenses for maximum cinema performance were all the rage but they were also complicated and shortly thereafter the first wave of true 4K projectors didn't even have the processing horsepower to support them. But, very interestingly (perhaps prescient?), every high-end residential projector maker kept working on the anamorphic cinema solution. Coincidence?
In 2020 all Sony, JVC, Digital Projection, Christie and BenQ 4K projectors (to name a few) include anamorphic modes for delivering full 4K performance instead of the basically 3K performance limit of the memory zoom approach and flat panels. And this time all those projectors include multiple modes for watching 16:9 with the anamorphic lens in place. No more moving parts and or waiting for format changes (see my recent interview).
And naturally we contacted Panamorph, arguably the most well-known supplier of anamorphic lenses on the planet. Bottom line? They've been signing up new dealers on average of one every two days since 2018.
So indeed, it seems home cinema is coming back even stronger than ever, simpler than ever, and now supported by none other than content originally intended for TV.
That new wind seems to be bringing the familiar scent of popcorn.