Start-up Red Carpet Home Cinema made its big debut earlier this month at CEDIA Expo 2019, pitching the first solution in a long time that promises first-run movies delivered straight to a customer's living room, ready to watch as soon as a film hits commercial cinemas.
Red Carpet's movie server retails for $15,000, and connects via HDMI cable to a single, preassigned display that supports HDCP 2.2.
Prior to theatrical release, titles are downloaded to home servers automatically, available for direct viewing as soon as studios give the go-ahead – just about the time new releases open on the big screen. The Red Carpet downloads stay locked in the box until then.
Movies cost $1,500 to $3,000 each for up to two showings within 36 hours. Most of the good titles are at the high(est) end of the range, says Red Carpet CEO Fredric Rosen.
When he announced the solution in April of this year, the popular press scoffed at such a folly. Home-technology pros know better: Their affluent (and private) clients will pay for such a luxury. They just haven't had that privilege in quite some time.
Over the past decade we've seen a lot of good efforts in the "day-and-date" movie-delivery business, but none has stuck – whether backed by technology execs, Hollywood magnates or mass-market consumer-electronics companies.
In some cases, the efforts failed to launch. In others, they failed after launch, leaving early adopters with some very expensive brickwork costing tens of thousands of dollars.
Understandably, some home-tech dealers are a little queasy about jumping in.
'Can Red Carpet Succeed?'
"How do we know Red Carpet will have staying power …" I asked someone at the Red Carpet booth who was not the CEO.
As if his ears were calibrated to the frequency of doubt, Rosen leapt to his feet before I could finish, "… while all the others have failed?"
The man was a little more than perturbed by my insinuation – more like, my assassination – based on the mere failure of early-release efforts before Red Carpet came along.
Predecessors like Prima Cinema didn't have the financial backing, the proper business models, the Hollywood connections, the air-tight contracts and all the other prerequisites that Red Carpet has, Rosen told me. He is, after all, the "Ticketmaster Tycoon" who led the company for 16 years to the top of the ticketing empire.
His partner Dan Fellman, meanwhile, is "one of Hollywood's most experienced movie distribution executives," according to the New York Times.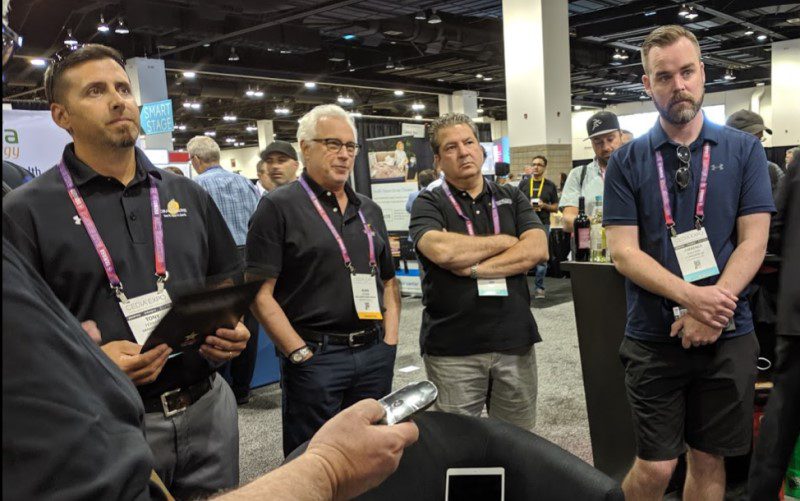 Rosen says his company has secured content deals with Warner Bros., Paramount, Lionsgate, Annapurna and Disney's 20th Century Fox.
"No one else had Warner Bros.," he tells me. "No one else had Fox."
He adds that studio execs won't hold back on blockbusters – they'll all be available through the Red Carpet platform.
When incredulous dealers at the booth started rattling off big titles "coming soon," Rosen responded, "Yes, yes, yes" to all of them.
Aquaman? Check. A Star is Born? Check. Hustlers? Check (now playing). Rambo: Last Blood? Check (coming Sept. 20). Brad Pitt's Ad Astra? Terminator: Dark Fate? Sonic the Hedgehog? Ford v Ferrari with Matt Damon and Christian Bale? Check, check, check – all available on the same day as their wide release to commercial cinemas.
Mr. Rosen's Neighborhood
Mea culpa, Mr. Rosen. If your business is as viable as you suggest, then home-technology integrators will sell lots of these boxes to feed your movie-moving machine.
The dealer, by the way, doesn't make money on the movie downloads, but does make margin on the box (and all the pricey A/V accoutrements that attach to it). The server supports 4K video, but only delivers 1080p for now. Each box is commissioned to a single display to protect digital rights, but Red Carpet can recommission the box if necessary for a new display.
Rosen says the product initially was intended as a direct-to-DIY sale, but now he thinks the company will be leaning heavily on the home-technology channel, which already has the eyes, ears, and pocketbooks of discriminating home-theater aficionados.
With that, I grabbed a box of Whoppers from the Red Carpet "snack bar", and left feeling pretty optimistic about the company's long-term prospects.
Rosen gave me his card, told me to call anytime.