There is no question Dolby Atmos has put a charge in the immersive home theater experience for watching movies, but what about audio? Pre-Atmos, integrators' surround sound audio demos were relegated to tracks from Pink Floyd's "Dark Side of the Moon." But now thanks to a new initiative from Dolby, a variety of songs have been remastered to Dolby Atmos, giving integrators a growing selection to use for demos with clients, giving them another powerful reason beyond just movies to consider an immersive room environment.
That new Dolby Atmos audio initiative was on display recently when Dave Silkin, president of Digital Sales Metro, held a high-performance home theater event in New York City at Dolby Laboratories offices. During the event, John Russell, co-founder of Cortex VIP Systems, discussed some of the music applications Dolby is working on and its timeline for release.
Russell says integrators and music fans can expect the immersive audio market to explode over the next 12 months.
"There will be 10,000 audio tracks remastered for Dolby Atmos this year [2020]," according to Russell.
As part of his presentation, Russell went on to cite the remastering of the classic albums "Abbey Road" from the Beatles' and "Goodbye Yellow Brick Road" from Elton John this year as evidence of the trend.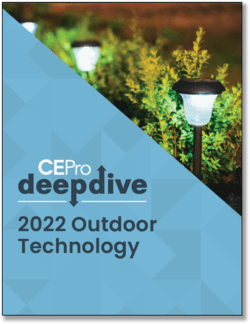 The 2023 CE Pro Outdoor Technology Deep Dive reveals unique set of impediments, including explaining pricing and interacting with outdoor-centric trades.
Get your copy now to take a "deep dive" into the trends and challenges of outdoor technology.
Download the report now!
The Digital Sales Metro's event was held at a Cortex VIP-built cinema in New York City at Dolby Laboratory's offices. Demonstrating the immersive characteristics of Atmos-encoded music, Russell played Atmos tracks from Imagine Dragons ("Believer") and INXS ("Mediate") for an audience of integrators and designers to underscore how well music can sound in an Atmos environment.
In the commercial sound reinforcement market, top manufacturers including L-Acoustics, Meyer Sound and Astro Spatial Audio have been promoting immersive audio as a next-generation experience for concert-goers.
This means that immersive audio for music applications could soon be available at concert venues and on the home front, making now the perfect time for both residential and commercial integrators to get their demos set up and ready to impress.
While Dolby's library of 10,000 remastered songs is still in the process of being built, here are 7 prime examples of Dolby Atmos-enabled remasters that are currently ready to rock for your demos: