HDMI Cable Certification and Why it Matters
Curious to figure out what exactly HDMI 2.1 cables provide for the market and what makes them so special? CEDIA's David Meyer goes over what integrators should know.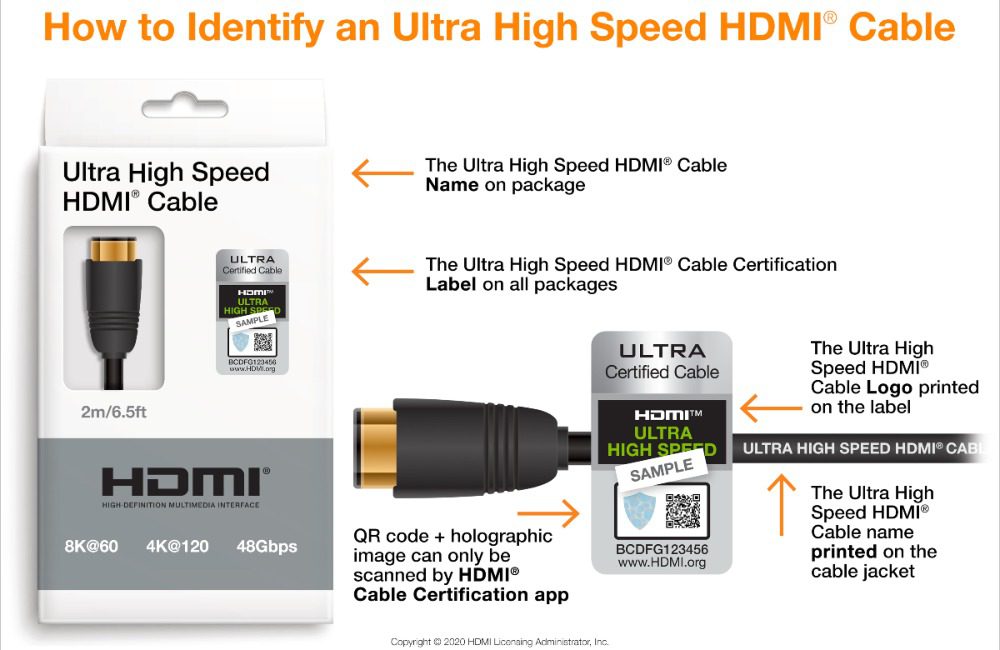 Ultra High Speed HDMI Cables are finally launching, following the release of the long-awaited cable portion of the HDMI 2.1 compliance test specification (CTS). What does that mean for you, the integrator? And most importantly, can you rely on the label as an assurance of performance? Well, I'm pleased (and relieved) to be able to say YES. Let me explain why.
Circa 2007 saw the release of Standard (Category 1, 2.22Gbps) and High Speed (Category 2, 10.2Gbps) HDMI cables. These were clearly defined in the HDMI 1.3 specification, and the accompanying CTS gave instruction for how HDMI authorized test centers (ATCs) should perform testing in a laboratory. Manufacturers could self-test cables to these standards, typically on prototypes before mass production. But in practice this was often obfuscated, and the official cable speed logos unfortunately appeared on many non-compliant cables.
In fact, I still recall the first time that I stood in a cable factory in China and was asked "do you want to see our High Speed test lab?" Yes, those exact words. That's like asking if I want a beer at a barbecue (especially as I'm Australian). I said yes, of course! They proceeded to show me a PS3 connected to an LCD TV.
Of course there's far, far more to testing and compliance than just appearing to work at 1080p. Now, I do need to clarify that this was actually just a production quality control procedure, not an official High Speed test, but it showed a disconnect in expectations. As a result, you, the integrator, had problems in the field caused by non-compliant cables, and perhaps started to rely on third-party testing instead.
Fast forward to around 2015 and the new Premium High Speed HDMI cables for 18Gbps. This program tightly controlled labeling with an anti-counterfeit, serialized label with a hologram that could only be applied to cables that had passed the 18Gbps test at an official ATC. This level of cable wasn't defined by the HDMI Forum in the HDMI 2.0 specification, but the HDMI Founders did separately develop a CTS for it.
Bottom line — testing and labelling was clearly heading in the right direction, but none of the official speed levels were absolutely comprehensive.
HDMI 2.1 and Ultra High Speed HDMI Cables
That brings us to the HDMI 2.1 specification and Ultra High Speed HDMI Cables. These are:
Detailed in the HDMI 2.1 specification as Category 3,
Subject to mandatory testing to 48Gbps at an HDMI Forum ATC, and
Strictly controlled anti-counterfeit labeling for authentication.
It's the complete package.
HDMI 2.1 uses a new encoding scheme called Fixed Rate Link (FRL), with six speed tiers: 9, 18, 24, 32, 40, and 48Gbps. There's a myth getting around that these require far more tests due to these six levels, instead of one level in previous versions (e.g., 18Gbps only). But in fact, HDMI technology previously used far more applied speeds. You see, the CTA-861-G standard defines video formats and timings from which HDMI data rates are derived. In that spec I counted 18 different pixel frequencies at 594MHz or less (i.e., those that fit in 18Gbps), and that's not counting the fractional rates (23.98Hz, 59.94Hz, etc.), or 10- and 12-bit 4:4:4 additions.
The result is a whopping 50+ possible transmission speeds under 18Gbps, and all sharing one EQ curve at the Sink. By comparison, HDMI 2.1 has only six speeds, each with its own targeted EQ curve. Much better.
In summary, the Ultra High Speed HDMI cable label with the green text is the most robust, comprehensive label to date, and should be the primary factor in selecting fit-for-purpose cables for HDMI 2.1 applications.
Next time, I'll talk some more about why some cables still work better than others. Stay tuned…
---
The terms HDMI, Premium High Speed HDMI Cable, Ultra High Speed HDMI, Ultra High Speed HDMI Cable Certification Program, the Ultra High Speed HDMI Certification Label, the Ultra High Speed HDMI Cable Logo and HDMI Logo are trademarks or registered trademarks of HDMI Licensing Administrator, Inc.