Hands On: NAD C 658 Preamplifier and C 268 Amplifier
The NAD C 658 preamplifier features the company's wireless streaming BluOS platform, as well as old-school options such as a moving magnet phono input.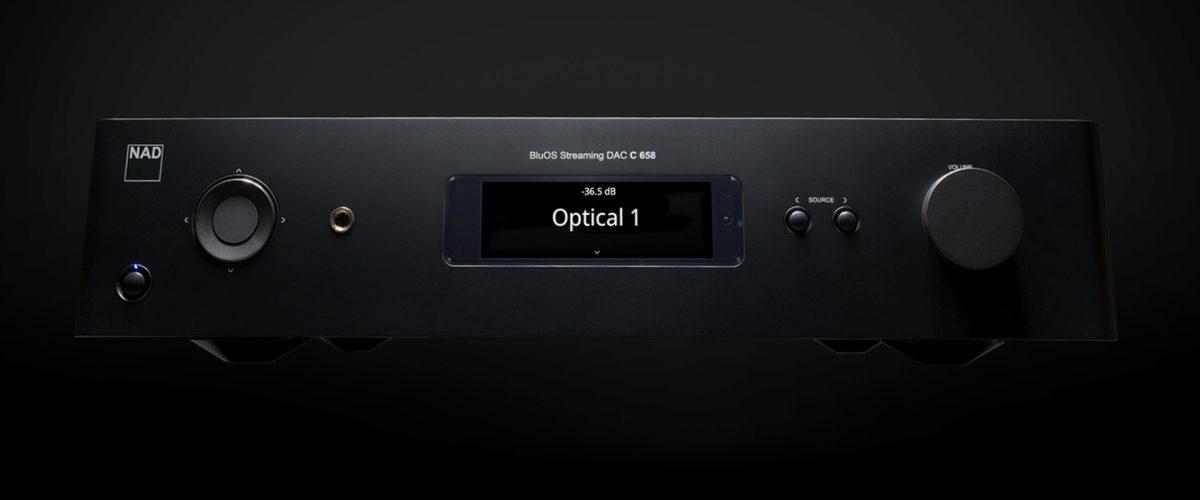 Photos & Slideshow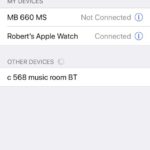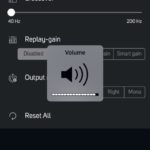 ---
Over the past several years I've sung the praises of NAD for good reason: The company has continually delivered fresh product ideas at reasonable price points. Underscoring the company's ability to provide both value and performance are NAD's new C 658 preamplifier and C 268 amplifier.
The C 658 provides traditional stereo functionality through features such as its analog inputs, which include a moving magnet (MM) phono input, and its wireless, whole-house friendly BluOS operating system.
Providing the power behind the C 658 is NAD's competitively priced C 268 amplifier. When used in tandem, the C 658 preamp and C 268 stereo amplifier form the foundation of modern audio system that can be used to playback legacy formats and today's digital formats.
NAD C 658 and C 268 Features, and Setup
Technically, rather than calling the C 658 a preamp, NAD calls the unit a "BluOS Streaming DAC."
The MQA-friendly product is capable of playing high-resolution audio files and it provides the latest version of the Dirac Live room correction equalization suite.
Some of the other features offered by NAD include its Modular Design Construction (MDC) platform, which enables integrators to "swap cards" to help users adapt to evolving technological standards or add newly available features.
---
NAD C 658 Features
Features built-in whole-house audio, including wireless via BluOS platform
Supports high-res audio file, including MQA
Among the streaming services BluOS incorporates are Spotify, Amazon Music, TIDAL, Deezer, TuneIn and Slacker Radio
Bluetooth aptX HD Wireless
Analog inputs that include a moving magnet phono input
Wireless and Ethernet network options
---
Circling back to BluOS, this is NAD's parent company whole-house audio platform. BluOS provides more than 15 streaming services and integrators can configure as many as 64 zones of audio through the platform. BluOS also provides control options for Apple iOS, Android, Windows and Mac OSX.
Internally, the C 658 features the latest ESS Sabre digital-to-analog conversion technologies, as well as other options such as Ethernet, dual-band Wi-Fi, Bluetooth with aptX, 12-volt triggers, digital coax and optical inputs, and a choice of either RCA or XLR outputs.
The C 268 amplifier is conservatively rated to produce 80 watts per channel. Realistically the Class-D amplifier, through the use of NAD's asymmetrical PowerDrive technology, along with a power supply that is capable of producing nearly 200 watts of power continuously or 500 watts for instantaneous bursts of power produces much higher levels of power.
Additionally, the C 268 also employs a customized Hypex UcD output stage to help the amp maintain its power capabilities without the compromise of distortion.
On the amp's rear panel integrators will find a choice of XLR or RCA inputs, line out options, input level gain adjustments, and a selector for variable or fixed input operation.
Setting up the amp and preamp were pretty easy. After unpacking both pieces I used a pair of AudioQuest XLR cables and ran the cables from the balanced XLR outputs of the C 658 to the inputs of the C 268 amplifier, and later an AudioControl Avalon G4 multichannel amplifier.
On the rear panel of the preamp I then selected the XLR option on the XLR/RCA output selector on the preamp; I selected the XLR option on the input of the C 268 amp and plugged in the amp and preamp's IEC power cables into a Torus Power AVR unit. Next, I ran an Ethernet cable from an Arkanis network switch to the Ethernet port on the back of the C 658.
I then connected my speaker cables; first to a pair of Aerial Acoustics Model 6 loudspeakers, and later to a set of Sonus faber Sonnetto III loudspeakers.
Moving to the amp's rear panel I set the input level on 0 dB; I left the auto sense level at its default setting of "mid" and selected the variable input using the fixed/variable toggle switch.
---
NAD C 268 Amplifier Features
Rated to produce 80 watts per channel, full frequency both channels driven
Rated to deliver 300 watts into an 8-ohm load when operating in bridged mode
Includes a choice of RCA (single ended) or XLR (balanced) inputs
Incorporates NAD's asymmetrical PowerDrive technology to deliver instant power
The C 268 amp uses a customized version of the Hypex UcD output stage
---
The only source I connected was my Thorens TD-160 turntable that's been restored with a Rega RB-300 tonearm, AudioTechica 440ML moving-magnet (MM) cartridge and Mogami output cables. Connecting the turntable was easy. All I needed to do was to plug in the TD-160's output cables to the MM phono preamp RCA inputs.
Getting into the software portion of the setup, after downloading the BluOS and Dirac apps, I started by following the step-by-step process laid out by the BluOS app. In this process I was able to choose the streaming sources I subscribe to, and among other things, name my zones. A couple of weeks later I then followed the step-by-step process the Dirac setup app employs to add the software's state-of-the-art room correction technologies to the mix.
Both apps work well. The last couple of generations of BluOS have been pretty painless to use. Now I can say that Dirac is now easy to use too. The app takes the tedious labor that Dirac used to require to enjoy its benefits and it now saves a bunch of calibration time, which integrators will find valuable.
Performance and Final Thoughts
Before getting into the details of the amp and preamp, my general takeaway from using the C 658 and C 268 is they are fun products that deliver a lot of performance at prices that are reasonable given the state of the audiophile market.
Most of my listening was done using vinyl, but I did listen to streaming content and content from my iOS devices via Bluetooth. Each source was easy to access via the BluOS app or the C 658's front panel.
Before getting into my heavy listening I used records from Rush and Linda Ronstadt to make some quick comparisons. The comparisons involved the tone control and analog bypass functions on the preamp. Ultimately, I felt with those options off the system had better low-frequency bloom and texture.
Getting into my heavy listening via the Aerial Acoustics speakers, which can be a tough load to drive, I thought the C 268 amp had more than enough power to make the Aerials play at high volume levels without any distortion.
Spinning a 200-gram version of the first Boston record I thought the system delivered nice weight with the drums and imaging that was tightly locked into the band's multiple guitar sound, while delivering a wide soundstage.
Later, using a record from the 80s band Triumph, I pushed the C 268 to about three-quarters volume driving the Aerial speakers. The amp didn't clip and remained clear with excellent dynamic resolution.
Having not used the app in several months I thought the BluOS app was easy to navigate too. Using the app to choose my various sources, as well as streaming services, I never felt using the app that I had to drill too far down into the app to find the options I was looking to control.
Validating my experience, I handed my phone over to my daughter and her teenage friends during a Dungeons and Dragons party she was hosting. Leaving the girls alone I let them choose their own music via BluOS. Afterward, I asked the girls if they had any trouble finding their music. The answer was a quick no, and they said they didn't have any problem.
Wrapping my time up with the NAD preamp I swapped amplifiers and speakers. Using a set of Sonus faber Sonetto III speakers, along with an AudioControl Avalon G4 I ran the Dirac Live software.
It took about 15 minutes to run the Dirac room correction software and following the completion of the software's setup, I went back to Rush's "Permanent Waves" and the Boston record.
Let me point out that my room isn't a bad listening environment. It's not perfect, but it does employ a Live end/dead end design with acoustical products from Primacoustic. Where I felt the Dirac software did make small improvements were increased top end resolution and a more immersive image.
Realistically, considering the price of these components, I can't think of too many solutions that offer more for less money. I would be super happy if the NAD C 658 and C 268 were the foundation of my stereo system or a zone within my whole-house system.
I'll quickly note that I would like to see a digital USB input on the preamp to allow for the use of computers as audio sources. I would also like to see better documentation to provide more insight on the features of the product, but overall those are small complaints.
With features such as Dirac, BluOS, and lots of inputs, the C 658 is a state-of-the-art preamp at an entry-level price point. The C 268 amp complements the preamp's performance and price point too to provide tons of performance and value in today's diversified home audio market.
CE Pro Verdict
Pros:
Super reasonable price points for products of this quality level
Through the C 658's many options, the preamp can be used for traditional stereo applications or as part of a whole-house audio system
Don't let the size of the C 268 fool you, it is capable of driving a range of loudspeakers with high levels of fidelity
Cons:
Quick setup provides little information to help with BluOS setup
A lack of digital USB digital inputs to support direct connection of computers and other digital components would be nice
MSRP for the C 658 is $1,649
MSRP for the C 268 is $899