Hands-On: Mackie MP Series IEMs Bring Pro Sound to Consumers
Mackie's reasonably priced MP series of in-ear monitors (IEMs) provides consumers and musicians a choice of quality headphone products.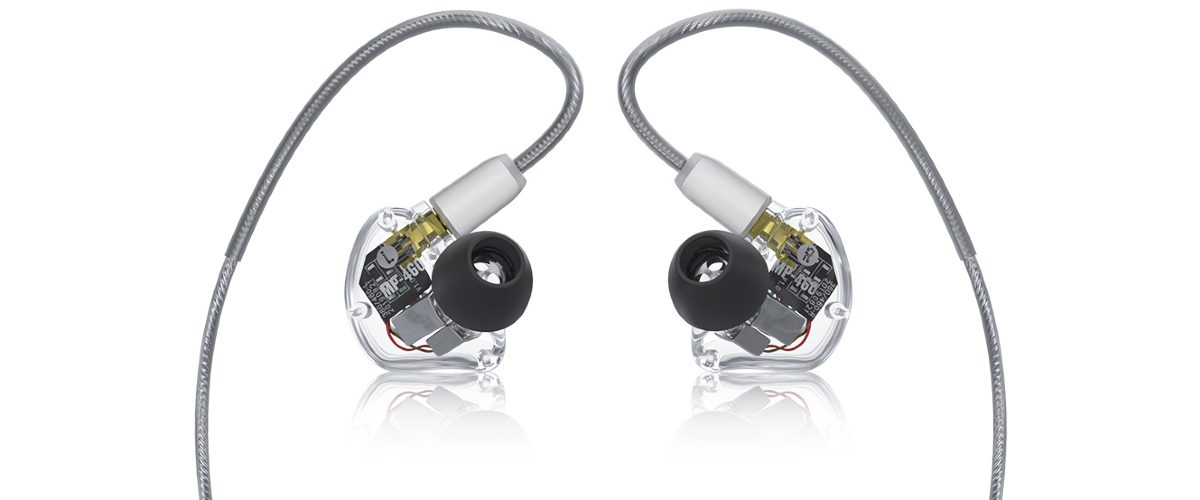 With the lines between the professional audio and consumer audio markets blurring, consumers are discovering the brands that their favorite artists have used for years. One such brand is Mackie.
Mackie is a company that produces a range of professional audio products that span everything from mixers and powered PA speakers, to studio monitors, USB microphones and headphones. Adding to its headphone products, and specifically its MP series of in-ear monitors (IEMs), the company has announced four new product additions.
Augmenting its MP-120, MP-220 and MP-240 IEMs, the company has just released its MP-320, MP-360 and MP-460 IEMs. Further supporting the MP series with a companion Bluetooth adapter, Mackie has also introduced a Bluetooth adapter that is available independently or as part of a bundle that includes the MP-120, MP-220 and MP-240 products.
Sending me a pair of the MP-360s and an optional MP-BTA Bluetooth Adapter with MMCX connectors, I listened to the Mackie IEMs with my Apple MacBook Pro, iPad and iPhone XR devices using wired and Bluetooth connectivity.
I will add that unfortunately, due to the COVID virus I was unable to try them in a professional environment like on stage performing with the CE Pro All-Star Band.
Mackie MP-360 MP Series IEMs Feature and Setup
The MP-360 employs a balanced armature with a triple driver array. The balanced armature design is from the audio company Knowles, which developed its technologies for applications such as hearing aids.
Knowles describes its drivers as an alternative to traditional dynamic drivers. According to Knowles, the small and lightweight balanced armature drivers use an electronic signal to vibrate a very small reed that is balanced between a pair of magnets within a small enclosure. The reed's movements are transferred to a stiff aluminum diaphragm that is designed to produce high levels of clarity.
The headphones come with a choice of foam, silicone, wide-bore silicon and triple flange ear tips in small, medium and large sizes. The MP-360s' cabling come with detachable MMCX connectors that allow users to transition from wired connections to Bluetooth using Mackie's optional MP-BTA Bluetooth adapter.
More news from Mackie: Mackie to Hold SRM V-Class Training Webinar
Mackie points out the MP-BTA uses the Bluetooth 5.0 protocol to support longer battery life, increased range and improved reliability.
Lastly, the IEMs come with a hard-carrying case that includes a 1/8-inch to 1/4-inch adapter, a cleaning tool and a cleaning cloth.
---
CE Pro Features
MP-360s incorporate triple-balanced armature Knowles drivers
Crossover network designed to maximize the MP-360s performance
Molded, low-profile enclosure, along with a choice of small, medium and large ear tips
Detachable MMCX connector facilitates use of optional MP-BTA Bluetooth Adapter
Hard carrying case comes with cleaning tool and cleaning cloth
Impedance rating is 36 ohms and frequency range is 20Hz to 20kHz
Street price is $400
Street price for optional MP-BTA is $100
---
As I mentioned earlier, I used the MP-360s with my phone, iPad and computer, with my iPad and computer listening done with the cable. I used the 1/8-inch connector directly and I also used a Lightning adapter with the iPad and my phone.
My phone listening was done via Bluetooth or the cable with the Lightning adapter. Pairing the Bluetooth was pretty much like any other Bluetooth device on the market. This means you simply press a button, go to your device's settings page and let the Bluetooth discover the MP-BTA.
The discovery and pairing literally took a minute or two.
Performance and Conclusions
Once my phone was paired with the Bluetooth adapter I listened to music (Apple Music) and podcasts with both connection methods. I also used the MP-360s to listen to streaming AV from apps such as Disney+, Netflix and Amazon from my iPad, and sports radio and YouTube videos from my MacBook Pro.
Regardless of the source and platform I found the IEMs to perform at really high levels.
For example, checking out the new AC/DC song "Shot in the Dark" from Apple Music, the MP-360s provided pinpoint imaging to enable me to discretely hear Angus and Stevie Young's guitars, Brian Johnson's vocals, and the bass and drums within the soundstage.
While not the most high-fidelity recording, the MP-360s also allowed me to hear the multitracked guitars of Randy Rhoads on "Blizzard of Ozz" and the chord changes he played over "Mr. Crowley" during both of the song's guitar solos.
Headphones unable to resolve detail like that would have mashed all of that information underneath those guitar solos together. Maybe less tonally accurate headphones may have accentuated the midrange to blur out that information in an effort to make music sound "sweeter."
The MP-360s are also dynamic and tonally balanced. Some IEMs lack a little bottom end. Now I wouldn't compare these IEMs to some of the popular consumer headphones out there that are tuned to emphasize low frequencies, but I would say the MP-360s will play lower midrange and low frequencies to make the listening experience more of a full-range listening experience.
Case in point: the famous triplet John Bonham plays on "Good Times, Bad Times" from the first Led Zeppelin album is clear, along with John Paul Jones' bass line. Checking out test tones, the IEMs easily played 20Hz adjusted pink noise just to backup real-world examples such as Bonham's kick drum.
Switching to the Bluetooth option, I will say the adapter has an "industrial look" to it that may not appeal to those consumers that buy headphones as a fashion accessory. However, in terms of functionality the adapter and its clip work well.
I was able to exercise without the adapter falling off my clothing during activities that include running, pushups and stomach crunches.
I'll also note that making the switch from the cables to the adapter takes just a few seconds. The headphone secures into the MMCX connectors with an audible click to let users know they are all set going from wired to wireless.
One last important item related to the IEMs: They are comfortable to wear for long periods of time. I wore the headphones with the ear tips that were prefitted to the enclosures. I wear the headphones for hours at a time without discomfort or the feeling the enclosures were going to slip out of my ear canals.
While not a name that consumers will be familiar with, I highly recommend Mackie's MP series, particularly the MP-360s. If money is an issue and someone wants the Bluetooth option, they can buy their choice of MP series IEM and then later buy the Bluetooth adapter. 
Even as a single package that includes the Bluetooth adapter and IEMs, I think a package like the one I tried delivers a high level of value through the versatility of the wired/wireless options, selection of earpieces and the overall sound quality of the products.
Getting back to the aesthetics of the Bluetooth adapter for a moment. Fashionistas won't like the adapter—but that's okay—they'll probably be listening to inferior headphones because they chose looks over performance.
A good alternative that checks the style and performance boxes that I suggest is to skip the Bluetooth adapter. The MP series enclosures as a standalone item bring classic looks to the table to eliminate the fashion problem of the industrial looking Bluetooth adapter.
Putting the irreverent issue of fashion aside and boiling it down to the most simplistic terms: Do yourself a favor and check out Mackie's MP series of IEMs. The MP series provides the satisfaction of professional audio performance at prices that general music lovers will appreciate. With a range of products, these headphones should be at the top of any headphone wish list.
CE Pro Verdict
Pros:
Excellent sound quality that is highlighted by high levels of resolution
Lots of cable and ear tip options make finding a good fit easy
The MP-360s provide comfort to support long periods of usage
Cons:
The hard-carrying case latch is not designed well
The optional MP-BTA is functional and it's a super way to gain the freedom of movement through wireless, but its industrial looks won't match the style of some consumer products