One of the most interesting developments of 2020 and the aftermath of COVID-19 and quarantining is how quickly Americans adapted to the work from home (WFH) phenomenon that swept through the workplace.
Interestingly when people think of WFH, they focus on networks, computers and conferencing systems. Now the network element is without question, the most important part of the WFH equation, but just like conferencing systems and computers, video is just as important as those other WFH components.
Supporting WFH activities, as well as traditional residential entertainment options is the new LG ProBeam BU50NST 4K laser projector. 
Designed to serve the commercial market and markets such as education and corporate, the ProBeam BU50NST provides a 4K resolution, along with HDR10, and the ability to produce as much as 5,000 lumens of brightness.
LG ProBeam BU50NST Features and Setup
The projector shipped to my house in what I would describe as a medium-size box. Lifting the projector from the box, I thought the projector has quite a bit of weight to it for a relatively small projector. The other thing that struck me about the projector was its industrial design.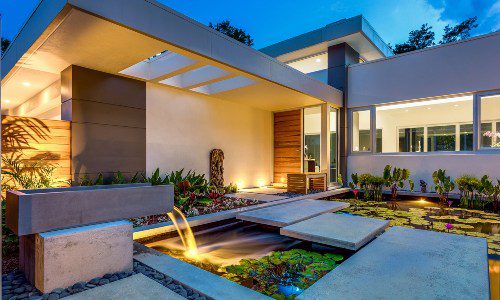 Landscape and architectural lighting create a magical and elegant ambiance for homeowners. The outdoor lighting industry has always been a phenomenal one and continues to grow in popularity. Now is the ideal time to learn more about this rapidly growing and highly profitable industry. Join our panel of esteemed lighting experts that will dive into why it's time for integrators to rethink their role in the outdoor lighting industry.
Register Now! 
Finished in a white exterior, the ProBeam BU50NST projector features a contemporary industrial design that is highlighted by its side panel user controls.
Outlining the features of the new projector, the ProBeam provides a 3,840 x 2,160 resolution that also includes HDR10 HDR compatibility.
At the heart of the projector is a laser light engine that is designed to provide up to 20,000 hours of operational life. The projector also offers a choice of inputs that includes 4K-compatible HDMI. 
Other features built into the projector include vertical and horizontal lens shift, digital keystone correction (12-point warping), and LG's WebOS operating system. The WebOS operating system allows users to share their screens; users can connect to the Internet, and they can also screen mirror (Miracast) with their computers.
---
CE Pro Specs:
UHD (3,840 x 2,160) 4K resolution with HDR10 support
Capable of producing up to 5,000 lumens of brightness
Laser-based light engine delivers up to 20,000 hours of operational life
+/- 20% horizontal lens shift and +/-50% vertical lens shift
WebOS wireless mirroring and Bluetooth
Pricing is approximately $4,000
---
Additionally, the unit also provides Bluetooth audio pairing.
Once I removed my projector from my AV system, I placed the ProBeam unit on my projector shelf, and I plugged in my HDMI cable and my power cable.  In this position the projector sat nearly 12 feet from my 100-inch Stewart Filmscreen Phantom HALR 16:9 fixed screen.
Turning the projector on, I started my setup, which included centering the image on my Stewart screen, getting the image size and geometry aligned, and fine tuning the focus. I want to emphasize that because of the unit's primary application being commercial, the advanced setup options that custom integrators are used to will not be in the projector's menu system. LG provides a choice of a few different operational parameters, and that pretty much takes care of any high-level calibration that requires bigger time commitments.
The end result with all of that being said is the projector sets up quickly regardless of whether it resides in a classroom, boardroom or multipurpose residential entertainment space.
Performance and Final Thoughts
I can't speak to all projectors designed for similar applications, but what I can say is the ProBeam can absolutely serve as a home's entertainment and work video display solution.
In my home I used it to display the desktop of my MacBook Pro for work purposes that include conference calls. I also used the projector to watch TV shows and movies from my various entertainments sources, which include a Dish Hopper 3 set-top box (STB), an LG Ultra Blu-ray disc player, and a 4K Apple TV.
I will point out that because I am a Mac user, I was unable to use the Miracast wireless option. What I did do however was use AirPlay from my MacBook to my 4K Apple TV to display my desktop.
To elaborate on what I did during the setup process—I mentioned the limitations of the projector's configuration options. One option that LG does include is a lamp mode. For my room and screen, which is an ambient light rejecting (ALR) solution I chose the lamp's eco mode.
I found this option more than bright enough in my environment, even with the lights on to fully illuminate the screen without suffering the loss of image quality with the lights on.
Another of the options within the BU50NST's setup menu is a gaming mode within its HDMI settings. I tried the setting on and off and did not notice any difference in image quality. Maybe if I were a gamer and had a gaming system, I would have been able to see some differences.
As an entertainment projector, I watched content such as Amazon's "Hanna" in 4K, as well as Netflix's "Cursed," which also provides a Dolby Vision HDR option.
Watching these streaming shows, I thought the ProBeam BU50NST produced good images. The video featured bright dynamics with high levels of white and color brightness, and low-level detail was also pretty good.
I thought the images ran a bit on the cool side of the color spectrum, but overall, it produces a very nice image for both work-related and entertainment content.
Maybe the one aspect other than the setup options where the projector shows its commercial roots is in its processing capabilities. I noticed small hints of judder that I suspect relate to frame-rate conversions. I don't think that most people would notice it, unless you have some experience with video evaluation and training backgrounds in ISF and/or CTS curriculums.
The easiest places to spot the judder I found were during the rolling screen credits at the end of movies, but realistically no one really watches those credits, and services like Netflix will minimize the screen during the credits so viewers will never see it anyway.
Its commercial roots I do think are a plus in terms of enabling the projector to produce bright images in a range of environments, including brightly lit rooms, and its ability to run for long periods of time, which is essential in the commercial market.
Taking a step back to assess the LG ProBeam BU50NST as a whole, I think it complements WFH nicely, in addition to its standard commercial market functionality. I'll also add that it also runs quiet and it turns on and off quickly, which adds to its home-friendly features.
At a competitive price point, the 4K HDR-enabled ProBeam projector is a solution that dealers can use to meet their commercial and WFH clients video needs without sacrificing basic entertainment value.
---
CE Pro Verdict
Pros:
Sets up easily; turns on and off quickly
Projector displays a nice bright image with vivid colors
Engineered to run for long periods of time, including consumer and commercial applications
Cons:
Setup options are limited when compared to residential projectors
Minor frame rate conversion issue
If you enjoyed this article and want to receive more valuable industry content like this, click here to sign up for our digital newsletters!