Over the years the lines between the commercial electronics industry and the residential electronics industry have blurred. A good example of a company that's crossed over from the commercial industry into residential is the Italian audio manufacturer K-array.
K-array is a manufacturer of audio systems that include line arrays, which have been used by A-list touring acts such as Tom Petty, and the company is now taking its engineering concepts into the world of home audio. 
Based in Tuscany, K-array offers a complete product selection of audio components for residential applications that combine high-performance engineering and Italian industrial design.
Sending me its baseline, introductory solution for residential use—the K1 system—I set up this three-piece satellite/subwoofer system in my dining room, listening to content from Apple Music via my iPhone.
K-array K1 System Features and Setup
I would consider the K1 speaker system to be a lifestyle solution. Some of the applications I see the K1 applicable to include as a really fun system for a home office to connect to a computer; the K1 system can also be used as a discreet audio solution for AV systems in environments such as apartments and condominiums, and as a system in rooms such as bedrooms.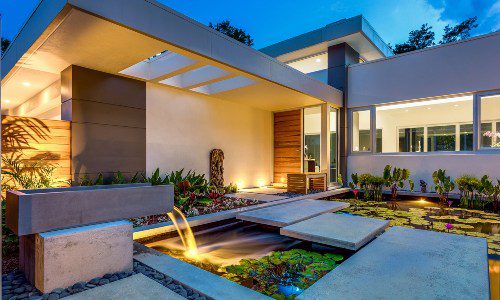 Landscape and architectural lighting create a magical and elegant ambiance for homeowners. The outdoor lighting industry has always been a phenomenal one and continues to grow in popularity. Now is the ideal time to learn more about this rapidly growing and highly profitable industry. Join our panel of esteemed lighting experts that will dive into why it's time for integrators to rethink their role in the outdoor lighting industry.
Register Now! 
K-array designed the K1 system as a small-footprint solution that blends unobtrusively into a variety of home environments. As I noted earlier, the satellite/subwoofer system features a pair of the company's 1.45-inch Lyzard-KZ1 loudspeakers that incorporate ½-inch transducers. Augmenting the Lyzard KZ1s is the system's companion active subwoofer that also serves as the amplifier that drives the speakers. 
The amplifier section of the subwoofer module supplies the KZ1s with 20-watts per channel of power, and it delivers 40 watts to the module's 4-inch woofer.
Supporting a range of installation scenarios, the K1 system offers a choice of a 3.5mm stereo input; an optical digital SPDIF input, a USB 2.0, an HDMI input, and wireless 5.0 Bluetooth connectivity. 
Additionally, the system also comes with a 3.5mm stereo output, and an IR remote control.
---
CE Pro Specs: 
The K1 system features a pair of Lyzard KZ1 speakers that incorporate ½-inch transducers
K1 system subwoofer utilizes a 4-inch woofer
K-array incorporates 3.5mm analog, HDMI Type A, optical Digital SPDIF inputs
The system also provides wireless Bluetooth connectivity
Powering the system from the subwoofer module is a three-channel Class D amp that delivers 40 watts to the subwoofer and 20 watts per channel to the Lyzard KZ1 speakers
K-array offers the system in a choice of black or white finishes
K-array K1 list price is $735
---
Setting the system up could not have been any easier.
After unpacking the system all I needed to do was to plug the pre-terminated speaker cables that are hardwired directly into the KZ1s into the subwoofer module's left and right speaker outputs. From there I placed the speakers in their little speaker stands and "toe-ed" the speakers out slightly to help make sure I get the coverage I was looking for within my dining room.
Finalizing the setup and the Bluetooth connectivity, it was simply a matter of initiating the Bluetooth for the K1 system and finding the Bluetooth in my iPhone's settings. Lastly, I toggled through the preset equalization (EQ) curves and chose the EQ curve I thought sounded best for my location.
The entire system setup took a few minutes.
Performance and Final Thoughts
I will get more into this later, but I found the K1 system to not only be fun, but a nice talking point for guests when I would show them where the music is coming from. 
The first thing I'd like to point out is that the KZ1s' speaker cables are really long, and because of the length of the cables positioning the speakers shouldn't be an issue. Our normal dinner routine includes music. Almost nightly, after powering up the system, I pulled out my phone and connected to the system within a few seconds we would have music in the background as we ate. 
Listening to a variety of music from classic rock, metal and alternative rock, I thought the system, despite its size, cast a nice stereo image with a good-size soundstage that enveloped our dining room table and eating area.
Commenting on the system to me, my 16-year-old daughter told me she thought the system was cute, and she liked how clean the K1 performed.
Later, having guests over my house for a July 4th dinner, family members also commented to me about the looks and unobtrusiveness of the K1 system. Additionally, fellow CE Pro staff member Arlen Schweiger visited and I showed him the system, and he was surprised at how small and how easily the K1 system fit into my dining room. 
Getting back to the K1 system's performance: I would estimate the system gives solid playback down to 100Hz and the integration between the subwoofer module and the KZ1s is pretty seamless. I do hear a hint of "boxiness" in the upper bass, but the system's overall midrange is smooth, and the top end is full to create a rich tonal palette.
The K1 system will also play to good, solid volume levels (low to moderate levels of volume). With that said, I think the system is more of an application solution. What I mean by this is that if someone is looking for higher volume output—a high sound pressure level (SPL) system with a greater range of dynamics—K-array as I noted earlier, offers a broad range of products that will address the need for volume and dynamics much better than the K1.
Where the K1 system shines is its ability to provide turnkey, instant fun through the ability to play clean audio at reasonable sound pressure levels without looking out of place. The system's sound is clear and full, and its small footprint allows it to integrate into just about any home décor.
One other thing that I think is important with the K1 system is that its Bluetooth connectivity is reliable, it instantly connects and it has good range. The only thing I did not like about the Bluetooth connectivity option was that whenever my phone connected to the system a loud voice announces that Bluetooth is connected. 
There's not much more that I can say about the K1 system. I think anyone that wants a good sounding, great looking audio system that's reasonably priced and integrates seamlessly into their home spaces, should check out the system. It delivers a fun musical experience and complementary talking points, which most other systems cannot touch.
---
CE Pro Verdict:
Pros:
The K1 system delivers a nice level of performance for such a small footprint system
The K1 system's small size allows for its use in a range of applications
Integrators can offer the K1 system as a talking point and showcase the brand's sound quality and discreet appearance
Cons:
The only issue that may bother some people is the high level of volume the system's voice command announces that Bluetooth is connected
This other point is simply a matter of education and physics. The K1 system will not rival K-array's commercial line arrays' ability to produce volume. So, with that said it is important to understand the small footprint system plays to medium levels of volume comfortably and cleanly
If you enjoyed this article and want to receive more valuable industry content like this, click here to sign up for our digital newsletters!