I will admit up front that I am biased when it comes to lineage. In the world of martial arts lineage refers to where someone receives their training. For example, my Brazilian Jiu Jitsu (BJJ) coach Prof. Julio Binda received his first- and second-degree black belts from BJJ world champion, former UFC fighter, and current UFC trainer Robert Drysdale.
This background helps to differentiate Coach Julio from the many charlatans that dot the martial arts landscape.
In the world of consumer audio, I see lineage as products and technologies that emanate from the pro audio market and migrate into consumer audio.
The reason why I think lineage is valuable for home audio is that it establishes a level credibility that validates the performance claims a company makes. Pros don't pick products out of loyalty, brand preference or simply because they think a product is cool or looks great: Pro engineers pick products that serve as tools to help them successfully meet their work objectives.
In the case of British company ATC (Acoustic Transducer Company), the company's products are found in recording studios across the globe. Some of those studios include Abbey Road Studios, Third Man Records, Barefoot Recording, Blue Man Productions, and Blackbird.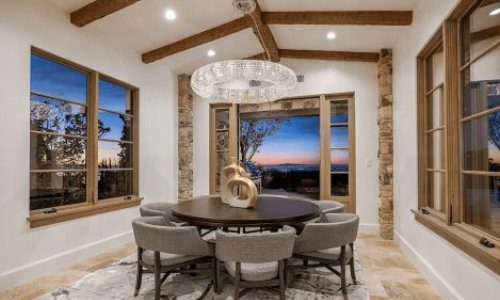 As a custom integrator, lighting is in demand. Effective communication, education and showcasing the value proposition of LED light fixtures in conjunction with integrative control systems are the keys to overcoming challenges and closing sales in this specialized market. Join us as we discuss the future of digital lighting and control with David Warfel from Light Can Help You and Patrick Laidlaw and Mark Moody from AiSPIRE.
Register Now! 
Bringing that professional lineage to its consumer line of products, ATC's consumer products support home stereo and home theater applications, including immersive audio.
Sending me a pair of its active SCM40A loudspeakers, I found the speaker to live up to its professional audio lineage.
ATC SCM40A Features and Setup
As I already mentioned the SCM40A is an active design. This means the speaker incorporates on-board amplification (individual amplifiers for each of its drivers), as well as an active crossover network (determines which driver receives a particular band of audio frequencies), and active phase correction (aligns audio frequencies).
ATC states the benefits of active speaker technologies include the ability to produce better filter roll-off characteristics, and the ability to correct the phase response of the driver units through the crossover regions of the audio frequencies. This results according to the company, with better group delays characteristics, which provides listeners with improved polar response and radiated power response capabilities.
Looking specifically at the SCM40A, the speaker incorporates a 1-inch tweeter, along with a 3-inch soft-dome midrange driver, and a 6.5-inch woofer.
The 38.5-inch tall speaker's internal componentry also includes the use of a 150-watt amplifier on the woofer, a 60-watt amplifier to power the midrange driver, and a 32-watt amp to power the tweeter.
---
CE Pro Features
SCM40A features ATC 25mm (1 inch) dual-suspension tweeter, 75mm (3 inch) ATC soft-dome driver, and ATC 164mm (6.5 inch) low-frequency woofer
Dispersion pattern of 80 degrees coherent horizontal; 10 degrees coherent vertical, with a maximum SPL rating of 112dB
Active design with 4th-order active crossover network with phase compensation, and respective internal amplifier output ratings of 150 watts (low frequency), 60 watts (midrange) and 32 watts (high frequencies)
38.5 inches tall, by 14.5 inches wide and 13.5 inches deep
Finish options include cheery, white and black
ATC points out the SCM40A (active) is $13,999 per pair. There is a passive version of the speaker (SCM40P) and its MSRP is $6,999 per pair
Lone Mountain Audio distributes ATC Loudspeakers in the U.S.
---
ATC adds the speaker also employs 4th-order filters, and it is capable of producing SPLs (sound pressure levels) up to 112dB and a frequency response of 48Hz to 22kHz +/-6dB.
Setup of the SCM40s was fast and easy.
After pulling the speakers from their boxes, I removed the speakers' floor spikes and outrigger supports from the packaging.
Inserting the outrigger arms into the base of the speakers, I removed the mounting bolts, which were secured into the speakers' base plates. The outriggers fit right into the predetermined slots with the SCM40A's base, and once I secured the outriggers I screwed in the floor spikes.
Running balanced (XLR) cables from my Bryston SP- 2.0 preamplifier outputs (I run it in the analog mode, which uses Bryston's BP-26 preamp circuit) I plugged the cables into the speakers' XLR inputs.
I positioned the speakers approximately 6-feet apart, and about 8 feet from my listening seat.
My room is designed as a live-end/dead-end listening environment, with my AV gear on the dead end of the room, and my guitar equipment over in the live end of the room. The dead end of the room is treated with Primacoustic acoustic panels and it includes Auralex subwoofer platforms.
The rest of my system, which is all connected to the Bryston preamp includes a restored Thorens TD-160 turntable that is running with a Cary Audio 302 MKII phono preamplifier; a Pioneer Elite BDP-23FD Blu-ray disc player (I use it for CDs), and a Sonos Connect that is run into a Meridian Direct DAC.
All of my electronics are also plugged into a Torus Power AVR series and TOT series power conditioners.
Setup, including positioning the speakers and connecting the speakers took less than 30 minutes.
Performance and Final Thoughts
My listening was divided up into sessions using different mediums. Listening to content from my Apple Music subscription via the Sonos Connect and Meridian DAC, the first thing I noticed was the clarity and extension of the SCM40As.
I would consider a record like Alanis Morrisette's "Jagged Little Pill" a pretty compressed recording, but I thought the top end of the record was rich and full without being thin. The bottom end of the record with things like kick drums also had a nice tight punch, while the midrange was also crystal clear with lots of detail.
Other content from Apple Music, including Alice in Chains and Mad Seasons—I was in a 1990s mood—also emphasized another point I thought that was an early highlight of my listening with the speaker. The SCM40A throws a very concise image that is well defined and articulate.
These attributes, along with the overall neutrality of the speaker's tone I thought emphasized the SCM40A's pro audio lineage. These are all attributes that are required of a speaker that's used in recording studio environments.
Out of curiosity, I wanted to hear music that I had recorded and mixed. I don't claim to be Butch Vig or Bob Rock when it comes to music production, but the first thing I had pulled up was a stoner rock song I had recorded. The interesting thing is that when I was recording this song I was having a problem with my recording interface so I ended using a Blue Yeti USB microphone to record the song so I couldn't use my normal selection of microphones. Micing up and mixing a Marshall amp to one side of the mix and one of GarageBand's amp simulations to the other side of the mix, I placed a drum loop and a bass line I laid down in the center of the mix. 
I found the transparency of the SCM40's midrange to expose my recording's fine detail such as the AC/DC-type of distortion the Marshall amp was set to run at. I could also hear the differences in guitars. I used a Les Paul with the Marshall and a Schecter Diamond Series Blackjack guitar with the GarageBand amp simulation, and the differences in guitars and amps was noticeable. Moreover, in hindsight, I wish I had pulled the drum loop up in the mix a little more. Mixing on small monitors and then hearing the song on the full-range set ATC speakers gave me new perspective on the mix.
Getting into other content such as vinyl and records from AC/DC and David Bowie I felt the new AC/DC "Power Up" record sounded much more dynamic and involving than when I had listened to it on my headphones using my phone and Apple Music.
---
More news from ATC: ATC CDA2 Mk2 is Roon Certified
---
With Bowie's "Aladdin Sane" record I found the bottom end of the record to cohesively meld with the midrange with the drums and bass to have nice levels of heft without sounding slow or bloated.
Some of the CDs I listened to included recordings from the progressive band The Aristocrats and Lee Ritenour's "6 String Theory," which I consider an audiophile level recording.
The Ritenour album features guest guitar players and other band members. On the song "Fives" from Guthrie Govan, the song's rhythm section features A-list musician Tal Wilkenfeld on bass, and the ATC speaker really demonstrated how locked in the bass and drums playing was through different time signatures, and how effortlessly that Govan tears through a highly complex piece of music.
If you are wondering if the SCM40As can play loud, rest assured the speaker is loud and clean. With the volume knob of my Bryston preamp at 9 o'clock I measured SPL levels at 85dB from 8 feet away.
I have no doubt the speakers could achieve much higher levels of output without clipping either, which I think people will appreciate for home theater or simply playing loud music.
As you can tell I am thoroughly impressed with the SCM40A.
I think they produce a professional audio experience, which means whatever you feed them in terms of content they will faithfully play with high levels of articulation, finesse and powerful dynamics.
Additionally, The SCM40A, along with the rest of ATC's product line is a great way to address high-performance immersive audio theater without adding lots of amplifiers to an equipment rack. Moreover, when looking at the SCM40A, the size of the speaker and its nice veneer finish will complement a range of home environments.
Adding up the entire package of performance, size/appearance and features, the SCM40A provides an enormous amount of value. Think of the SCM40A in these terms: Using the speaker with a preamp eliminates the need for matching amps and fancy speaker cables.
Getting back to my original points on the SCM40A … through its professional performance lineage, the speaker provides everything a homeowner expects from a premium loudspeaker. I cannot recommend enough checking out the SCM40A and the rest of the ATC product line.
CE Pro Verdict:
Pros:
The SCM40A is a room-friendly speaker that provides value through its combination of active crossovers, phase correction and dedicated internal amplifiers for each driver
SCM40A produces wide dynamics, highly resolved detail and uncolored sound
The SCM40A excels when fed quality audio content, but it is forgiving enough to produce enjoyable sound with lossy audio content
Cons:
The only caveat with using the SCM40A, and this is true of any active speaker is the speaker needs power outlets nearby so they can plug in and receive power
If you enjoyed this article and want to receive more valuable industry content like this, click here to sign up for our digital newsletters!