Salamander Designs, a longtime manufacturer of premium furniture for residential and commercial audio/video integration, has launched a new online configurator tool that enables its dealers to work with their customers to design, plan, preview and order custom seating in a fast, efficient and streamlined manner.
Starting with the launch of the entertainment Seating Configurator module, the company says, dealers can collaborate with clients and designers using this new platform to demonstrate most aspects of furniture to customers.
That encompasses complete customization of seating covers, recline mechanisms, cup holders and accessories, Salamander notes.
The unique, real-time personalization enables integrators to fuel clients' enthusiasm and creativity, enabling them to fully visualize colors, design and sizes for their new home entertainment seating in a modern, virtual way.
Salamander Designs furniture made for living rooms, media rooms, dens and home cinemas can now be displayed and scaled to fit the space perfectly. Designs encompass multiple chair and couch styles in individual up to complete seating rows.
Salamander Seating Configurator Module Offers Real-Time Pricing/Quoting
The new tool is the latest in Salamander's history of being ahead of the custom industry curve using web resources. The company was one of the first in the space to deliver an online configurator system, in 2000, for its Archetype and Synergy Cabinet solutions.
The new Salamander Seating Configurator provides real-time pricing and quoting options for registered users. In addition to authorized dealers, Salamander's sales representatives will also be able to quote using their price list and use this unique platform as a total self-service tool, the company notes.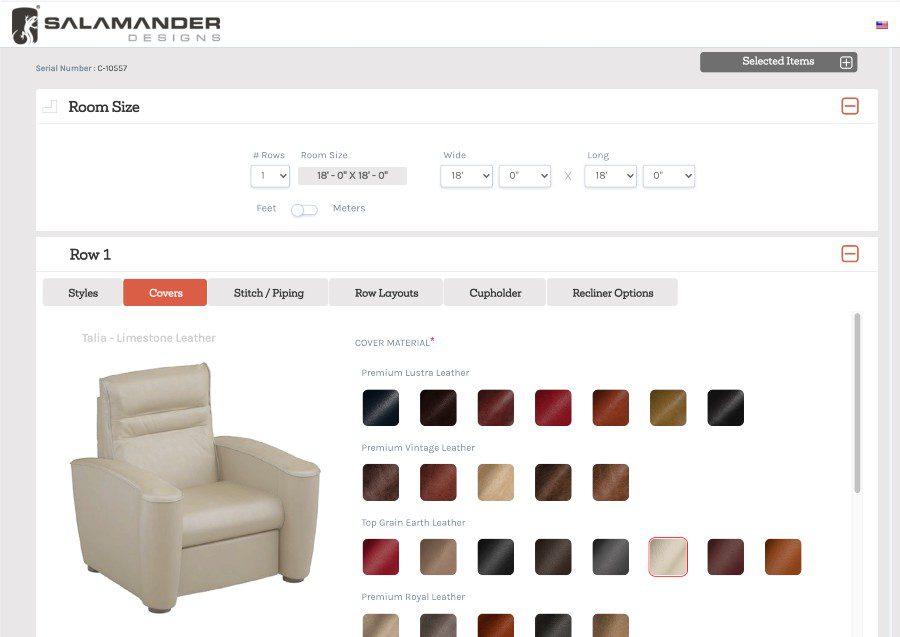 "Used in tandem with our new 2021 Residential Look Book we are taking home entertainment furniture customization to a whole new level for all stakeholders," says Scott Srolis, senior vice president of sales and marketing at Salamander Designs. "Our goal is to make it easy, fast and flexible for our dealers to demonstrate, customize and quote premium furniture right on the spot, eliminating delays in the design and sales process.
"This delivers the 'wow factor.' We believe when they can help customers instantly visualize what they'll be getting, all questions are answered, and they gain confidence that they're ordering the best technology furniture that money can buy."
Srolis adds that the residential configurator seating module is the first of many to come.
Salamander says authorized users can see the new Seating Configurator in action (click here). Dealers can download the Salamander Designs 2021 Residential Look Book.
post