Jerry Kowitz, co-founder of Jerry's Audio/Video in Phoenix passed away on August 2, 2020 at the age of 80.  
Jerry's Audio Exchange was founded in 1970 by Jerry and Claudia Kowitz as a specialty audio store with "Buy, Sell or Trade" as the business tag line. It did not take long for Kowitz to secure some major high-end product lines such as McIntosh, JBL, Marantz, SAE, Yamaha, and Sansui.
Kowitz's passion for music which started at a very young age, listening to Jazz, drove his enthusiasm for Hi-Fi.
The first retail location was in Tempe, Ariz., on University Drive across from ASU. The clientele were college students who had a passion for music. The business grew and Jerry's Audio/Video quickly expanded into the Phoenix and Tucson markets with a retail store on East Camelback Road. 
In 1990 Kowitz designed and built a 15,000 square foot superstore to replace the existing location.  Jerry's Audio/Video occupied these locations for over 35 years from 1974 until 2009. Today, Kowitz's son Michael and his wife Rhea, continue to run Jerry's Audio/Video serving the consumer technology and integration market in Arizona.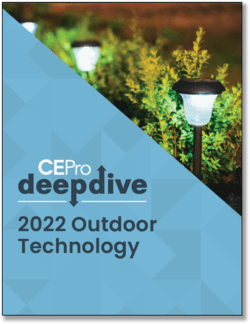 The 2023 CE Pro Outdoor Technology Deep Dive reveals unique set of impediments, including explaining pricing and interacting with outdoor-centric trades.
Get your copy now to take a "deep dive" into the trends and challenges of outdoor technology.
Download the report now!
One of his many accolades includes a moment back in 1980 at the PARA conference in Palm Springs Calif. Kowitz, Bjorn Dybdahl, and then vice president of sales for Yamaha, Steve Caldero gave a presentation on the future convergence of audio and video. This launched "Home Theater" as a new category to the group of audio-only specialty dealers. Jerry's Audio/Video was always at the forefront of emerging technologies and one of the first nationwide dealers to implement custom installation. 
Jerry Kowitz was a founding member of Home Theater Specialists of America (HTSA) buying group and remained Chairman of the board until 2008. 
"Jerry Kowitz had so many exceptional qualities as a businessperson and as a friend. He was trustworthy, ethical, someone to count on, always willing to share, never a bullshitter, he truly loved those around him, and he was one of the real nice guys in our industry –only made complete by his wife and partner, Claudia," comments Bjorn Dybdahl, president of Bjorn's in San Antonio, Texas.
"Jerry made you feel part of his family and a true friend. He will be fondly remembered and truly missed."