Addressing a wealth of applications, the Stealth Acoustics Transformer is an AV Swiss-army knife of entertainment possibilities.
The Transformer is the latest product addition to the company's Stealth Patio Theater (SPT) series of outdoor LED solutions that now offers a choice of screen sizes up to 275 inches.
Made in the U.S., the products are designed to withstand the high brightness levels of direct sunlight to maintain a quality image in outdoor settings.
Why Choose the Stealth Acoustics Transformer?
Getting back to the idea of an AV Swiss-army knife, the Stealth Acoustics Transformer can be used by integrators to service marine installations, residential outdoor AV system installs and commercial rental applications.
The Transformer is a self-contained 120-inch AV system that unfolds from its enclosure when activated.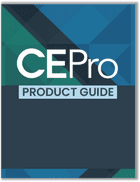 CE Pro's 2022 Product Guide showcases some of the latest and innovative solutions from manufacturers serving the custom electronics industry in a cross-section of categories.
Download the guide now!
Stealth Acoustics says integrators can place the Transformer's fiberglass enclosure on the deck of yachts, or in back yards, patios, or anywhere users want an outdoor AV experience.
Internally the Transformer also provides users with audio through its built-in left, center, right (LCR) speaker array. Augmenting the capabilities of the Transformer's built-in LCR speakers is a built-in subwoofer that adds increased low-frequency extension.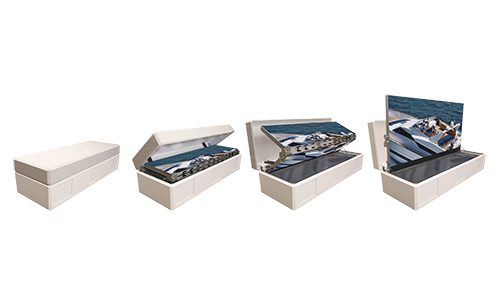 Stealth Acoustics emphasizes that professional integrators can deploy the Transformer as a fixed system or as a mobile system solution to support rental applications.
"Here at the show this year we are showcasing a very exciting new product; we call this product the PTV Transformer. This is a new entry into the family of Stealth Patio luxury outdoor video display systems. The transformer was designed specifically for the marine marketplace, although we see many opportunities in the residential market for this device," explains Brian Azzano, global sales director, Stealth Acoustics.
"It's a very cool, sleek enclosure, it opens up a P3 LED display unfolds to reveal an ultra-bright, daylight viewable display. This device features integrated audio components, featuring our X83 Stingray, completely weatherized loudspeakers built into the front of the enclosure. It also features all the necessary electronics and equipment to be able to operate this device. We Really just need to feed this device with signal via HDMI and of course high-current 220 power and once we have that in place at the touch of a button the screen rises into position."