Industry veteran Dave Silkin, president and CEO of Digital Sales Group, Metro and DSG Distributors, is more excited than usual these days.
Silkin, one of the custom-installation industry's most energetic independent reps, is emphatic in saying that home theater is back, and the exclusive solutions from the vendors he is working with are blurring the lines of residential and commercial cinema performance.
On Friday, Nov. 8 at the Dolby Screening room at 1350 Sixth Avenue, New York City, Silkin and his partners that include Pro Audio Technology, Cortex VIP Cinemas, Red Carpet Cinema and Rayva will demonstrate the power of immersive audio.
"We'll be explaining Dolby Atmos and the CP850-C, Cortex VIP Cinemas processor during the event.  It's the same processor that's in the AMC Dolby theaters. Cortex modifies it for home use for use with third-party control systems, and it can switch video sources," states Silkin. 
"It can be scaled to whatever size [in terms of channels]. Whenever Dolby masters they master to 64 channels, but it's all in there, and only the CP850-C can decode above a certain level [of channels] for home theater. Any basic processor can decode. A Trinnov may go up to 32 channels, but only a Dolby product can unlock the full 64 channels."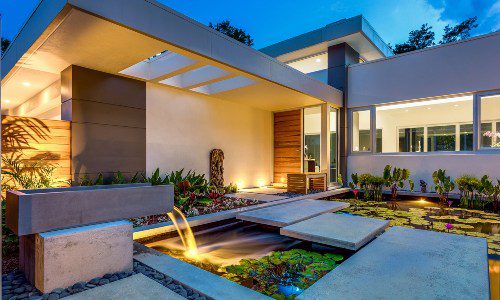 Landscape and architectural lighting create a magical and elegant ambiance for homeowners. The outdoor lighting industry has always been a phenomenal one and continues to grow in popularity. Now is the ideal time to learn more about this rapidly growing and highly profitable industry. Join our panel of esteemed lighting experts that will dive into why it's time for integrators to rethink their role in the outdoor lighting industry.
Register Now! 
Digital Sales Group, Metro Unleashes the Full Power of Dolby Atmos
According to Silkin, the day at Dolby's New York City's Sixth Avenue location will have no formal order of activities, but guests, who have been invited by invitation, will have opportunities to speak with representatives from the respective brands attending the event.
"We will have roundtable discussions with Joshua [Trujillo] from Pro Audio Technology, and Theo [Kalomirakis] and George Walter from Ravva. We've also developed a Rayva/Pro Audio Technology package, and Red Carpet Cinema which is a company that delivers first-run movies will be there too. Fred [Rosen] and Bob [Kisor] from Red Carpet Cinema will be there to explain how their company's service works," explains Silkin.  
Related: CE Pro All-Star Band Member Profile: Dave Silkin, DSG Distributors
The Digital Sales Group, Metro event will also include system demonstrations to allow integrators, interior designers, architects and specially invited dealer clients to experience the full capabilities of a Dolby Atmos object-based audio system.
Silkin admits a big reason for his excitement is that experiencing Dolby Atmos and the power of the CP850-C Dolby processor from Cortex VIP Cinemas sparks fond memories of his beginnings selling home theater.
"What we are looking to do is educate people that take home theater seriously. I remember when I sold my first home theater, it was a Denon receiver, some Klipsch speakers and a laser disc player. Back then it was Dolby Pro Logic audio, it wasn't even full-range rear speakers. It's amazing to see how far home theater has come and what's available now," notes Silkin.
"My hope is that we educate people whether it's designers and architects or dealers on what's going on with home theater. The education is really why we are doing it. We want everybody comfortable doing this and where they can go to know how the process works."
A Closer Look at the CP850-C Processor
Elaborating on Silkin's comments, the Cortex VIP Cinema's solution is the result of a collaboration with Dolby.
Originally designed for commercial theater applications, the CP850-C audio processor in conjunction with Cortex's cinema solutions, addresses everything from power protection and remote monitoring, to HDMI compatibility and onsite calibration.
At the heart of these systems is the CP850-C audio processor, which renders up to 64 speaker feeds to deliver the market's highest levels of audio immersion. The processor also incorporates the latest Dolby Lake equalization and 1/12th octave equalization that helps to provide custom optimization for each system.
The system also includes bass management, individual amplification for each speaker based on amp configurations of 16, 24 or 32 channels, flexible input/output configurations, and system design.
Silkin adds these systems set the bar high for performance, but they deliver on the promise of home theater.
"This is the most fun I've had probably since I sold that laser disc player back then to play Top Gun. We've brought back that 'Holy Cow moment' for end users. We've come so far that it's hard to surprise someone, but when we bring someone into the Dolby theater or my theater [in Plainview, N.Y.], the language that comes from their mouth is fun. I want to see it more and more, especially with my rep firm," he says.
"There is more focus as you see a resurgence of theaters coming back. My goal is to make people aware of what we can do for them. I want people to have a good time, that's the most important thing. We are bringing theaters back one system at a time."
If you enjoyed this article and want to receive more valuable industry content like this, click here to sign up for our digital newsletters!