Exhibiting at the 2022 High End show in Munich, the Denon 900 Series of components were among a number of newly announced products from the home AV company.
Denon notes the new products will offer homeowners a choice of audio components at a range of price points that include a number of features.
"We are so excited to present these new products at the HIGH END Show in Munich," says Trip Randall, president, Denon.
"Denon engineers have designed these components to achieve the perfect balance between audiophile performance for both digital and analog sources with connectivity for a vast array of devices and media—providing music enthusiasts with the ultimate home entertainment solutions built with the care and attention to detail consumers expect from Denon.
"We are very proud of the new PMA-900HNE as the first standard size HEOS-Built-in 2 channels integrated Denon amplifier, it is the perfect starting building block for the new generation of audiophiles giving access to digital music and streaming with the superb Denon sound at an affordable price."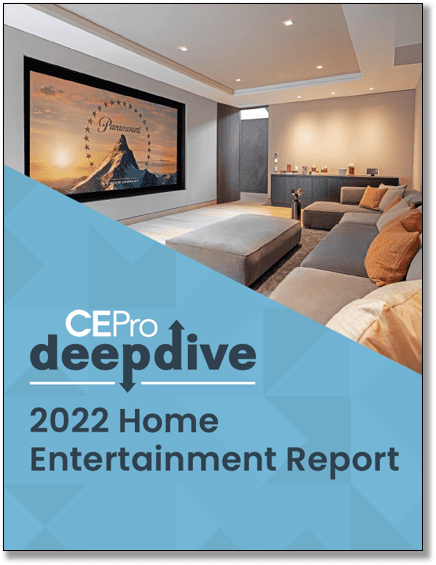 The home entertainment category is especially susceptible to the supply chain crisis because there are so many individual components required. Despite that ongoing problem, the once-forgotten "home theater" category continued its strong comeback in 2021 likely driven by the ongoing house-bound public due to the COVID-19 pandemic.
Download your copy today!
Denon 900 Series: Feature Choices, Performance, Overall Value
Highlighting the value-minded 900 series of components is the PMA-900HNE integrated amplifier.
The company says this is the first Denon integrated amplifier to include the HEOS wireless whole-house audio platform, and says in a press release that the integrated amp is designed to serve as the center piece of a modern AV system.
Denon says the PMA-900HNE can be used for watching TV, video gaming and listening to music. The product is rated to produce 85 watts per channel, and internally the integrated amplifier utilizes an oversized power supply to ensure it can drive any loudspeaker.
The new Denon 900 Series PMA-900HNE integrated amplifier also includes Wi-Fi network connectivity, Apple AirPlay 2, Bluetooth, and high-resolution audio capabilities with DSD 2.8 MHz and 5.6 MHz, and PCM up to 24-bit/192kHz.
Offering a companion source component to the PMA-900HNE, is the new DCD-900NE CD player. This new Denon 900 Series component incorporates the company's AL32 Processing Plus circuitry, and an integrated USB port that supports high-resolution audio playback, including PCM signals up to 24-bit/192kHz and DSD 2.8MHz/5.6MHz.
Additionally, Denon points out the DCD-900NE CD player also includes a vibration-resistant design to help maintain the best possible sound quality from CDs.
Denon PMA-1700NE Integrated Amplifier
Serving as a step-up solution to the Denon 900 Series products is the company's PMA-1700NE integrated amplifier.
According to Denon, the new PMA-1700NE integrated amplifier was developed to serve as an audiophile solution. Rated to produce 140 watts per channel, the high-performance Denon integrated amplifier incorporates a choice of analog and digital inputs that includes moving coil (MC) and moving magnet (MM) phono inputs, as well as optical coax digital and USB-B that supports 32-bit/384kHz PCM and up to 11.2 MHz DSD signals.
More news from Denon: New Denon DHT-S217 Soundbar Features Pair of Down-Firing Subwoofers
Denon adds the new PMA-1700NE integrated amp features an elegant industrial design, and its vibration-isolation technologies to help ensure the best possible performance, free from vibrations that could detract from the integrated amp's performance.
The Denon 900 Series components PMA-900HNE integrated amp carries a retail price of $949, and it will be available in July 2022. The companion DCD-900NE CD player will carry a retail price of $549. The $2,099 PMA-1700NE integrated amp will become available in June 2022.