Autonomic, a manufacturer music streaming and multiroom audio systems, has been reacquired from SnapAV and will operate as an independent company.
Michael de Nigris, founding member and former CEO, will lead the company as CEO, alongside a core group of original employees, from its Armonk, N.Y. headquarters.
Autonomic was founded in 2006, and the newly reacquired company says that its first product made it possible to playback music via control system touch panels with options that include album art, browsing capabilities, and other amenities that seem "standard" today.
"We are increasing our brand focus to provide dealers with the products needed to deploy an advanced listening experience on today's most popular control systems," says de Nigris.
"By leveraging our current technology with a dedicated group of original employees, we can provide significant innovation that will empower dealers to do their best work ever."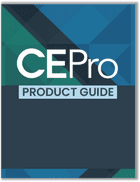 CE Pro's 2022 Product Guide showcases some of the latest and innovative solutions from manufacturers serving the custom electronics industry in a cross-section of categories.
Download the guide now!
Autonomic Comes Full Circle
As the product line continued to evolve from its initial offerings in the mid-2000s, the digital-audio company launched one of the industry's first cloud-connected digital music servers in 2009. Since being acquired by SnapAV in 2016, the company has launched the eSeries product line and reengineered the TuneBridge app.
According to the company, its product line will continue to be sold at SnapAV to deliver whole-home audio solutions through snapav.com and local branches, as well as directly through Autonomic. Autonomic products will also continue to be supported by both SnapAV and Autonomic to ensure the best dealer experience.
"We're proud of the growth we've had with Autonomic; reengineering the app and enhancing the product line to better serve customers has been a tremendous experience," adds Mike Jordan, vice president of audio for SnapAV.
"We're excited about Autonomic's new path and our continued partnership, and we hope as an independent company it can continue to exceed expectations in music streaming and multi-room audio."