Audinate's Dante – the AV-over-IP solution– is not just for commercial integrators anymore.
Dante will be introduced to the residential market during CEDIA Expo 2019, and brings with it cost reductions and installation time savings to integrators thanks to the efficiency of leveraging Ethernet cables in lieu of proprietary, single-purpose analog audio cables.
Audinate says Dante provides an easy solution to route audio over long distances without any signal degradation, making it perfect for higher-end residential homes with multi-zone audio setups.
Dante is currently offered in over 2,000 commercially available products from more than 430 manufacturers, all with guaranteed interoperability. This means integrators can pick "best-of-breed" products for their particular installation with confidence that they will all network together seamlessly, while legacy audio gear can be brought onto the network using cost-effective Dante AVIO adapters.
Dante integrates directly with computers using Dante Virtual Soundcard or Dante Via, allowing media streaming applications to playout up to 64 channels of audio using just built-in Ethernet.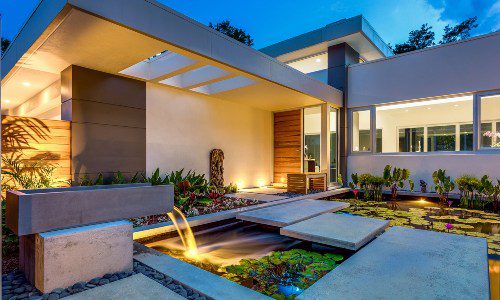 Landscape and architectural lighting create a magical and elegant ambiance for homeowners. The outdoor lighting industry has always been a phenomenal one and continues to grow in popularity. Now is the ideal time to learn more about this rapidly growing and highly profitable industry. Join our panel of esteemed lighting experts that will dive into why it's time for integrators to rethink their role in the outdoor lighting industry.
Register Now! 
At CEDIA Expo 2019, Dante will be featured in new products from JBL Synthesis (Booth #1313), ELAN (Booth #2013) and Powersoft (Booth #335), among others.
New Dante enabled products at CEDIA Expo 2019 include:
The new JBL Synthesis SDP-55 surround processor, SDR-35 AV receiver, SDA-7120 seven-channel amplifier, and SDA-2200 two-channel amplifier. (Harman Booth #1313)
The new Mezzo AD amplifier line from Powersoft. (Booth #335)
The IP Amplifier line from ELAN (Booth #2013)
"Our new JBL Synthesis AV Receiver, AV surround processor, and multichannel amplifiers all include Dante connectivity as a key component of their design," says Jim Garrett, senior director, product strategy and planning, Harman Luxury Audio.
"Dante enables us to provide simplified component connectivity along with advanced audio networking, and to be confident in the performance, reliability, and interoperability."
Dante Training at CEDIA Expo 2019
Audinate will also be offering training in conjunction with JBL Synthesis on its new Dante-enabled products on Wednesday, September 11th, 2019 from 10:30 am to 12:00 pm in Room 3A. The training is open to the public.
In addition, Audinate representatives will be staffing a Dante/JBL Synthesis demonstration in the Harman booth (#1313) throughout the show.
Other Dante licensees that will be exhibiting at CEDIA include:
Atlona (Booth #2947)
AudioControl (Booth #1813)
Bosch (Booth #4157)
Bose (Booth #204)
Control4 (Booth #3013)
Devialet (Booth #705)
Harman (Booth #1313)
Just Add Power (Booth #1817)
Legrand (Booth #905)
Liberty AV Solutions (Booth #2120)
MSE Audio (SoundTube) (Booth #3925)
Muxlab (Booth #1951)
Nortek (Booth #2013)
Powersoft (#335)
Radial Engineering Ltd. (Booth #1128)
Trinnov Audio (Booth #4324)
Yamaha (Booth #2143)
If you enjoyed this article and want to receive more valuable industry content like this, click here to sign up for our digital newsletters!