The Releasable Cable Tie from RETYZ is one of the very few products targeted for the custom electronics industry that could even qualify to appear on the popular TV show "Shark Tank" and likely have owner George McDowell fielding multiple offers from "sharks" competing to buy in.
"I hear that comment all the time," responds McDowell, who has no intention of taking his invention to "Shark Tank" by the way.
McDowell invented his ingenious one-hand releasable cable tie back in 2017 following a request from Boeing. Airplanes are jam-packed with massive bundles of cable, all placed in very tight spaces. It is vital that these aircraft wiring harnesses do not shift or chafe, thus it is imperative they are tied down tightly with zip ties. However, aircraft wiring bundles need to be removable for repairs, and working within those tight confines to cut zip ties can be difficult for technicians. To minimize the risk of clipping a wire, technicians would need two hands to safely cut a zip tie. Moreover, it's not uncommon to need to add more wires to a bundle that has already been zip tied.
The Releasable Cable Tie solves those problems not just for the aircraft industry, but for the custom integration industry as well. The patented RETYZ Releasable Cable Ties are released by pressing the latch with nothing more than a finger. That means the versatile zip ties can be adjusted tighter or looser using just one hand… without even needing to look at it. Moreover, the remaining length of the strap can be tucked into the cable tie itself, which saves time by eliminating the need to trim the ties and reduces cleanup.
"Technicians often need to run an additional cable to a bundle that they have already zip tied. This makes it easy to do. It's more than just a cable tie… it's a tool."

CE Pro's 2022 Product Guide showcases some of the latest and innovative solutions from manufacturers serving the custom electronics industry in a cross-section of categories.

Download the guide now!

— George McDowell, RETYZ
"It can be cinched tighter, backed up, loosened, adjusted to any length," says McDowell. "The amount of time it saves is incredible. Technicians often need to run an additional cable to a bundle that they have already zip tied. This makes it easy to do. Also, every integrator has a labor line item for tightening and trimming the extra off their zip ties. This cuts down on that labor time."
The releasable zip ties are available in packs of 20 to 100 in a variety of lengths (between 6 inches and 36 inches), colors and strength ratings, including all the way up to 175-pound tensile strength. They can even be branded with your company name.
And since they are reusable, it means in the long run integrators can save money on purchasing traditional zip ties that have one-time usage. With the Releasable Cable Ties, if a technician has to add another cable to a bundle, he or she simply loosens or removes the zip tie and then reuses it after the new cable is run.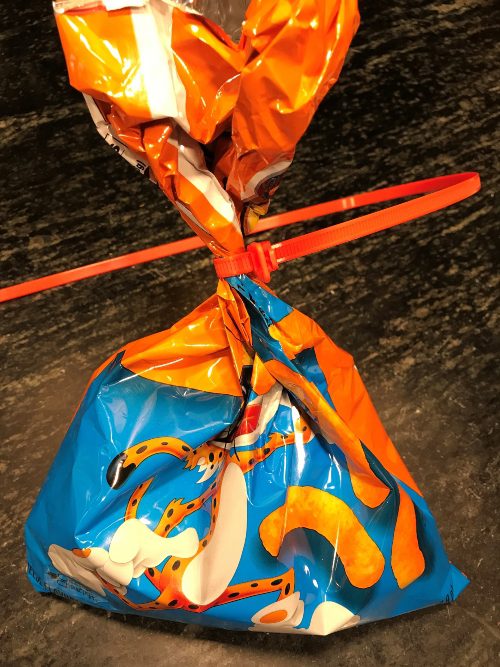 Also, the ties are non-porous and do not absorb dirt. That is a big differentiator from hook-and-loop/Velcro ties that lose their holding power when they get dirty. Also, while most bungee cords last for a long time, they may deteriorate or lose their hardiness over time.
"The versatility is amazing," comments McDowell. "When they first see it, so many people say to me, 'Why didn't I think of that?' It's more than just a cable tie… it's a tool."
McDowell sees the use of RETYZ Releasable Cable Ties going well beyond just the custom installation or aircraft industries. It can be used for everything from cinching closed a potato chip bag to keep the contents fresh to possibly being used as a self-applied tourniquet to an arm or leg in an emergency situation.
I was able to utilize several of the cable ties to dress up the messy wiring behind my equipment rack in my theater room. It was a task I have been avoiding for more than 10 years due to the rat's nest of wires, but the cable ties helped me organize it quickly. For integrators, I recommend you load these tiny devices onto every vehicle replacing the standard zip ties your technicians use currently.