Bob Archer's Top 10 CEDIA Expo 2019 Products: Epson LS500
The new Epson LS500 delivers 4K HDR images with little screen lag to support streaming, video games and more.
Getting out in front of the growing short-throw projection home video market, the new Epson LS500 unobtrusively brings 4K and HDR into a range of homes.
A couple of years ago a case could be made that Epson helped to ignite the interest in short-projection video with the introduction of its LS100 product.
Showing the evolution of its short-throw designs the company's new Laser TV was developed to provide integrators with a turnkey short-throw projection system that can be combined with audio to offer homeowners a complete AV solution.
Why Choose the Epson LS500?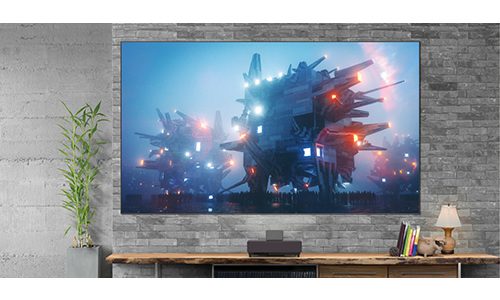 Epson is a popular manufacturer in the CE Pro community due to the company's ability to consistently offer a nice combination of value and performance. The launch of the Laser TV gives integrators a projection product that underscores the value and performance proposition that Epson is famous for, and through its room-friendly footprint that takes up a similar amount of space as traditional flat-panel TVs, the Epson Laser TV can actually deliver a big-screen viewing experience.
When combined with other products on the market such as Screen Innovations' Solo 2 screen and Aegis and Salamander Design AV furniture, integrators now have the capability to make movies, broadcast and gaming a more immersive experience.
Available in a choice of 100- or 120-inch systems, the Laser TV incorporates Epson's 4K PRO-UHD technologies, along with 10-bit color processing, 18Gbps HDMI inputs, and a built-in Android TV operating system that provides services such as Netflix, HBO, Showtime, YouTube and more.
The LS500 Laser Projection TV will be available in the first quarter of 2020. The 100-inch version carries an MSRP of $4,999, and the 120-inch version carries an MSRP of $5,999.
"We are very excited to introduce to you the new Epson Laser Projection TV. This is a projector that basically allows you to utilize it as an everyday TV. You can put it in your living room and a space in which you do not have any control over the lighting," explains Carlos Regonesi, product manager Epson America, Inc.
"You can have the curtains open and it is going to be bright [and] colorful; it's going to be amazing. We feature 4K PRO-UHD technology that makes your picture look amazing in terms of color performance with HDMI 2.0 ports that allow you to do 4K at 60Hz, and the gaming experience is going to be amazing. There is almost no lag—less than 20 milliseconds so your gaming experience is just going to be amazing. It comes with Android TV functionality so that means you'll also have access to the latest applications that are available on that platform.
"Two speakers also that are front-firing so that means you can have an out-of-box experience that would allow you to have an amazing experience of a 4K picture that can reach up to 130 inches. We are packing the projector in two versions—two colors—white and black, and [we] are also offering two sizes that are included in the package. For $5,999 you can get 120 inches. For $4,999 you can get a 100-inch version," says Regonesi.