Hollywood Broadway could not be more different, but integration company OneButton has found a way for Los Angeles and New York to coexist successfully. Akin to combining the traditional powerhouses Yankees and Dodgers into a single team, the company is proof positive that a bicoastal custom installation company is possible —but it takes hard work and adaptability.
Founded in 2007, OneButton built its reputation by successfully working closely with the design, architectural and builder communities in the New York Metro area. But when the company branched out with an L.A.-based operation in 2018, it discovered sometimes-drastic differences between how those same trade partners operate on the West Coast versus the East Coast, especially regarding who the primary decision-makers are and the speed of project timelines.
As a result, OneButton is a living case study on how custom integrators can adjust sales and operations to accommodate changing business dynamics, while also embracing the growing wellness trend and dealing with the COVID-19 crisis at the same time.
Forging a Yin and Yang Style Partnership
Similar to the different "personalities" of L.A. and N.Y., OneButton co-founders Matt Emmi and Michael Izatt have individual strengths and weaknesses that they have leveraged to form a long-term partnership. The company's roots trace back to Boulder, Colo. There, Emmi put together a business plan for a home theater installation company as part of an MBA program in college.
"I was always the person that everybody went to for home theater technology. I spent my childhood hanging out at hi-fi stores, mostly in Salt Lake City," he says. "I was studying physics and I heard things coming out of the speakers that betrayed what I thought was possible. Sound was coming from all over the room and I thought, 'This is impossible.' I decided to study physics so I could understand all the cool things I was hearing and seeing."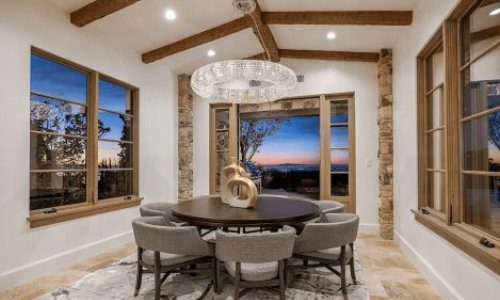 As a custom integrator, lighting is in demand. Effective communication, education and showcasing the value proposition of LED light fixtures in conjunction with integrative control systems are the keys to overcoming challenges and closing sales in this specialized market. Join us as we discuss the future of digital lighting and control with David Warfel from Light Can Help You and Patrick Laidlaw and Mark Moody from AiSPIRE.
Register Now!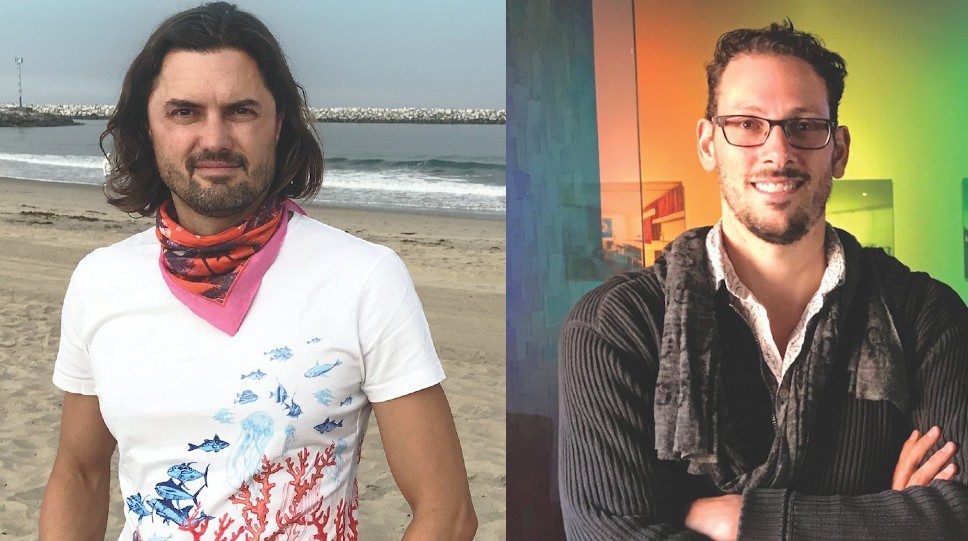 Emmi became the go-to person for setting up stereo and video systems for many of his buddies. Executives at Chipotle were among his first clients, setting up systems in the restaurants and in their homes. (The Chipotle connection continues today as OneButton installs the sound systems in the nationwide restaurant chain.) As he began installing those early systems, Emmi believed there had to be a better way from a design standpoint than using often bulky and cumbersome speakers.
Thus, his partnership with Izatt was born. A former college buddy of Emmi's, Izatt is an artist and photographer.
"I have an art background. I'm not a tech guy. I don't really care about all the gadgets, but I'm definitely a big nerd too," admits Izatt. "I prefer technology to be simple, elegant and unobtrusive. I am less interested in tweaky gadgets and more interested in figuring out how to blend them into the environment — how can it work simply and smoothly and become part of your life versus mounting giant touchscreens everywhere?"
As Emmi describes it, the combination of "my technical understanding of the space and his pragmatic, very practical, more everyday human approach" has been the key to the partnership.
"Michael brought this really skeptical view, questioning everything we're doing. For example, the first time he heard a Yamaha soundbar, he said, 'Why do we ever install a full surround-sound theaters anywhere? This is all we should be doing.' He said that long before soundbars became popular," notes Emmi.
"Michael's always been an advocate for systems that really just work, blend into the environment more seamlessly, give the physical environment and physical manifestation to the technology, and really leave the clients with the experience that they want. Most people don't want speakers … they want music. They don't want a TV … they want a video screen. They don't want shades … they want to control the light in their space. His sensibilities combined with my technical understanding led us to design systems that really resonate with people," adds Emmi.
Izatt quickly combined his artistic flair with technical ability, which enables him to know what is possible. But he still retains that aesthetic outlook on every project.
"My goal is always that the client doesn't want to see it. The technology should only enhance their life, not do things they don't need it to do, and not frustrate them when it doesn't work," Izatt adds.
That outlook influenced the name of the company, OneButton, which is meant to convey simplicity and ease of use. Izatt says the focus on simplicity appeals greatly to architects, clients from the art world, and non-technical customers especially.
It also guides OneButton on one of its core principles: not overselling clients.
"We try to put in just the amount of equipment that's necessary," says Izatt. "I don't want to oversell. Our industry has a tendency to put in as much equipment as you can, because that's how you make money. All that equipment leads to service calls, which many integrators believe are actually good because then they can bill their clients for it.
"I don't want any service calls … I never want a service call; I don't want to make money on a service call. I want the system to work all the time and have a client who's happy and refers me to other people. We'd much rather put in less equipment than more."
West Coast is More Builder Focused, Slower Timelines
In 2010, the CEO of Chipotle was building a new home in the West Village section of Manhattan and recommended the duo relocate from Colorado to New York to help build the home. That project established strong connection between OneButton and Selldorf Architects, one of New York's leading architectural design firms, which quickly led to multiple referrals.
OneButton set up its offices in the up-and-coming Brooklyn borough, where it serves clients across the tri-state area, ranging from Manhattan high rises to lavish estates in the Hamptons. Several projects have earned the company multiple awards, including top prizes at the 2019 Lutron Excellence Awards.
By September 2018, Izatt had had enough of Northeast winters, and he spent about 18 months traveling back and forth establishing a West Coast presence for the company in Los Angeles. He quickly discovered it was not the same as New York.
"In New York, most of our business comes from working with architects and designers. We thought it would be the same out in L.A.," says Izatt.
"The strategy was to target architects and designers and set up meetings. We'd go do a presentation and that sort of thing. What I found out here is that architects and designers are not used to bringing in a company like ours on a job. More often, it's the builder who has the primary influence, much more so than in New York. Out here, none of the architects have that level of interest."
He believes New York architects have likely had better experiences working with quality custom integration companies than West Coast architects. He recalls one prominent L.A. architect telling Izatt that he downright "hates" integrators.
"He told me, 'I hate you guys … I hate your industry. Every time I recommend anyone from your industry, it always turns into a disaster. I get blamed and it never works.' As soon as I described our basic philosophy to him, within 10 minutes he was sold," recalls Izatt.
Soon, OneButton was working on that architect's home and getting referral leads. Izatt says, general contractors and builders have more decision-making power in L.A. compared to New York in terms of bringing in a preferred custom integrator.
Another stark difference between coasts is the communication structure. According to Izatt, New York projects routinely have weekly on-site meetings with all the contractors engaged on the job.
"I remember on one job in New York, there was a weekly site meeting that I would attend because I wanted to know what was going on. At one point, the builder asked me, 'What are you doing here? Your industry never shows up to all these meetings.' I told him we didn't want to miss anything. We want to be more proactive and have a higher level of engagement than other companies. Once we work with the contractor, they notice that level of attention," he comments.
Slowly, OneButton is gaining the confidence of builders on the West Coast.
Izatt notes, "It's really taken actually getting and doing work with builders. Once we do, then they start to bring us on. Our first big job in Santa Monica was referred by a lighting designer. From there, we have another designer who's brought us in on two jobs."
One boon to getting established was working with a leading area design firm on its own office redesign, which allowed OneButton to ply its design skills. The Sunset Boulevard office, for a design firm called Studio Shamshiri, is the epitome of California style.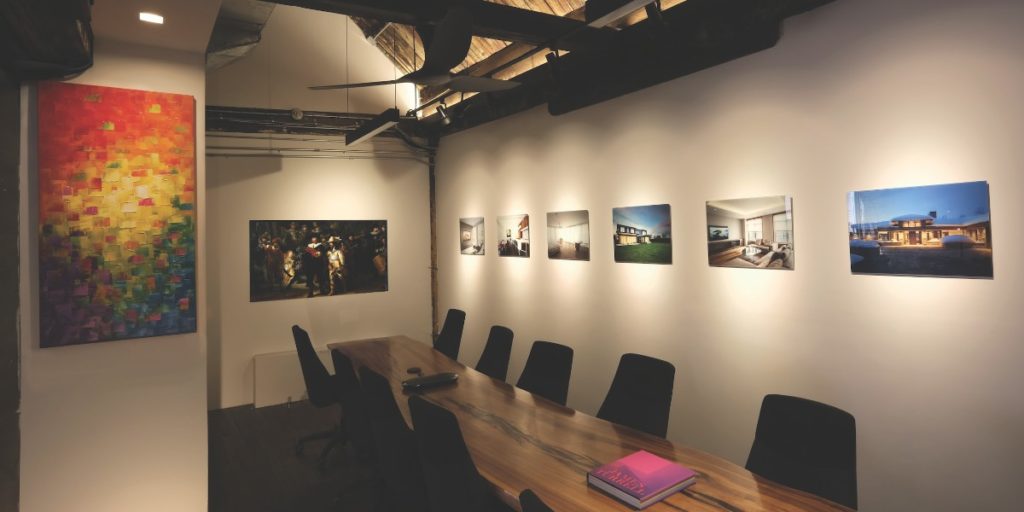 "We did their entire office. It's the coolest office I've ever seen — it's just beautiful. There are arches everywhere; it almost feels like an old church or a monastery," Izatt describes. "They have this great funky, but refined, California style … almost Boho-chic. Everything's very warm and comfortable, yet clean."
That project led to multiple referrals, including a Lutron and Sonos residential project for one of the principals of a design firm in the fashionable Los Feliz area.
Izatt notes another West Coast different: much slower project timelines.
"We sold seven big jobs two years ago, and we are still finishing them. I think it's just all the regulation, especially on a project that is close to the ocean where you are dealing with the California Coastal Commission. That could go on for years and years and years. The timelines are vastly extended," he says.
Those slowdowns are common on both new construction projects and existing home remodels.
"It doesn't matter — everything is just so slow," comments Izatt. In some ways, he admits that slow pace is better because it is more relaxed, making for less likelihood of a compressed timeline for design and installation.
Izatt admits that getting started in a new city was harder than he expected.
"I thought we'd really waltz in with our proposal and describe what differentiates us from the competitors and things would just click like they did in New York. But the architects here are not used to that, so it was harder, and it took longer than I thought," he notes.
Because of that, OneButton has kept its West Coast staff lean and mean, which was advantageous when the coronavirus COVID-19 pandemic hit. Izatt says the operation is now staffed appropriately to move ahead.
"We had an office in Marina del Rey but the building was sold and being torn down," he says. Izatt has been working from a home office during the pandemic.
"Just as I scaled back is when the coronavirus hit," he says. "Now we're in a good spot and staffed appropriately. We're in a healthier position with the amount, and speed, of the work that we have going here. We have been working the entire time during the pandemic as essential workers, but the coronavirus is slowing project timelines down even more," he adds.
Fortunately, because OneButton's West Coast operation is relatively new, it does not have a slew of legacy equipment to service, which helps with staff flexibility. Going forward, the company has partnered with Parasol to try to put all its projects on service agreements, utilizing Parasol's call center as a first line of defense for service.
Building a Unique Company Culture
Back in Brooklyn, Emmi's primary challenge is what he calls "the intrinsic lumpiness" of the sales cycle. "It's like we swing from feast to famine," he chuckles. "One day we are swimming in more work than we know what to do, and then all of a sudden, we're asking ourselves, 'Are we ever going to get another job again?'"
Emmi says that the rollercoaster sales cycle can take an emotional toll on him and the team. It means OneButton focuses on not overwhelming its infrastructure when business is thriving, while at the same time sustaining a full, more even pipeline of new business.
"That is the biggest challenge because a large project can mean a significant portion of your overall revenue. If it comes in, your revenue is up 20%. If not, you are down 20%," he says. "We thought that as we did more work, the lumpiness would even out, but actually it can get worse. That uneven business cycle can make the accounting process a challenge. We had to determine when and how we recognize revenue over the course of time."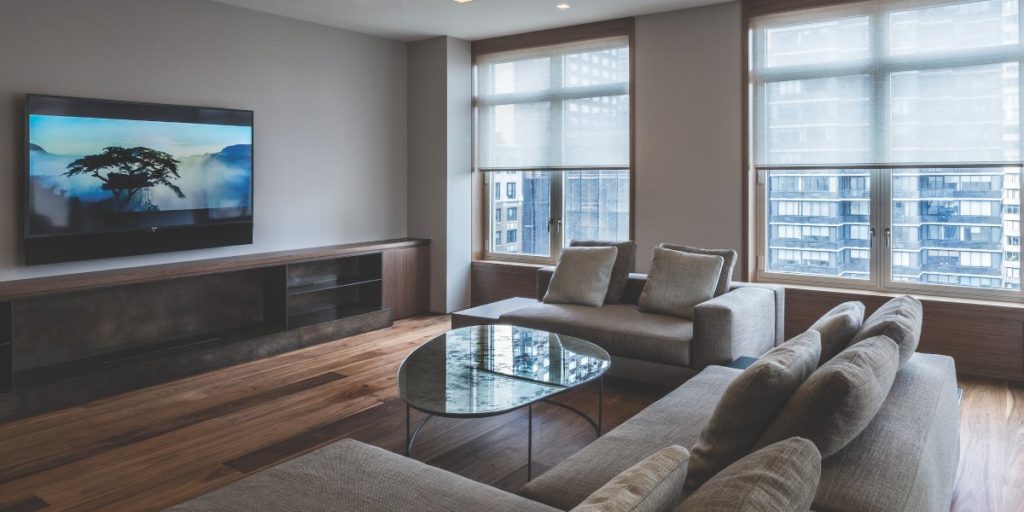 One way OneButton works to keep the team on an even keel is with the Bohemian vibe in its Brooklyn headquarters. The building features exposed bricks and beams, and even has indications of old arson fires that occurred from ethnic labor battles 100 years ago.
Eventually, the building fell vacant and was filled with squatters. Then, 15 years ago a huge fire destroyed every other building on the block. Today, the area houses movie production crews and is filled with up-and-comers.
OneButton's open-office design reflects that hip culture, and that has enabled the company to attract some key talent. Prior to the pandemic, the company employed four technicians, three project managers, a dedicated support person, three in the design/engineering/programming department, showroom manager Marisa Marouche, and a VP of operations.
"It helps that it's an open office, because then you're setting the tone that it's a team collaborative environment," says Marouche. "We're always throwing out ideas across the room to each other. I think everybody likes to step in and help each other with their job. Nobody's looking to just kind of take credit for one thing, we all just want to get that done together."
The office is also a living laboratory where the team tests its creative ideas.
"We like to work in a fun and productive manner," says Emmi. "I truly believe you're doing your best work when you're in a positive state, your state of happiness, and when you're engaged and energized by those around you. These guys are engaged … everybody here is kind of a big Petri dish. It's a fun way for us to experiment on our social theories of how work can be done, and how work can change. It's constantly evolving over time, based on life experiences."
Those life experiences to which Emmi refers are often drawn from his travels around the world. He grew up spending his summers in Sweden; thus, he has tried to adopt some thoughts, ideas and values from Swedish work culture.
"We're really good at is finding excellent people who are self-motivated. Ninety-nine times out of 100, Marisa's done something before I've even suggested it. That's tremendous. We are all moving in the same direction," Emmi notes.
If you enjoyed this article and want to receive more valuable industry content like this, click here to sign up for our digital newsletters!