Autonomic has announced the official release of its MMS-OS 6.2 for its flagship eSeries lineup that contains more than 200 new features and improvements, including the addition of the Soundmachine commercial streaming service. The release represents Autonomic's biggest additions since it became independent from former owners SnapAV.
SoundMachine is the latest addition to Autonomic's expansive lineup of streaming services and its second dedicated commercial option. SoundMachine offers extensive scheduling and remote management features, and all commercial licensing is taken care of. This makes it an ideal application for a variety of Hospitality and Retail venues that require an excellent selection of music and a turnkey licensing solution.
Autonomic has also added more functionality and improvements to its SyncTool. It's now easier for integrators and their clients to set up their MMS with all of their content and playlists available natively in their control system. The company has also added dark mode.
Users can now have Spotify playlists right at their fingertips. With this new functionality, Spotify playlists can now be favorited and put right on the top-level menu. This gives the client ready access to his or her favorite content, without having to dig through levels of menus. On top of that, these favorites will stay up to date with changes made by the customer, including on the Spotify phone or desktop app.
Now everyone in the house can have their own stream which will preload their personal accounts by default. This is a great solution for many control systems that didn't already have this functionality like Crestron Home, RTI, and URC. Communal accounts can still be shared across multiple streams.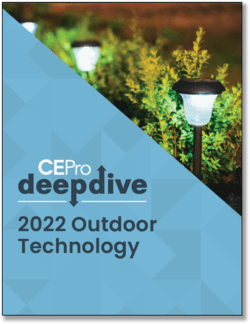 The 2023 CE Pro Outdoor Technology Deep Dive reveals unique set of impediments, including explaining pricing and interacting with outdoor-centric trades.
Get your copy now to take a "deep dive" into the trends and challenges of outdoor technology.
Download the report now!
Autonomic has tested this firmware release using standard integration methods and supported control platforms. Due to variations in custom installations, we recommend testing all firmware releases before deploying to customer sites.