Smart devices, alongside the iconic Apple iPod, are some of the most transformative devices to impact how people listen to music.
Studies from entities that include MQA have shown that consumers are increasingly replacing traditional source components with their cell phones. MQA's numbers, in fact, find that 75% of users employ their cell phones to listen to music and that number increases to 95% with Generation Z members between 16-24 years-old.
Taking the audio experience of cell phones, as well as tablets and computers to the next level is the latest DragonFly portable DAC (digital-to-analog converter) from AudioQuest: The DragonFly Cobalt. 
Trying the Dragonfly Cobalt with my iPhone XR, MacBook Pro computer, and with CE Pro web editor Andrew Nichols' Android-based phone, we put AudioQuest's latest portable DAC through its paces.
AudioQuest DragonFly Cobalt Features & Setup
Before getting into the DragonFly Cobalt DAC, I'd like to point out that I used multiple sets of headphones to evaluate AudioQuest's newest DragonFly product: A pair of Westone ES5 in-ear monitors, a pair of Bowers & Wilkins PX5 on-ear headphones, and a set of Sennheiser MS660 over-the-ear headphones.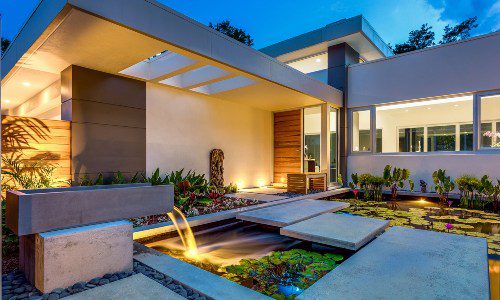 Landscape and architectural lighting create a magical and elegant ambiance for homeowners. The outdoor lighting industry has always been a phenomenal one and continues to grow in popularity. Now is the ideal time to learn more about this rapidly growing and highly profitable industry. Join our panel of esteemed lighting experts that will dive into why it's time for integrators to rethink their role in the outdoor lighting industry.
Register Now! 
AudioQuest explains the DragonFly Cobalt is capable of driving nearly any set of headphones on the market, and it offers high-resolution audio compatibility via the MQA format. 
Internally, the portable DAC utilizes the ESS ES9038Q2M DAC chip and a Microchip PIC32MX274 microprocessor. AudioQuest points out that it designed the DragonFly Cobalt to include improved power supply filtering to protect against Wi-Fi, Bluetooth and cellular noise. AudioQuest also includes its new Dragontail adapter that features a USB-A female to USB-C adapter to accommodate the growing number of devices that employ USB-C connectivity. 
Setup with my Apple MacBook Pro computer and iPhone XR was easy: I either plugged the DragonFly Cobalt directly into an Iogear USB-C hub or I used the DragonTail and plugged that adapter into one of my MacBook's USB-C's ports. 
Regardless of the physical connections, the next step was to go into "utilities" so I could select the Audio MIDI options so I could select the 96kHz sampling rate from a dropdown menu.
The final step with the MacBook Pro is to select the audio output from System Preferences. The MacBook Pro automatically recognizes the AudioQuest product and all I needed to do was select the DragonFly Cobalt. 
---
CE Pro Features
The DragonFly Cobalt features the ESS ES9038Q2M DAC chip and a PIC32MX274 microprocessor
According to AudioQuest, the DragonFly utilizes improved power supply filtering to minimize noise from Wi-Fi and Bluetooth usage
Works with products that use the Apple iOS and Android operating systems
Includes the company's DragonTail USB-A (female) to USB-C (male) adapter to allow USB-C equipped devices to utilize the product
Supports the playback of MQA-encoded content
---
With the iPhone, the connection process is similar, but the key is to use a Lightning to USB adapter that is compatible. Apple iOS devices can be very finicky to say the least, so it is important to at least start with adapters that are Apple certified. Using Apple-certified adapters won't guarantee the adapter will work, but it should increase the odds of the adapter working.
Pairing the DragonFly Cobalt with an iPhone is once the Lightning adapter is verified to work is easy. Simply plug the adapter into an iPhone, and then plug the Dragonfly Cobalt into the adapter. 
Once the DragonFly Cobalt is connected to a computer or smart device the portable DAC's LED logo will light up to indicate you have power and it's ready to run. 
Moreover, the color the logo lights up will communicate the DAC's sampling rate status:
Red: standby
Green: 44.1kHz
Blue: 48kHz
Yellow: 88.2kHz
Light blue: 96KHz
Purple: MQA
Performance and Final Thoughts
If you listen to podcasts, music or watch lots of streaming content the AudioQuest DragonFly Cobalt DAC is a must-have product. 
Listening to content that includes Joe Rogan's podcast from YouTube, as well as a selection of music from Apple Music such as songs from the Red Hot Chili Peppers, Kings of Leon and Incubus, I thought the DragonFly Cobalt made a noticeable difference. 
On spoken word content like Rogan's YouTube JRE Channel, his interviews had a more intimate feeling. The audio sounded "raw" like what you would hear before it was mixed, which makes it sound more natural in some cases.
Spoken voices also sounded fuller and lower level sounds were more easily audible.
Moving onto the comparisons of music. I compared songs using the DAC and without the DAC plugging directly into my iPhone using a Lightning to 3.5mm adapter.
I'll admit that some songs produced better results than others, but I think there are several factors that contribute and most notably, the differences between native formats such as AAC, Apple Lossless and AIFF before the content was stored in the cloud.
On the song "Believe" from Lenny Kravitz, listening to the song with and without the DAC allowed me to hear the intricate production the song utilizes. Featuring backward tape effects, doubled vocals, compressed vocals with modulation, and a Jimmy Page-esque "Stairway to Heaven" ending guitar solo I could more easily hear the song's production and background instrumentation such as strings through the DragonFly Cobalt, which breathed air, space and fullness into the song.
I also like the fact that not only does the little DAC improve my listening experience with a variety of content, but it doesn't take up much space. I was able to stick my phone in my pocket and walk around my office to grab papers from the printer or a glass of water without having to take my headphones off.
It should also pack up nicely for travel. Between the appropriate dongles and the DAC, I think that most cases that house a decent set of headphones should be able to carry the DAC without making the product a cumbersome burden.
A few small things that I think AudioQuest could remedy pretty easily is I think that with a $300 retail price point the company could include both an Apple certified Lightning adapter in addition the Android adapter it throws in with the package.
Speaking of the Android OS, since I don't own any Android products, I asked our web editor Andrew Nichols to try the DragonFly Cobalt. Using a similar connection method as I did with my iPhone, Andrew was able to connect the DAC to his Samsung Galaxy S10 phone without any issues, and he told me he felt the DragonFly Cobalt improved the sound quality of his Spotify account when listening through RBH Sound EP3 earbuds.
One more improvement I'd like to see: I would like to see a nicer carrying case bundled with the DragonFly Cobalt. The DAC fits snug within the little protector-sleeve type of case, but it can be awkward to pull from the carrying case. Space for at least one adapter cable within the case would be nice too. 
Putting my small critiques aside, it's pretty obvious that I like the DragonFly Cobalt. It is small, which makes it travel-friendly, it is easy to setup regardless of device, and it noticeably improves sound quality. 
In some ways I view the AudioQuest DragonFly Cobalt in a similar manner to turntable accessories and the way dealers handled turntable product sales back in the 1970s. The Cobalt certainly could be sold as a standalone product for someone that already owns a nice set of headphones or simply wants to upgrade their computer's sound. 
However, it could be used as an excellent complement to dealers' headphone sales to further augment clients' listening experiences as a package deal of headphones and a companion DAC.
Either way, I highly recommend checking out the AudioQuest DragonFly Cobalt DAC.  
---
CE Pro Verdict
Pros
Small size allows for use at work or traveling
Excellent sound quality with streaming services and locally stored music
Easy to setup and use
Cons
The price may prohibit some users that are undecided on whether to invest on a quality set of headphones or the DragonFly Cobalt
The product comes with the DragonTail USB connector, but it would be nice since AudioQuest is a cable manufacturer for the company to include an Apple-certified Lightning cable for use with iPhones
This is an odd complaint, but the Dragonfly Cobalt fits a little too snugly in its little leatherette case and it can be difficult to remove
MSRP is $299
If you enjoyed this article and want to receive more valuable industry content like this, click here to sign up for our digital newsletters!