AudioQuest, GoldenEar and its dealers are looking ahead, and for the immediate future, the cabling, power and digital audio company and its dealers find reasons for short-term optimism.
These views were shared during a recent, informal Zoom chat with a guest panel and dealers from across the company. Leading the discussion was Shaun Schuetz, vice president of sales for AudioQuest, and a dealer panel that included Chris Smith of N.Y.-based Cloud 9, Dan Paulson of Mich.-based Paulson's TV, Greg Porthan of Chicago-based Abt Electronics, Jim Lind of Nebraska Furniture Mart, and Jon Colburn of Calif.-based Reel Time.
Also taking part on the call was CEDIA's Robert Keeler, who provided a big-picture view of the custom-installation industry for discussion purposes.
AudioQuest, GoldenEar Dealers Making Most out of Unique set of Circumstances
Recounting how each company kept busy during the quarantine, Smith said Cloud 9 looked into new business opportunities through products like Aurora Multimedia's new Tauri temperature check tablets.
"We think these will become the new normal in buildings for maybe the next year or two until vaccines become available," Smith commented.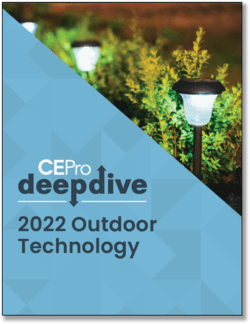 The 2023 CE Pro Outdoor Technology Deep Dive reveals unique set of impediments, including explaining pricing and interacting with outdoor-centric trades.
Get your copy now to take a "deep dive" into the trends and challenges of outdoor technology.
Download the report now!
Paulson explained how Paulson's TV created a training hub for its employees, and how they set up a demo program for clients to try out products such as cables and McIntosh amps at home.
Long-Term Industry Outlook is Less Certain
Generally, AudioQuest's dealers echoed the theories offered by many economists: Times are uncertain as the world emerges from quarantine.
Coming out of the quarantine Lind says that most of Nebraska Furniture Mart's projects picked back up for the company's custom install division.
"We are anywhere from a week to two weeks out for jobs," noted Lind.
Paulson commented that his company's pipeline is accounting for work through July 4.
"New construction is very busy right now," Paulson pointed out.
"We are hoping the pipeline continues. We are pretty optimistic over the short-term pipeline."
Colburn also cited the new construction market and said that one of the trends Reel Time is seeing with builders is the use of flex spaces in homes.
In the Chicago area Porthan stated that Abt Electronics is experiencing clients that are interested in outdoor audio systems are increasing.
Analyzing the custom installation market and the current state the industry is in, Lind added that homeowners are getting back to the basics of family life.
"People aren't taking vacations. They are investing in their homes," he noted.
Contributing to the conversation, Keeler added that he's hearing that dealers are doing more with Zoom by using the collaboration software to close sales.
Ending the call, Paulson summed up the thoughts of probably the entire population when he said he's happy to be easing into normal activities once again.
"It's good to be back at work," he emphasized.
"The schools are out, and the restaurants are open."