With the overwhelming popularity of lossless content from streaming service providers, consumers expect to enjoy superb sound quality throughout their homes. A multizone audio amplifier worthy of the AudioControl brand must deliver the highest levels of performance for any imaginable entertainment system.
AudioControl's Made-in-USA amplifiers produce astonishing clarity with rock-solid reliability, all from a manufacturer that has been supplying dealers and integrators around the world for over 40 years.
AudioControl amplifiers are problems solvers that create opportunities for integrators, enabling them to deliver best performance, even for clients with challenging acoustics or limited space. Models, ranging from mono to 16-channel configurations as well as 70-volt solutions and optional Dante network connectivity, deliver exceptionally high power with an available stereo matrix capable of delivering any source with sparkling clarity to the desired zones.
Integrators can tailor the sound using our much-heralded DSP engine and intuitive interface that includes customized profiles for an ever-growing roster of leading speaker brands. These profiles have been crafted by partner loudspeaker manufacturers to efficiently optimize performance, saving time for integrators.
DSP is also perfect for fine-tuning individual zones based on the acoustic properties of any space. AudioControl's Director Series multichannel amplifiers can be used either as a standalone matrix amplifier or as part of a smart home environment, with drivers available for third party control systems from Savant, Control4, Crestron and Josh.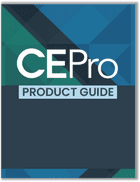 CE Pro's 2022 Product Guide showcases some of the latest and innovative solutions from manufacturers serving the custom electronics industry in a cross-section of categories.
Download the guide now!
AudioControl amplifiers are backed by an industry-leading five-year warranty plus, an award-winning U.S.-based technical support team. – Alex Camara, CEO, AudioControl.