8 Reasons Why Chromecast Products Are Worth Installing
Chromecast with Google Home voice control is gaining ground as an option to other streaming audio platforms such as AirPlay, Bluetooth, Play-Fi and proprietary services.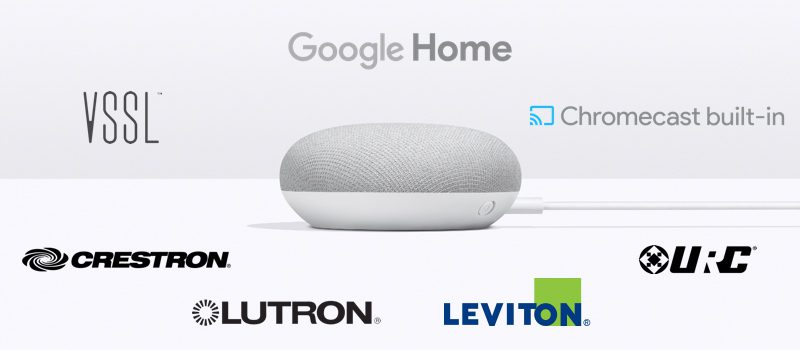 Today, 10 percent of U.S. homes with Internet service have a voice-controlled speaker (like Amazon Alexa, Google Home or Apple HomePod). Just one year ago, that number was 3 percent.
According to a report from Juniper Research, smart devices like the Google Home will be installed in 55 percent of U.S. households by the year 2022. Over 70 million households will have at least one of these smart speakers in their home, and the total number of installed devices will top 175 million.
While Amazon's Alexa currently dominates the smart speaker market by a share of 3:1 over the Google Home (according to a study by Edison Research), Google Home offers features in the A/V realm that Alexa can't.
Google Home's secret weapon may be Chromecast, a piece of technology that allows integrators' clients to stream their favorite music, videos, and apps from their phone, tablet or laptop right to their TV or speakers. There are also some innovative price-protected products for dealers.
Here are eight things every integrator should know about Google Home and Chromecast.
1. Chromecast Works With Every Major Music Service
Chromecast, of course, is backed by Google, and the company has done a great job getting app developers and music providers on board with Chromecast. There are now thousands of app developers working on either porting over existing versions of apps, or creating new ones specifically for Chromecast.
Currently, Chromecast audio apps include Spotify, Pandora, Tidal, Deezer, Napster, iHeartRadio, TuneIn, and Amazon Music (Android only).
2. Works With Architectural Speakers
Chromecast isn't just for standalone speakers, as it can also be used for custom installed architectural speakers. VSSL is currently the only company making a multichannel amplifier that is Chromecast built-in certified. With it, an integrator can power three or six zones of audio with a price-protected product for their customers.
3. Huge Chromecast Built-in Speaker Ecosystem
Google has partnered with audio manufacturers to create Chromecast built-in speakers, soundbars, amplifiers, and receivers. These speakers range in price point and audio quality. Dealers can opt for budget-level speakers (Vizio) to high-fidelity speakers (Bang and Olufsen).
Moreover, the audio zones can be extended to receivers, with Pioneer, Integra, Onkyo, and Sony all having models with Chromecast built-in. Most of these models autoplay as soon as the user connects via Chromecast.
Even if you can't find any of these Chromecast built-in products to fit your client's taste, you can always add on the $30 Chromecast Audio dongle.
4. True Multiroom Audio
Whether a system setup has a Google Home, a Chromecast Audio, Chromecast built-in speaker/receiver, or a VSSL-powered in-ceiling system, you can use it as part of a multiroom music system. This is thanks to Chromecast's ability to work cross-device. All users have to do is select the music they want to hear in a music app, and the Google Home app does the rest.
Hardware groups are saved and selected directly from the music app with no third-party app configuration and can be triggered by any user on the network from any Google Home or music app.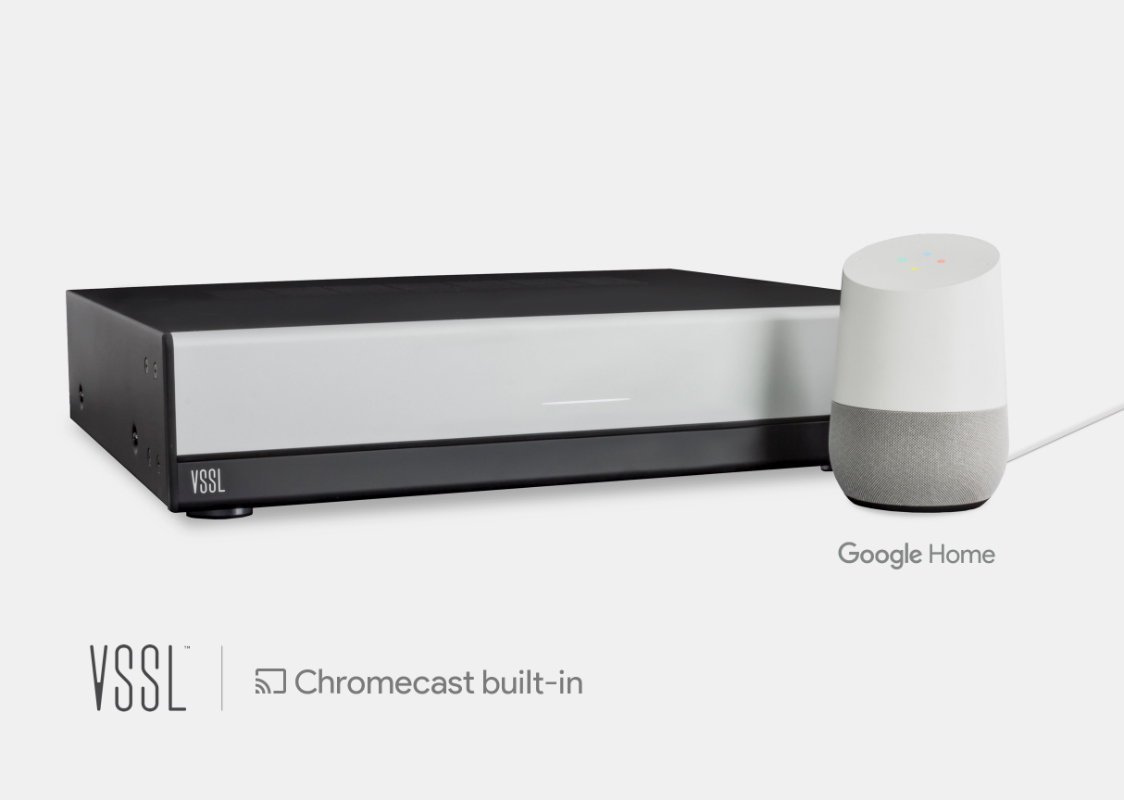 5. Cross-Platform Compatibility: iOS, Android, and More
Google's Chromecast streams media to Android phones and tablets, iPhones and other iOS devices, Windows, and Mac OS X. That's right, Chromecast works with Apple products too. Clients can stream their favorite music from their iPad to Chromecast built-in speakers. Additionally, users can stream audio from a Chrome web browser to any speaker.
6. Phone Calls Will Not Interrupt a Cast
Here, Chromecast succeeds where AirPlay failed. Originally, AirPlay was the easiest way to transmit media from an iPhone to a larger screen or bigger speaker, but for audio, it was almost unusable because of one annoying feature: the notifications. AirPlay would disrupt the volume whenever a notification or call came in.
This doesn't happen on Chromecast, because it does a handshake with the servers and streams directly from the Internet. Your phone is merely the remote. So if the phone rings, gets a text, etc. the music will never stop.
7. Custom Smart Home Integration
Google Home works with over 1,000 smart home devices including lights, switches, plugs, and thermostats. Most custom installers probably see these products as DIY competition to their smart home business, but there are several renowned custom installed brands that work with Google Home, including Crestron, URC, Leviton, Lutron, and the Nest Pro program.
One cool thing Nest users can do is configure their doorbell chimes and user announcements to play over Google Home speakers.
Expect to see more of this type of integration to come from other players.
8. Voice-Enabled Audio
Voice control with Google Home and a Chromecast built-in speaker is as easy as it gets. Unlike Alexa where you have to specify the speaker name every time in order to playback on another speaker, Google Home allows you to default the music playback to a speaker.
So all your customer has to do is request the music, "Hey Google, play music," and it comes on via their in-ceiling speaker system (through VSSL or other Chromecast built-in speakers).
Note: For voice control services, you are limited to the services that work on the Google Home itself and not all the Chromecast-enabled apps. Those services are Spotify, Pandora, Google Music, TuneIn, and iHeart Radio.
With the Google Home ecosystem, everyone can win. The custom installer is able to sell products they can make money with, and the homeowner gets a system they can expand and grow with.
Dan Allen is president and co-founder of VSSL, a Utah-based audio manufacturer.